Co-op gives funding boost to Falmouth community causes
Three local causes in Falmouth shared over £6,000 when the Co-op's annual fundraising campaign reached its conclusion.
---
By Joseph Macey
Posted: Monday, 04th April 2022 3:09 pm
---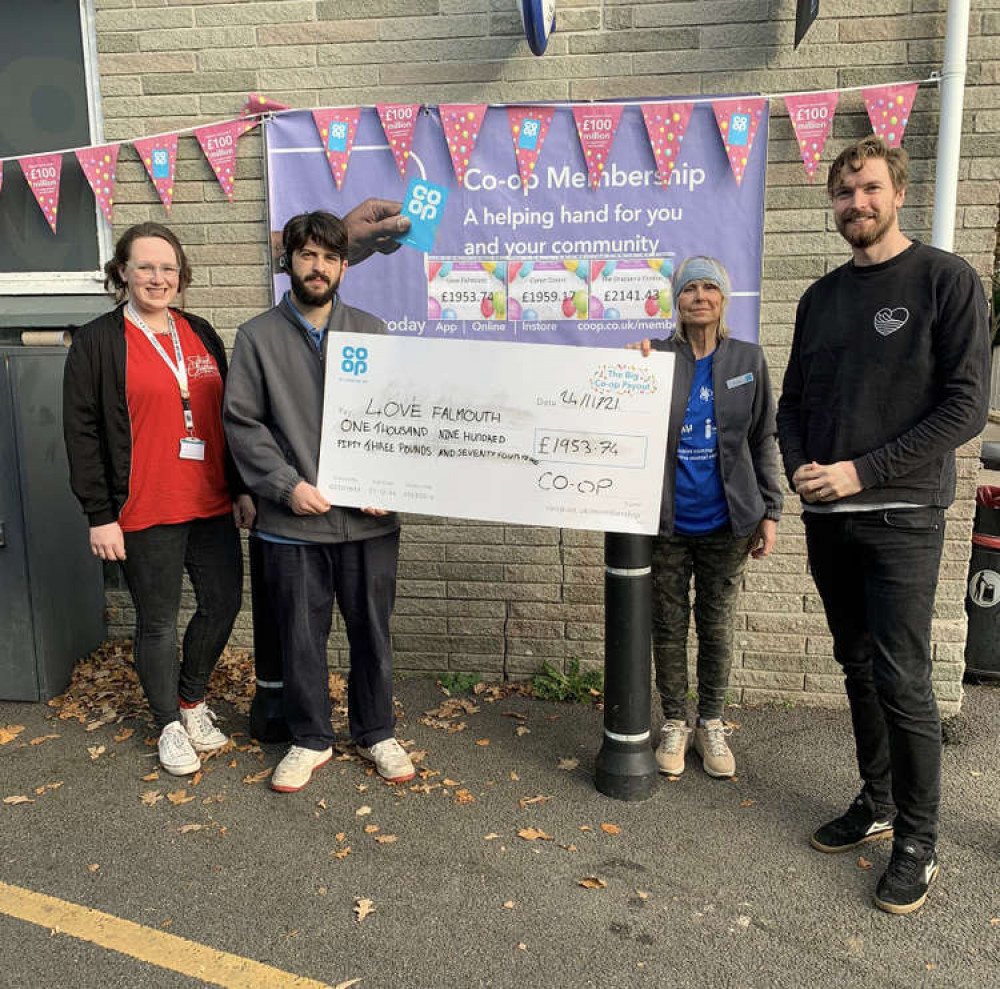 Love Falmouth receiving their payout from the Co-op.
Moments that matter
Three local causes in Falmouth shared over £6,000 when the Co-op's annual fundraising campaign reached its conclusion.
Each year Co-op stores ask local people to nominate deserving community causes and three are selected to benefit.
When Co-op Members buy selected Co-op products and services, 2p for every £1 they spend goes into their Co-op Membership account and Co-op gives the same amount to support community organisations and local causes.
Representatives from the Dracaena Centre, Carnon Carers, and Love Falmouth all celebrated when they attended a short ceremony outside the Clipper Way Co-op in Falmouth. Members shopping at the Falmouth Co-op helped raise the funds for the three local causes throughout last year.
The Dracaena Centre received £2141.43, Carnon Carers received £1959.17 and Love Falmouth was awarded £1953.74.
Local cause Love Falmouth, which aims to enable communities and individuals in Falmouth to thrive, said they were "very grateful" for the generous support from the Co-op.
Love Falmouth Operations Manager Jennifer Land added:
"Most of the money went towards our Christmas initiative to support the most vulnerable in our community over the Christmas period, providing essentials such as coats and food. Going forward, we want to see Falmouth and the community thriving.
"We applied back in 2020, and it was a straightforward application process. We are very grateful to the Co-op and its members."
The next round of the Local Community Fund has opened and the new three local causes are Falmouth Community Youth Football Club, Age UK, and Sea Sanctuary.
Co-op Members help thousands of grassroots community projects through the Local Community Fund by selecting a cause to support.
Since 2016 Co-op Members have raised more than £85m for over 25,000 projects.
Supporting these local causes aligns with the Co-op's mission of fairer access to food, mental wellbeing, and opportunities for young people.
Co-op Membership helps support Co-op's national charity partners and Local Community Fund causes.
Choose your local cause here or go to the Co-op app.
[H3] See the latest news on our Twitter and Facebook pages. [.H2]