'WE THOROUGHLY DESERVED' FA VASE WIN OVER HELSTON – WESTGARTH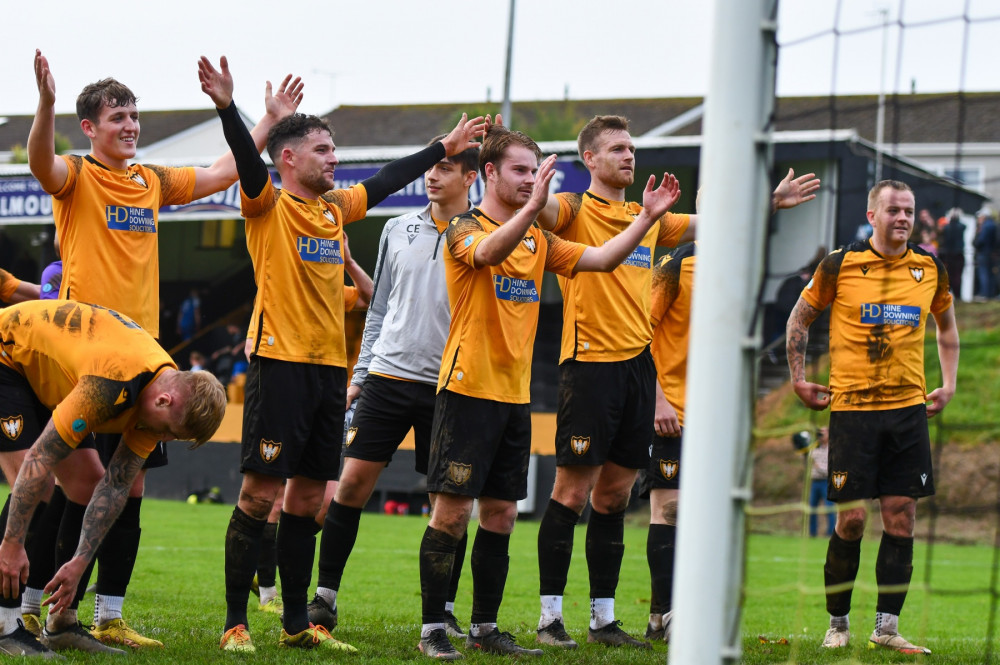 Falmouth Town 2-1 Helston Athletic (Credit - Falmouth Town)
Words provided by Matt Friday - Falmouth Town FC
Falmouth Town manager Andrew Westgarth felt his side 'thoroughly deserved' their FA Vase victory over local rivals Helston Athletic on Saturday.
Jack Bray-Evans' penalty and Luke Brabyn's volley put Town two goals up after half an hour before Tom Payne's free-kick halved the deficit before the break.
Helston enjoyed the greater possession after the turnaround but Town still looked the likelier to score as they held out to book their place in the second round proper of the FA Vase for the fifth season running.
The win for Town ends a run of five games without a victory against Helston and made amends for their agonising late defeat to the Blues in the FA Cup back in August.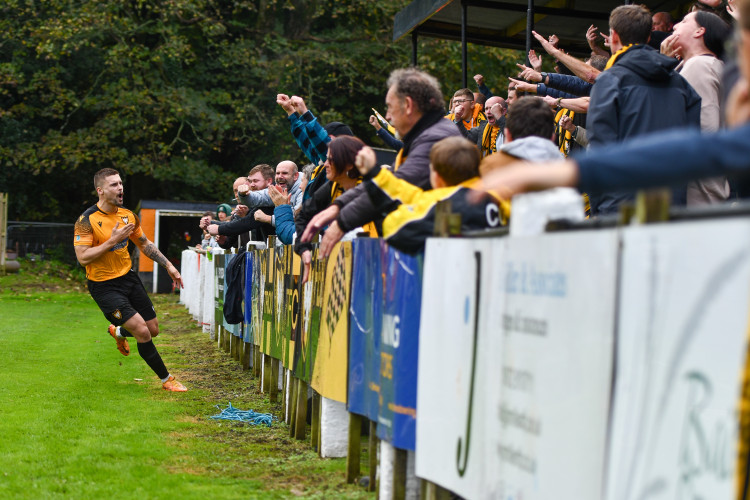 Credit - Falmouth Town FC
"Our bad run against Helston has been well documented and I think we were all suffering from the disappointment of that FA Cup disaster in the last five minutes, so I'm absolutely delighted for the boys and I thought we thoroughly deserved it," Westgarth said after the game.
"I thought the way we started the game on the front foot [was excellent]. Getting the early penalty settles you down, and Brabyn: that man and the FA Vase, what more can you say? That goal was worthy of winning any game of football.
"I was just as proud of our second half [performance]. They caused us a few problems without really hurting us. They're quite direct, we gave away a lot of needless free-kicks, and to be fair, what a difference it is having Wardy and JBE back.
"We said how much we missed them in those games [against Helston earlier in the season], Wardy especially, and he's mopped up everything. He was what we expect from Wardy and it almost felt like they ran out of ideas."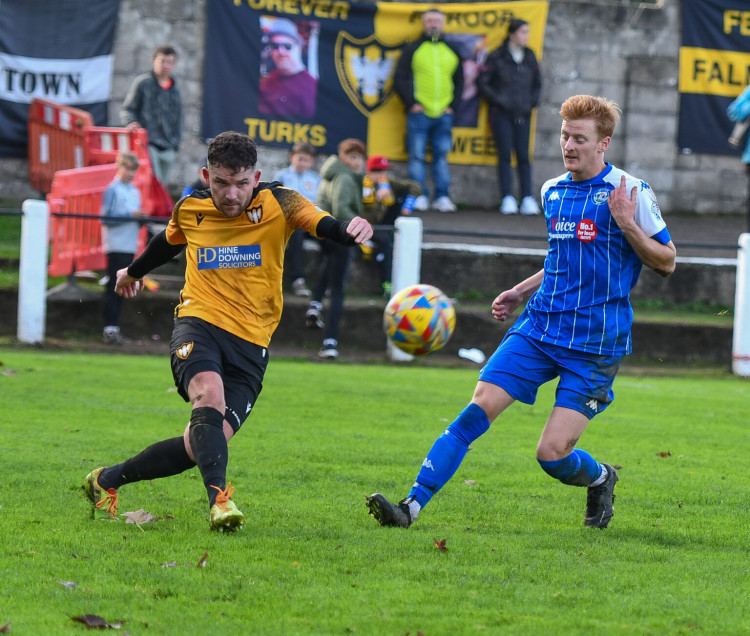 Town took control of the tie from the first whistle and their early endeavours were soon rewarded when they were awarded a penalty in only the eighth minute.
Luke Barner timed his run to perfection to meet Tom Moxham's lofted pass and bore down on goal before being upended by Blues gloveman Cory Harvey, with the referee instantly pointing to the spot.
Bray-Evans was left waiting while a couple of Helston players tried to delay the kick, but the Town forward made no mistake when his moment finally came, sending Harvey the wrong way to claim his sixth goal of the season.
"There was a bit of pressure under Jack because there was a bit of gamesmanship," Westgarth said. "Harrison [Jewell] was taking a bit of time to get out of the box and Cory [Harvey] was talking to the referee and trying to delay it, but it was never in doubt, was it?
"He's sent Cory the wrong way, it was a great penalty and you need your big players for big moments: Barnsey, Wardy, Jack Bray-Evans, and Brabyn were magic and that's what we want from them.
"That's not saying the others weren't great, but when you're a youngster or new to the team you look at those senior players for inspiration and I thought all four of them deserved massive credit."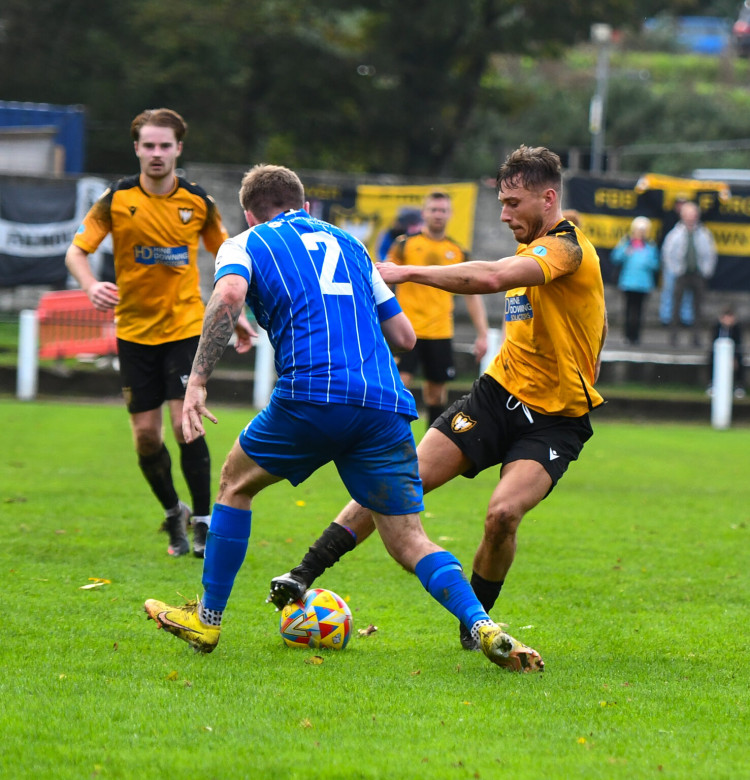 Credit - Falmouth Town FC
Brabyn was ultimately the player to receive the man of the match award, and the lively forward was responsible for the decisive second goal in the 33rd minute.
Barner was involved again, this time playing the through ball that set Walker away down the left, with the winger delivering a sublime cross for Brabyn, who charged into the box to volley it into the top corner.
While delighted with a stunning finish he described as 'worthy of winning any game', Westgarth was just as pleased with the delivery from Walker and the Town chief is hoping to see more of the same.
"Sometimes I think we get into a bad habit of trying to thrash it or trying to be too cute with it," Westgarth said. "All you've got to do as a wide man is put the ball in an area. I know it sounds simple, but all you've got to do is put the ball in the right area and let the forwards finish it.
"Don't get me wrong, it was a great finish, it was unbelievable on the volley, but we need to do more of it."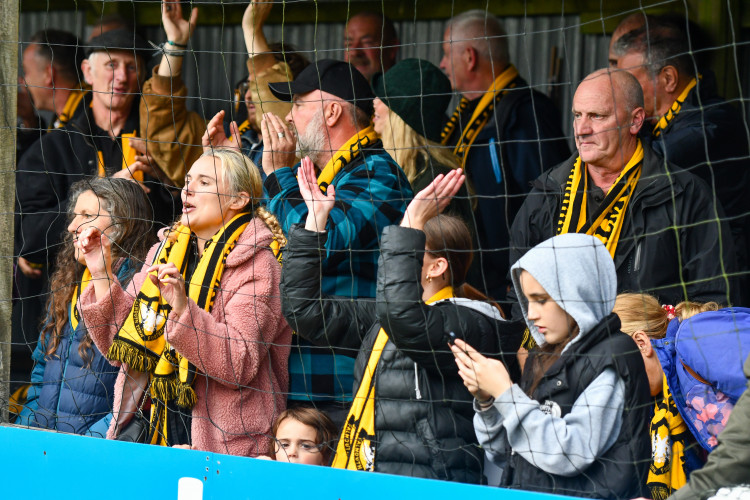 Credit - Falmouth Town FC
The victory was the perfect tonic to avenge Town's chastening defeat at Helston in the FA Cup back in August when Westgarth's side let a lead slip in the dying embers of the preliminary round tie at Kellaway Park.
Tom Moxham's goal was looking like being the difference between the sides as Town closed in on a 1-0 victory, only for Blues marksman Rikki Shepherd to score twice in the final five minutes to break the hearts of a shell-shocked Town side.
With Town again leading by a single goal on Saturday as the match neared its conclusion, the home side could have been forgiven for thinking of that FA Cup loss, but they held their nerve to close out the tie this time.
"It was the elephant in the room and we spoke about it," he said. "Sometimes there's no point shying away from it, we're fully aware of how we dealt with that in the last five minutes and I thought today we [dealt with it brilliantly].
"Other than the silly free-kicks which we gave away; you could say it was poor from us and clever from them, but we gave away way too many free-kicks today. On another day it might have cost us, but defensively we were solid all game. I'm really, really pleased with how the boys saw it out."
Westgarth also paid tribute to the 'electric' crowd at Bickland Park, with the majority of the near 600 supporters roaring the home side on throughout the 90 minutes.
And with attention now turning to the second round proper draw at Monday lunchtime, Westgarth is in no doubt where he'd like his side to be playing.
"Home again all day long, with support like today," Westgarth said. "In the second half most of the F-Troop marched off to the Conway Road end and there were still loads in the Packet End. [We had] great numbers again today and they were electric all game. They are like a 12th man for us, and hopefully, they can go home really happy."