'The boys deserve massive credit,' says Westgarth after Newquay win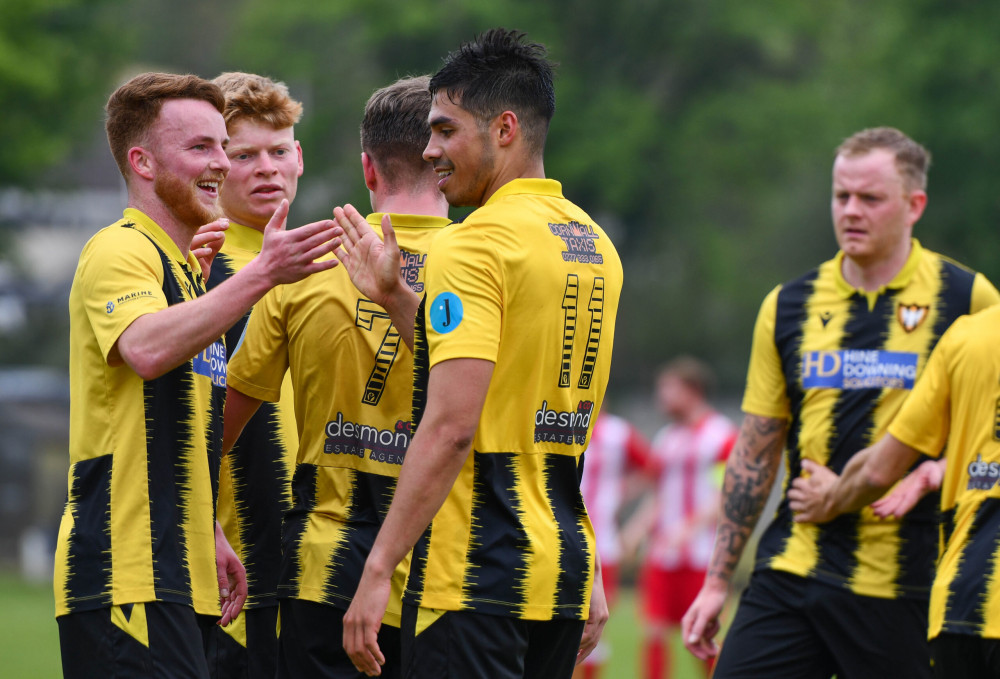 The win against Newquay secured their 29th win from 30 league games this season.
Falmouth Town manager Andrew Westgarth heaped praise on his squad for recording their latest win over Newquay on Saturday following a very hectic week for the team, writes Matt Friday of Cornwall Sports Media.
A glorious Easter weekend saw Town clinch both the South West Peninsula League Premier West title and the Cornwall Senior Cup, effectively reducing the final three games of the league season to dead rubbers.
But Town were not content to rest on their laurels, with goals from Luke Barner, Tim Nixon and Jack Bray-Evans securing their 29th win from 30 league games this season.
Jacob Grange and Cam Turner had notched equalisers for the Peppermints, but a red card for the former after kicking Tom Annear in the head put paid to any hopes of taking anything from the game, with Bray-Evans' resulting spot-kick sealing the points for Town.
"Full credit to the lads, and I said that to them after the game – they've had a mentally draining week," Westgarth said at full-time. "To do what we've done, win the league and win the cup plus the celebrations, to then stay mentally switched on when it could be easy to down tools [is excellent].
"I thought today we had so many chances, I think we must have had three or four corners off the line in the first half. It was a bombardment on their goal.
"I think their Achilles heel is that red card for them – they've had more red cards than goals against us this year, so discipline has cost them. Whether he meant it or not, it just killed the game. And that man, Jack Bray-Evans, [it was] great for him to get the winning goal."
The game was paused for several minutes in the second half as Annear received treatment for the head injury he sustained in the clash with Grange.
The centre-half, who has featured in all but two of Town's 40 matches in all competitions this season, was thankfully able to walk off the pitch to plenty of applause from the F-Troop, but Westgarth feels his campaign may be over a couple of weeks earlier than planned.
"It's a nasty gash, he took a bad one there," he said. "Fingers crossed he's all right but I think that might be his season over. It's disappointing for him but we wish him well. I don't think the lad meant it, but he took a painful one."
Although there was nothing riding on the result, the match offered up a few milestones, with Barner notching his 20th goal of the campaign with his opener, before Nixon bagged the team's 150th goal of what has been an incredibly prolific season.
Bray-Evans took that to 151 in the second half, and while that number certainly could have been greater given the chances that went begging on Saturday, Westgarth chose only to praise his side for the level of consistency his squad has shown throughout a memorable campaign.
"The boys deserve massive credit," he said. "They've kept the consistency of the numbers of them turning up – week in, week out, the same players are there. You've got to take your hat off to them."
He added: "I know it's easy to say when you've won, but we could have easily taken our foot off the accelerator today. I still think we oozed class here with some of the football we played in the first half.
"You can always be super critical and want more, but at this stage of the season with what the guys have delivered, I think they deserve massive respect."
New falmouth Jobs Section Launched!!
Vacancies updated hourly!!
Click here: falmouth jobs