Perrow appointed reserve team manager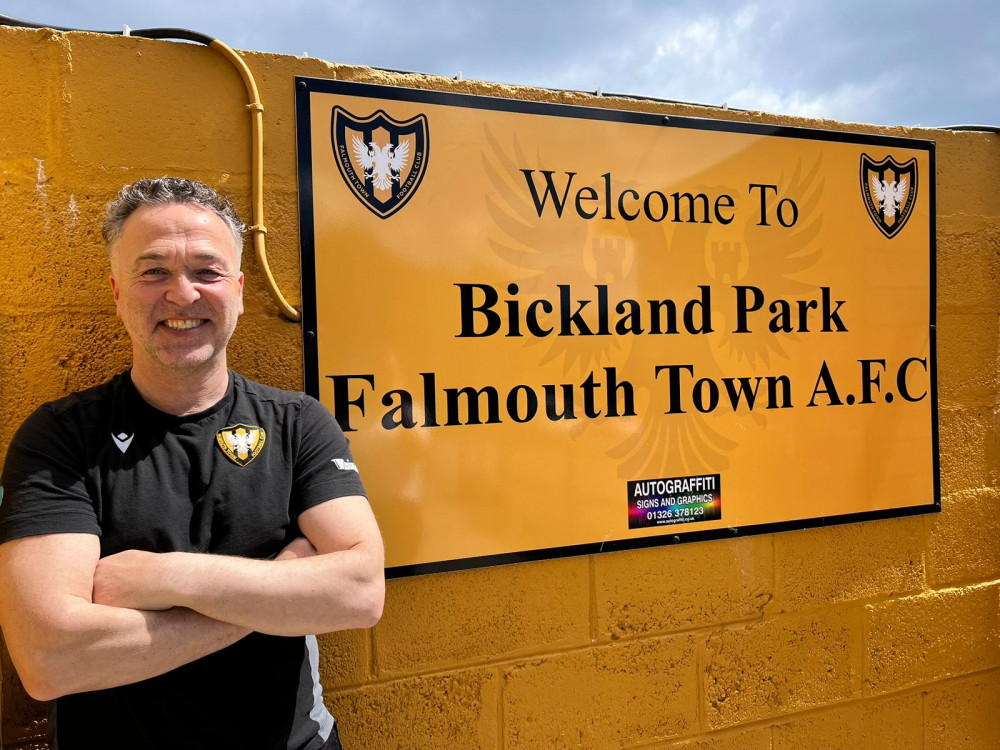 New reserve team manager Jon Perrow
Words provided by Matt Friday - Falmouth Town
Falmouth Town AFC is pleased to announce the appointment of Jon Perrow as reserve team manager.
Perrow takes over the St Piran League side with immediate effect, replacing former manager Steve Warr after he stepped down from the role.
Well-known amongst the F-Troop as a supporter and for organising the supporters coaches, Perrow is a local boy with the club close to his heart, with his association with the club stretching back to his time in the under-16s team many years ago.
Perrow made his first team debut for Town in the 1984/85 season aged 17, scoring twice on his debut, and went on to lift the South Western League trophy twice during his first spell at the club before moving away to study. Upon his return, he won the Combination League Cup and Evely Cup with the reserves in the 1996/97 campaign.
Developing Town's bright youth prospects will be Perrow's main focus, but he is also targeting an improved league finish while bringing some much-needed stability to the side.
"I've been involved in the supporters' side of things but Andy [Westgarth] invited me [to take the role] a couple of weeks ago and I had a little think about it, and what an honour and privilege it is, this great football club means so much to me," Perrow said. "My oldest son is going off to America on a football scholarship for four years, so it's the perfect time because it'll give me something to focus on as well.
"I see my role as helping to develop the youth, both for the under-18s and the reserves. There is a clear pathway at Town for all our players as shown by the 15 or so players aged 21 or under playing for the first team this season and that's a tribute to what this great club stands for.
"I will be working very closely with Andy who I respect immensely and I share his ethos on football so I will be pushing as many of the reserves as possible into the first team squad and we will be very competitive this coming season.
"I'm really looking forward to the challenge. I'm so excited and just can't wait to get started!"
Perrow has also appointed existing under-18s manager Dave Turner, who holds the UEFA B Licence, as the reserve team coach, who will combine this with his role with the under-18s.
"I am so pleased Dave has agreed to come on board as he is a top, well-respected coach in the county and is perfect with his involvement in the club's under-18s as well," Perrow added.
Work on strengthening the team ahead of the new season is already well under way with some great new signings, but Perrow would like to extend an open invitation to anyone who wants to join the team.
Pre-season begins on Tuesday, June 6, and if anyone is interested in coming along to training on Tuesdays and Thursdays during pre-season, contact Jon via 07779 232854 or [email protected]
There are also sponsorship opportunities available for the reserve team. These include kit sponsorship, match day sponsorship, match ball sponsorship, player sponsorship and pitch side advertising. Please contact Jon on the above contact details if that is something you would like to help out with.
"I think it's a fantastic appointment," first-team boss Andrew Westgarth said of Perrow. "He's someone who has got the club at heart, and with his sons being involved in youth football and the St Piran League over the last couple of years he's got a really good knowledge of the local scene and played a good standard of football himself.
"He's got bags of energy, and being a businessman Jon is very organised and you can see that with what he's done with the coaches for the first team over the last five or six years.
"He ticks a lot of boxes, he's someone that I trust and someone I look forward to working with. To do this job you've got to be committed and give it everything and Jon will definitely do that, so I'm excited for him."
Perrow's appointment as manager of the St Piran League side follows the departure of the previous manager Steve Warr, while assistant James Dobson has also stepped down.
Warr took over the team part way through last season and guided Town to a tenth-place finish, but he and Dobson have decided to step down in favour of a move to local rivals Penryn Athletic.
"I've really enjoyed my time working with Steve," Westgarth said. He knows his football, I've known him for a long time and I think he really galvanised that team because they didn't get off to a very good start, and if you look at Steve's record he's done a really good job. It's a real shame for him to go but we wish him all the best with his involvement at Penryn.
"And likewise with Dobbie, I've enjoyed having him at the club and I wish him all the best in his role at Penryn."