New mixed-gender touch rugby tournament between Falmouth, Penryn and Truro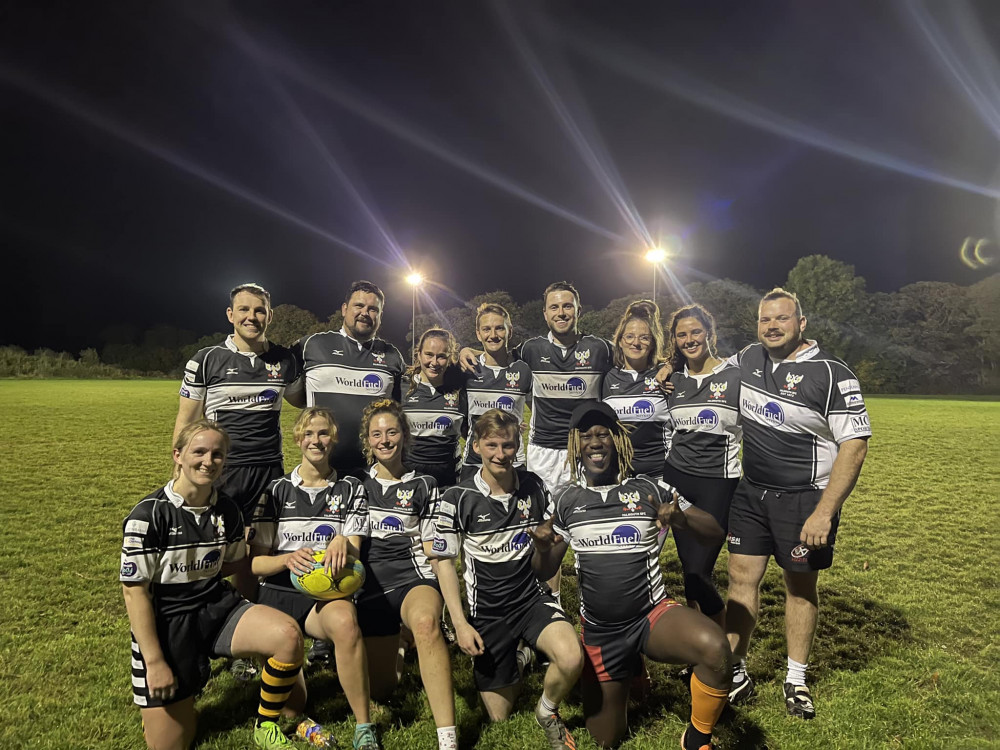 Touch rugby is among Cornwall's fastest-growing sports, Played by mixed-gender teams nationwide with more than 30,000 registered players now involved.
In the last month, an inaugural tournament has been set up between Falmouth, Truro, and Penryn, with four teams from across the county taking part to grow the game locally.
"Falmouth Touch Rugby has been around for a few years now and we've recently started a social tournament in partnership with Truro Trojans, The Hedgehogs (Truro Medics), and the Raiders (Falmouth and Exeter University). Which has been all about coming along and having fun," said James Bunt, Falmouth Raptors Touch Coach.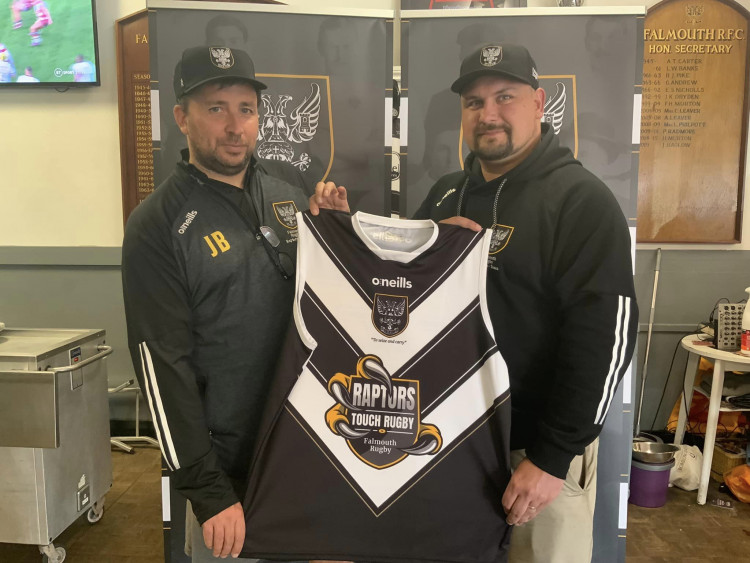 Falmouth Raptors coach (left) James Bunt and sponsor Danny Trick (Just The Trick Design) holding the new kit
Designed as a social team sport for men and women ages 15+, the Raptors offer 'pitch up and play' seasons aimed at individuals who are new to rugby or who can't commit on a weekly basis and leagues for those who want to play in a more structured and competitive environment.
James continued to explain how Touch rugby is for everyone, "It's all-inclusive, we've got a really strong female contingent here and we're lucky to have links within Falmouth Rugby Club to access players looking to increase their fitness on a Monday evening from 7 pm at the Recreation Ground,"
"A huge warm welcome to the new members that have come on board this season. We look forward to continuing to grow the Falmouth Raptors Touch Legacy, getting as many people as possible enjoying the sport." James added.
The Falmouth Raptors Touch team has attracted new audiences to rugby recently, with the help of local brand specialists and sponsor "Just the Trick Design" who have offered their services for Free this season to grow grassroots rugby at Falmouth Rugby Club and the surrounding areas during their 150th season.
"Touch is a mixed team sport that combines touch rugby, music, and body conditioning fitness, where participants burn approximately 750 calories in each session. It's a great way for past players like me who have been out of the game to still play a non-contact version of Rugby while reconnecting with old friends while also meeting new ones." said Andrew Lancaster recent member to touch, but former senior player at Falmouth.
As well as the new touch ruby tournament there Is also a new session starting this Thursday between 6-7 pm at the Rec, Falmouth Rugby Club are running its very first Walking Rugby version aimed at the over 40's which they are coining "The Falmouth Rugby Touch Legends"."All participants will need are a pair of trainers. And we look forward to welcoming all abilities to the Rec" said James Instance Vice Chairman F.R.F.C who will be running the Thursday session.
For more details on how to get involved with touch rugby in Falmouth, please contact [email protected] or visit their Facebook page: Falmouth Raptors Touch Rugby | Facebook