Preview: Welton Rovers vs Falmouth Town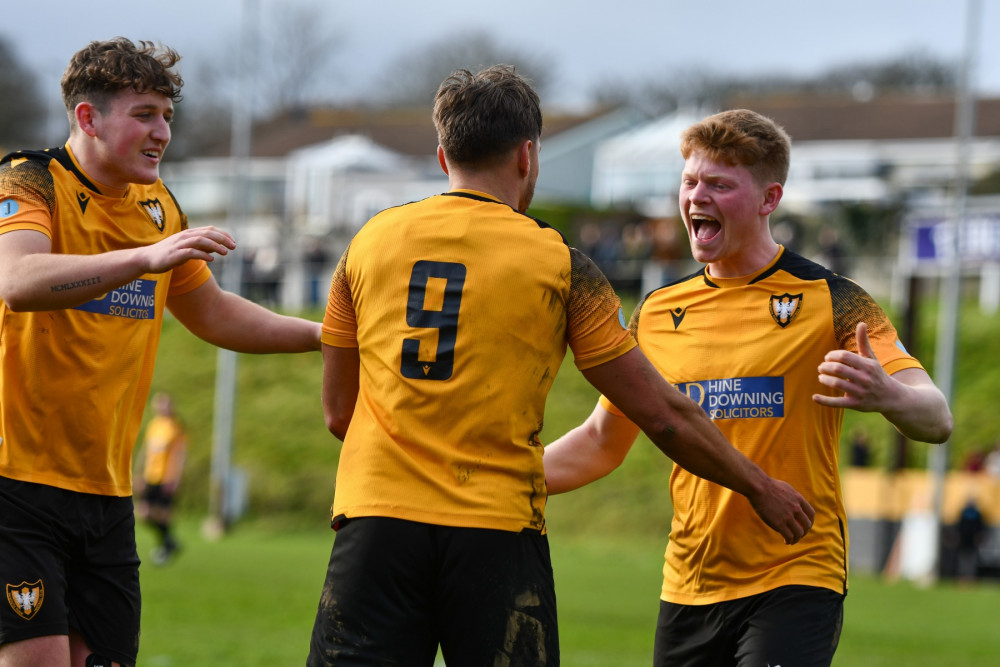 Falmouth's previous 2-0 win over Welton Rovers (Image: Falmouth Town)
Words provided by Matt Friday - Falmouth Town
Falmouth Town will be hoping to rediscover their recent upturn in form following last week's blip when they visit Welton Rovers in the Western League this afternoon (kick-off at 3 pm).
Andrew Westgarth's side were enjoying another fine run of form prior to last week's 2-0 defeat at Shepton Mallet, having taken ten points from a possible 12 in their four games before last Saturday's trip to Somerset.
Town now find themselves in eighth position in the league, and victory on Saturday would all but certainly secure a top-ten finish with five games still to play.
Welton were visitors to Bickland Park only two weeks ago when a second-half brace from Luke Brabyn secured a 2-0 win for Town and ended a run of three successive home defeats.
Opposition view
Welton, who are managed by Tom Smith, are enjoying their first season back in the Western League Premier Division since the Somerset outfit won promotion from Division One via the play-offs last season, ending a run of six consecutive years out of the Western League's top flight.
The newly-promoted side were enjoying their best run of the season prior to their defeat at Bickland Park two weeks ago, having won four of their last seven games before that game. Although they followed it with a 2-1 loss at home to Helston Athletic, that run had helped Rovers bounce back from a challenging first half of the season and saw them climb to 13th in the table with 35 points to their name from 32 games.
Welton have scored 49 goals in all competitions this season, with Lewis Russell leading the way with nine strikes in 33 games, while Ben Wych is next on the list with six goals this term.
Westy's words
"When you think six of our last seven games have been away it has been quite relentless, not only on the players but on the families and the club, it's been difficult. To face another side that we've recently played creates its own challenges, but we're looking forward to it. It's the final hurdle, we're looking forward to these last six games and seeing where we finish up.
"We know a bit about them – as much as we can know I guess, but we still don't know that much about them. Like any team in this league, their home record is superior to their away record but we know it's going to be a tough game, and after a difficult start at home they've picked up some great results: they beat Buckland, Bridgwater and Street at home – they've picked up some big wins at home so we know it's goin to be a tough place. But again, it's [a new ground] and something to look forward to."
Last five games – Falmouth Town:
Mar 25: Shepton Mallet 2-0 Falmouth Town (League)
Mar 18: Falmouth Town 2-0 Welton Rovers (League)
Mar 11: Wellington 0-2 Falmouth Town (League)
Mar 4: Street 1-1 Falmouth Town (League)
Feb 25: Cadbury Heath 0-2 Falmouth Town (League)
Last five games – Welton Rovers:
Mar 21: Welton Rovers 1-2 Helston Athletic (League)
Mar 18: Falmouth Town 2-0 Welton Rovers (League)
Mar 8: Street 1-1 Welton Rovers (League)
Mar 4: Welton Rovers 1-0 Buckland Athletic (League)
Feb 25: Millbrook 0-1 Welton Rovers (League)