A new look for mental health charity Sea Sanctuary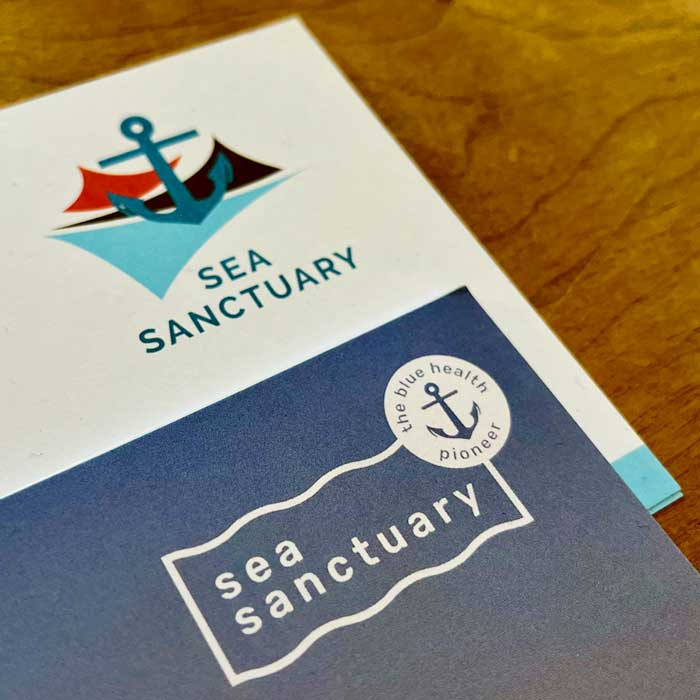 Before and after – Falmouth based branding agency, Kingdom and Sparrow, give Sea Sanctuary a new look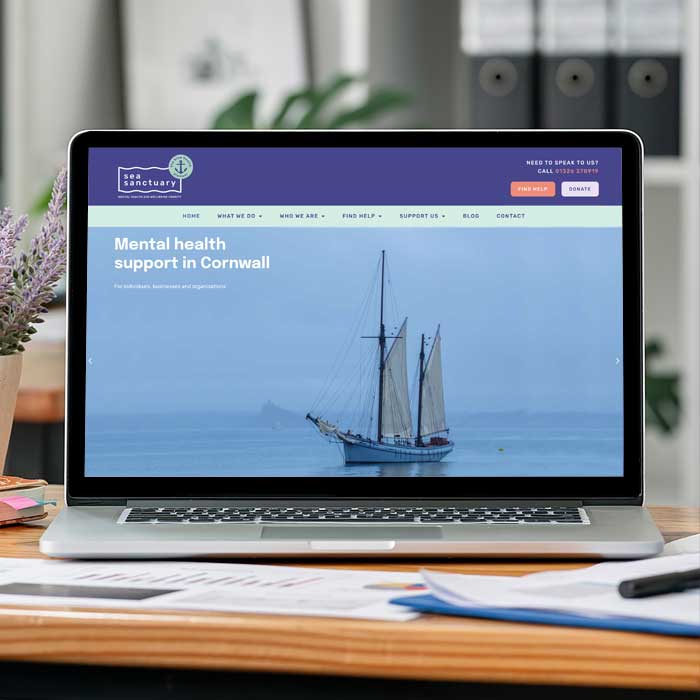 Award-winning, B-Corp web agency, Solve Web Media, have redesigned and optimised Sea Sanctuary's website
As Nub News reported last week the Falmouth-based charity Sea Sanctuary is providing suicide awareness training in Penryn this winter, the charity also provides mental health support using a Blue Health approach – the belief that being around blue spaces, such as the sea, is beneficial to mental wellbeing. From therapeutic sailing programmes, to therapy delivered in riverside 'pods', all the services the charity offers are founded on this principle.
Established in 2006, the charity says their branding no longer reflected this pioneering approach to mental health care. Only a handful of local people knew about the charity, and getting the message out to a larger audience was crucial to improving the mental health and well-being of the wider Cornish community.
Two award-winning, B Corp certified agencies – Kingdom and Sparrow, and Solve Web Media – have donated their time and combined their creative talents to deliver a fresh, new visual identity and optimised online presence for the local mental health charity. The dramatic overhaul of Sea Sanctuary's branding sees the roll-out of a new website, a new logo, and a whole range of other visual assets to help the charity communicate more effectively with its clients, corporate investors, and commissioners.
The charity's CEO and founder, Joe Sabien, says, 'It seemed like an impossible task, but the creative wizards at Kingdom and Sparrow and Solve Web Media have delivered a truly exceptional solution – one that not only looks great but is proving to be highly effective too. Both agencies donated their time and have gone above and beyond what we originally anticipated. Their involvement has been paramount in helping us achieve our overall goal of improving the mental health of the Cornish community.'
Lawrence Harmer, Founder, and Director of Solve Web Media said: "Being sea lovers ourselves, we are very aware of how a connection with the sea has a positive impact on wellbeing. As a B Corp, we love helping deserving entities and are proud to help Sea Sanctuary maximise its potential.
Sophie Cowles, Client Director, Kingdom & Sparrow also shared their thoughts: "Our team put Sea Sanctuary forward as the charity they wanted to donate our time to last year and we're really proud of the work we've done with them. As a blue health charity that promotes workplace well-being and supports better mental health, their work is very close to our hearts. We hope that their new brand will have a big impact on their reach and create positive change for more people.'
For more information contact [email protected], phone 01326 378919, or visit Rebranding Sea Sanctuary - Sea Sanctuary