Westgarth's Ilfracombe reaction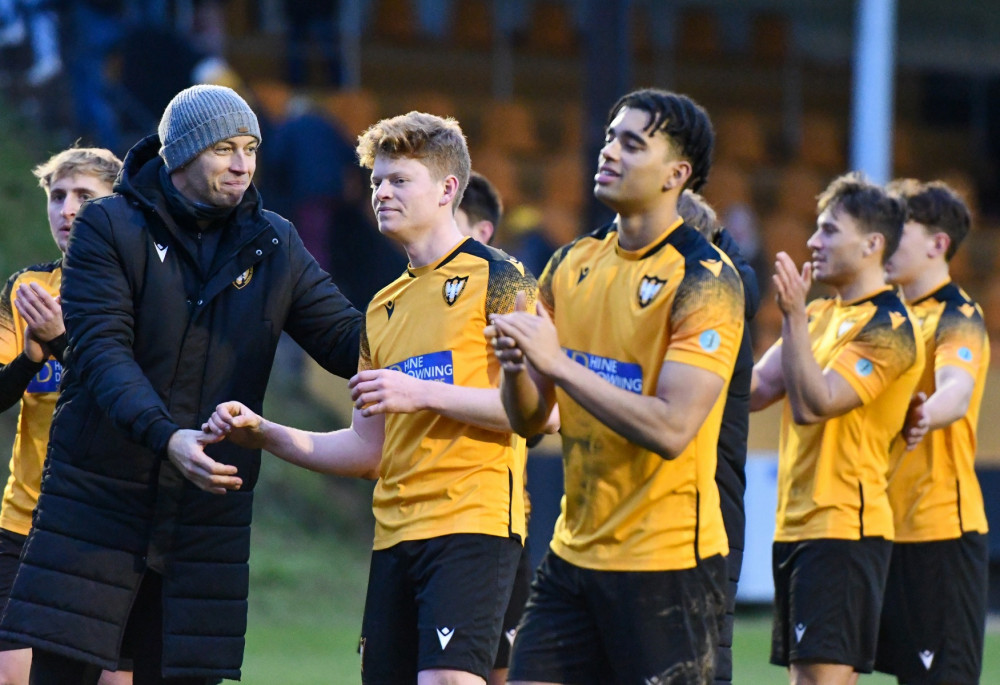 Image: Falmouth Town - Cornwall Sports Media
Words provided by Matt Friday - Falmouth Town
Falmouth Town manager Andrew Westgarth was pleased to add another three points despite an off-colour performance as his side triumphed 1-0 at home to Ilfracombe Town on Saturday.
Luke Brabyn scored the only goal of the game from the spot as Town bounced back from their 3-2 loss at Barnstaple Town seven days earlier to record their eighth win in the Western League Premier Division this season.
The win sees Town remain in eighth position in the Western League but now just three points off seventh-placed local rivals Helston Athletic with a game in hand on the Blues.
"It certainly wasn't a classic and we've definitely played better, in fact, it was probably one of our worst performances if I'm being brutally honest," Westgarth said after the game. "I just thought we looked so flat. Normally we're electric going forward but we just didn't seem to click into gear.
"That being said, I truly believe at the start of the season we might have dropped points there, so I suppose we've got to take the positives from it. We can't be too disappointed with winning 1-0, having a clean sheet, and a big three points. Helston lost to Ashton & Backwell so it was important that we won today.
"We know we can be better, but like I said, this season we've played really well and not come away with anything, so it was quite nice to play badly and come away with three points."
The only goal of the game came midway through the first half when Bluebirds custodian Laurence McCormick appeared to deliberately strike Brabyn inside the penalty area.
The match was then paused by referee Jonothan Green as he consulted his assistant Aimee Green on the incident before eventually brandishing a red card to the visiting gloveman.
James Thorne came off the bench to replace McCormick between the sticks, with his first action being to pick Brabyn's spot-kick out of the net.
"There's just no need, the keeper striking out at a player," Westgarth said. "I think the referee had no choice, and obviously the assistant referee saw it and gave it. It was just stupidity really, I'd have been fuming if my goalkeeper did that. He probably cost his side three points today.
"From our point of view it was good but it almost killed the game because there were so many spells in the game when it was just awful to watch. Both teams weren't vintage, so it's not going to go down as a classic."
He added: "I was pleased for Brabyn [to score the penalty] because he missed his last one at Saltash [on Boxing Day]. It was a great penalty and I was delighted for him.
"At this level of football most of the games are won on big moments or can turn on a moment and thankfully that moment was for us. We saw the game out but they didn't offer a lot. It was a comfortable game, if a poor one."