Preview: Falmouth Town vs Welton Rovers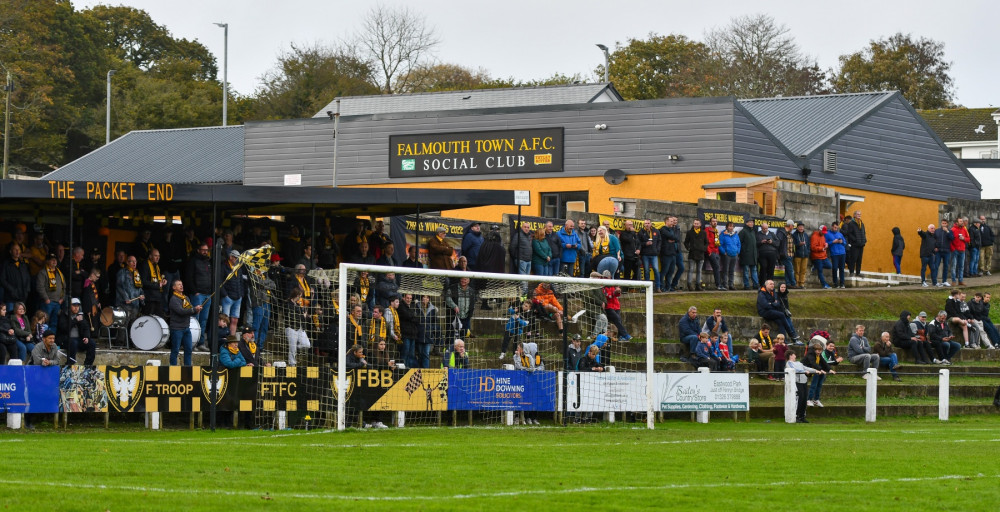 Bickland Park (Image: Falmouth Town)
Words provided by Matt Friday - Falmouth Town
Falmouth Town will be hoping to bring their promising away form back to Bickland Park when they welcome Welton Rovers in the Western League today (kick-off at 3 pm).
Andrew Westgarth's side have a renewed spring in their step after brushing off a difficult set of results in February to take seven points on the road from their recent trio of trips to Cadbury Heath, Street and Wellington.
Town are now in eighth position in the league, and a positive result on Saturday could see them move closer to local rivals Helston Athletic one place above. A win for 11th-placed Welton, meanwhile, would put them just two points behind Town.
Opposition view
Welton, who are managed by Tom Smith, are enjoying their first season back in the Western League Premier Division since the Somerset outfit won promotion from Division One via the play-offs last season, ending a run of six consecutive years out of the Western League's top flight.
The newly-promoted side are currently enjoying their best run of the season, having won four of their last seven games, with a loss to high-flying Mousehole the only defeat in that run. That has helped Rovers bounce back from a challenging first half of the season and seen them climb to 11th in the table with 35 points to their name from 30 games.
Welton have scored 48 goals in all competitions this season, with Lewis Russell leading the way with nine strikes in 33 games, with Cameron Allen, William Gould and Ben Wych all on five goals this term.
Westy's words
"I've never been so pleased to get back to Bickland. These away games do take it out of you and Cadbury Heath, Street and Wellington on successive weekends does put quite a bit on not just the squad but families and the club, so to be at home is great and I know everybody is really looking forward to it.
"We're facing an in-form Welton Rovers so it's a bit like going into the Wellington game, they were on a great run of form and it's the same now with Welton. It should be a good game and I don't think they've been to Falmouth for a long time so it's something new for them, and again like most sides that we face it is the unknown, we don't know know too much about them other than looking at their form or their recent results.
"It's important that we get back to winning games at Bickland because for us to lose three games in a row at home [to Buckland, Saltash and Millbrook] is hard, so it will be important to bounce back with a win. I'm just really looking forward to being at home. Those three defeats were a sore one to take so we owe the supporters one."
Last five games – Falmouth Town:
Mar 11: Wellington 0-2 Falmouth (League)
Mar 4: Street 1-1 Falmouth Town (League)
Feb 25: Cadbury Heath 0-2 Falmouth Town (League)
Feb 21: Helston Athletic 2-1 Falmouth Town (Les Phillips Cup)
Feb 18: Falmouth Town 0-2 Millbrook (League)
Last five games – Wellington:
Mar 8: Street 1-1 Welton Rovers (League)
Mar 4: Welton Rovers 1-0 Buckland Athletic (League)
Feb 25: Millbrook 0-1 Welton Rovers (League)
Feb 11: Welton Rovers 1-3 Mousehole (League)
Feb 4: Welton Rovers 2-1 Bridgwater United (League)
Stadium address
Bickland Park, Bickland Water Road, Falmouth TR11 4PB
Tickets
Adults: £6
Under-16s and concessions: £3
We advise that supporters arrive in plenty of time to avoid queues at the gate shortly before kick-off.
Matchday programme
Limited copies of our matchday programme will be available on entry to the ground for £1.
50:50 draw
A collection for the 50:50 draw will be made during the first half, with the winning ticket announced over the PA system at half-time. Each entry to the draw costs £1.
Refreshments and facilities
Once inside Bickland Park, food and beverages can be purchased from the serving hatch immediately to your left upon entering the ground.
Toilets can be found inside the clubhouse and in the hut at the far end of the ground.
Seating is available in the grandstand, with disabled access provided via a separate entrance at the top of the steps alongside the back row.