Leading side to the double 'hasn't sunk in yet', says Falmouth captain Ward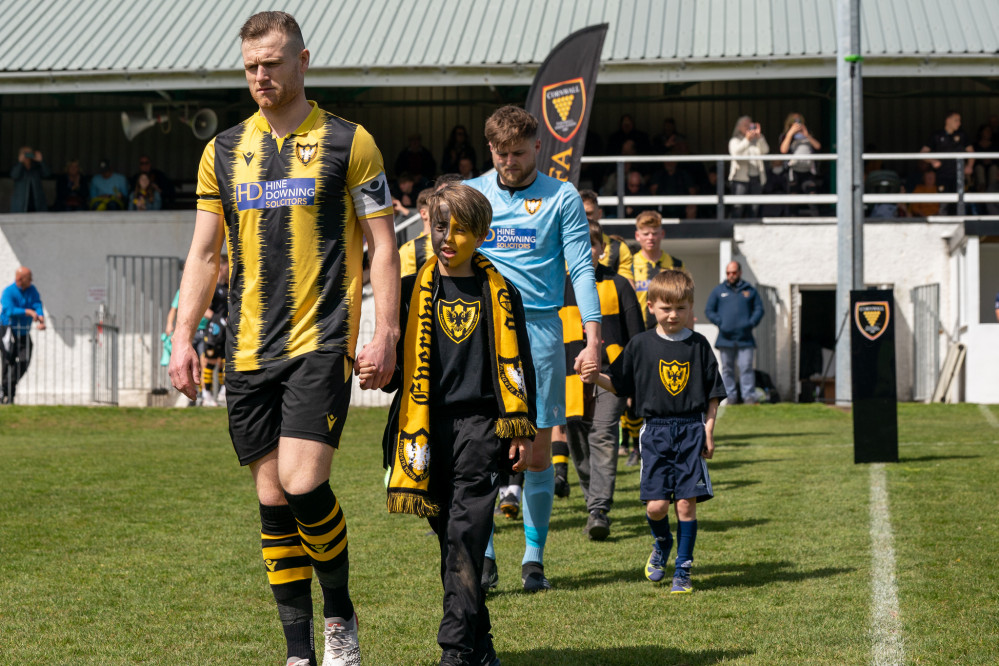 Captain James Ward leads the team out at Poltair Park. Credit: Patrick Tod/Cornwall Sports Media.
Written by Matt Friday.
Falmouth Town captain James Ward says the honour of leading his side to the league and cup double 'has not sunk in yet'.
Ward was named man of the match as Town defeated Wendron United 1-0 in the Cornwall Senior Cup final on Easter Monday in front of 1,298 spectators at St Austell's Poltair Park.
Jack Bray-Evans scored the only goal of the game as Town retained the title they won in 2019, when the competition was last played.
The triumph capped off an unforgettable weekend for those of a Falmouth persuasion, with the Bickland Park outfit having secured the South West Peninsula League Premier West title on Good Friday.
"I'm sure you'll hear reports about the game not being a classic and it is what it is," Ward said at full-time, "but no one's going to speak in five years about how the team played, they're going to judge it on how many trophies you've got, and at the minute we've got two trophies.
"It's fantastic, what a day."
Ward had the honour of lifting the Senior Cup trophy after assuming the captain's role when long-time defensive partner Joe Cooper, who skippered the side to their previous Senior Cup triumph in 2019, left the club in 2020.
The curtailment of the 2020/21 campaign due to covid means this is his first full season as captain, and the former Truro City and Plymouth Parkway man has now led his side to the double at the first time of asking.
"It's one of those, it's not sunk in yet," he said. "I think if you give me until the end of the season, once the season's settled down I'll reflect on this and think, 'That is some achievement'.
"I'm sure this will be a talking point for many years to come and to be the focal point of that is something special. I am speechless to be fair, because that is some going and we've still got another trophy to play for, which is brilliant.
"The boys have been fantastic, we've been blessed with not many injuries and that's just kicked off our season, really."
Ward's dominant display at the back saw him chosen by the Cornwall FA as the man of the match, and he stepped up ahead of his team-mates to receive his individual award before lifting the trophy a few moments later.
It is the second time that the centre-half has shone in a Senior Cup final, having scored the winning goal when Town defeated Saltash United 2-1 in the showpiece match in 2019.
"I seem to turn up at finals sometimes!" he said. "Arguably, I should have had a couple of goals if I'm honest and I'm frustrated they didn't come off, but that's part and parcel of the game. We got a clean sheet, that's my job done – as long as the boys score the goals, I don't care.
"Back-to-back Senior Cup wins, a goal, and a man-of-the-match, that's not too bad."
Click here to see more from Cornwall Sports Media.
Don't forget to sign up for our newsletter below to get the top 10 Falmouth stories of the week delivered straight to your inbox every Friday! No click-bait. No intrusive ads. Just news about Falmouth.