Falmouth Community Football Club picks up fourth consecutive FA award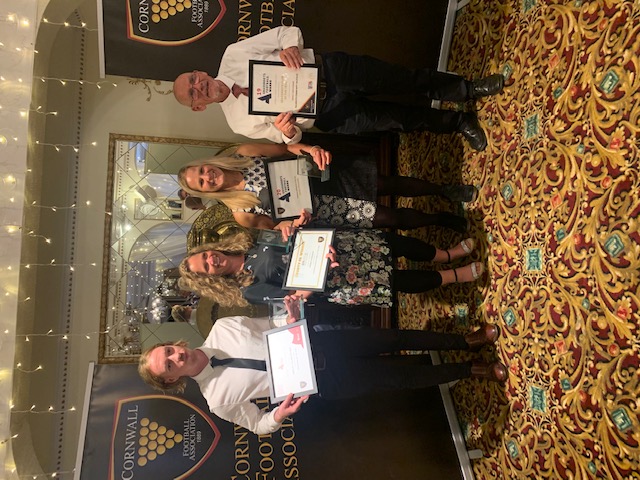 Ashley, Penny, Janine and Arno collecting their awards.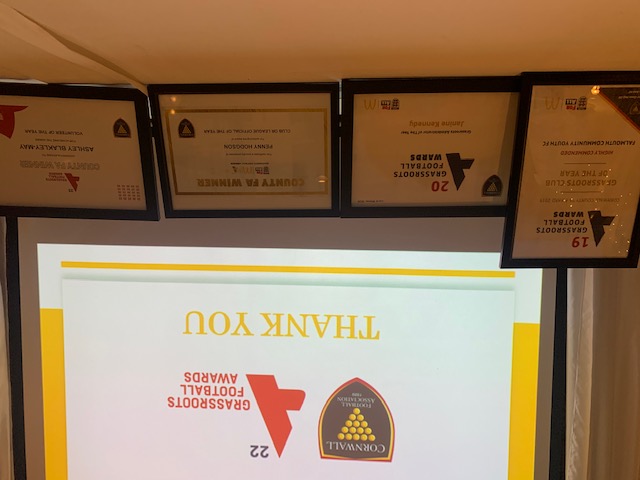 The awards from the presentation evening.
On Friday 2nd September there was a Cornwall FA awards evening at the Penventon Hotel to celebrate the 2020, 2021, and 2022 Cornwall FA Grassroots Awards Winners and recognise their contribution to Cornish football.
The Cornwall FA Grassroots Football Awards are to recognise and celebrate the people who put their heart and soul into the grassroots game across the county, and to say a huge thank you to all the incredible volunteers
The winners are people who have really made a difference and have demonstrated the positive impact they have had in their local community. They behave with fairness and integrity, they create fun, safe and inclusive environments for everyone. They encourage the very best, both in themselves and in everybody around them. They have risen to overcome challenges and they make a truly positive impact in their community
Falmouth Community Youth Football Club has won awards for 4 consecutive years. So it was really special for us to be able to collect for the last 3 years and see the results of how big our club has grown not only in the local community but the wider football community.
2019 - Club of the Year Runners up
2020 - Janine Kennedy won Administrator of the Year
2021 - Penny Hodgson (club secretary) won Club Official of the Year
2022 - This year Ashley Blakely-May won Volunteer of the Year.
We are so proud of our club being represented for 4 years running. It is so nice to be recognised for the hard work which goes on behind the scenes in running a club and enabling so many children in the community to play and enjoy football.
We all collected the awards on behalf of everyone who works so hard to make our club so special.