The full facts of Cornwall's Devolution Deal
By Richard Whitehouse - Local Democracy Reporter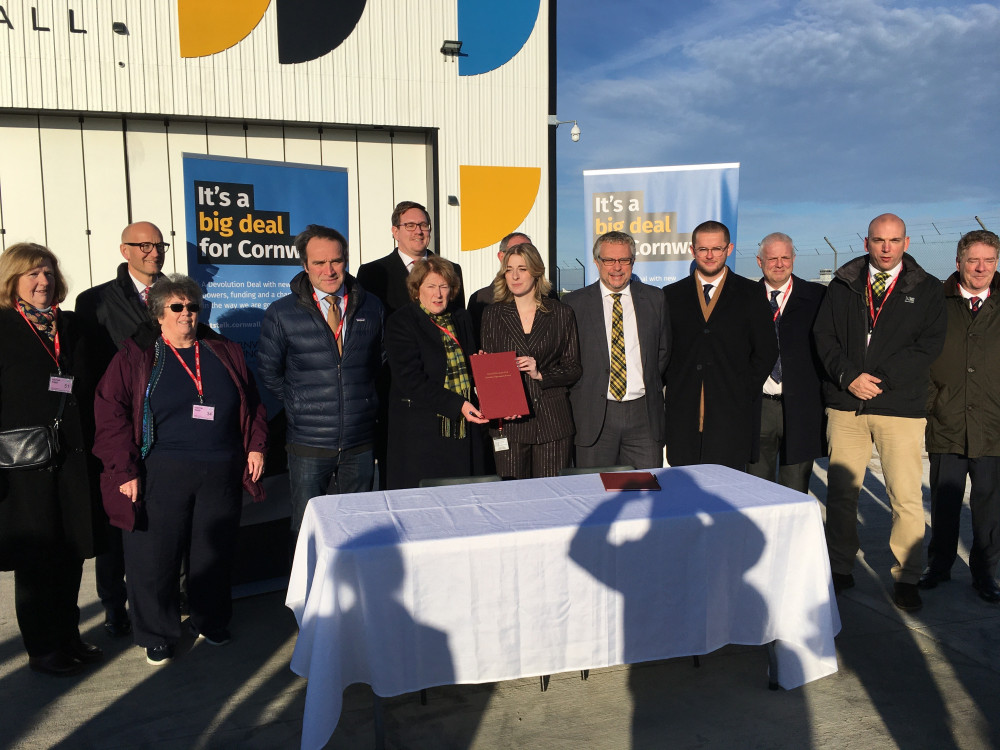 Cornwall Council leader Linda Taylor, Cornwall Council Cabinet members, MP Steve Double and Levelling Up Minister Dehanna Davison at the signing of the deal. (Image: Richard Whitehouse/LDRS)
There are less than two weeks left for the people of Cornwall to give their views on whether the Duchy should accept a new deal providing new powers and funding and have a new directly elected Mayor for Cornwall.
The issue has divided people across Cornwall – whilst the council is proclaiming in its publicity that it is a "big deal for Cornwall" critics suggest that it is more a case of the Emperor's New Clothes, a deal which promises much but delivers little.
With so much conflicting information swirling around online from both sides of the argument we thought it would be a good idea to look at the facts of the matter. What is actually included in the 34-page Cornwall Devolution Deal and the consultation materials that have been issued by Cornwall Council?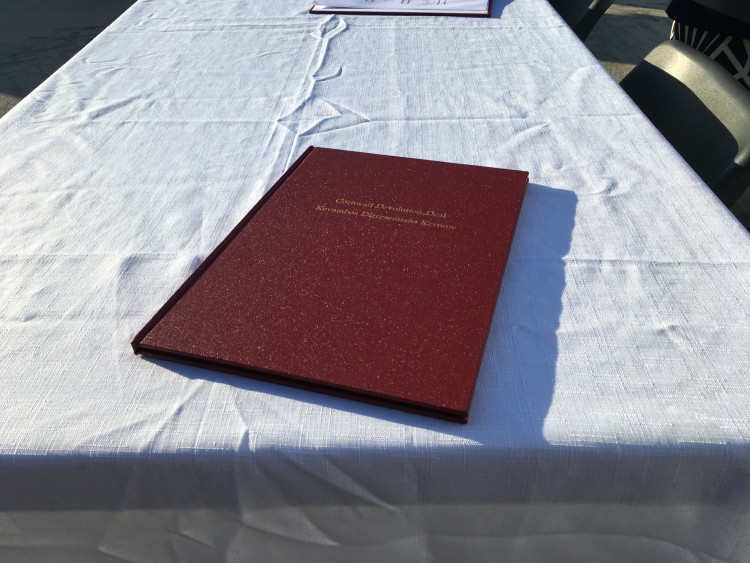 The Cornwall Devolution Deal which was signed at Spaceport Cornwall (Image: Richard Whitehouse/LDRS)
So, let's start at the beginning – how did this all start? In July 2021 the then Prime Minister Boris Johnson announced plans for new devolution deals with county areas saying there was no reason why county areas could not have the same devolved powers as city areas.
Then, in February 2022, Cornwall was identified as one of nine areas that had been invited to negotiate a new devolution deal with the Government. It came after Cornwall was one of the first rural areas in the country to secure its first devolution deal in 2015.
The Government said there would be three levels of devolution deals – the lowest Level 1 offering few new responsibilities and funding and the highest Level 3 offering more. However, a Level 3 deal comes with a caveat, to be accepted for that unitary councils, like Cornwall, would have to change the way they are run and have a directly elected mayor leading the council.
Cornwall Council has said that it has bid for a Level 3 as it effectively already has all the powers offered by Level 2 under the previous deal secured in 2015. They state that the only way to get additional powers would be to secure a Level 3 deal, which means an elected Mayor is required.
However, one of the key powers which has been offered to the council under the Level 3 deal is to take control of the budget for adult education in Cornwall. This is also available to areas which secure a Level 2 deal so could, in theory, be devolved to Cornwall without a new deal and by simply extending the existing devolution deal.
Mebyon Kernow leader Dick Cole has said that the deal is not devolution, stating that it doesn't offer Cornwall control or responsibility over anything and has said that having campaigned for real devolution all of his adult life he knows what devolution is.
Conservative Cabinet member Louis Gardner told a public discussion recently that the deal was just the start of a journey and that there could be more powers and responsibilities devolved to Cornwall in future. He highlighted that Greater Manchester is on its eighth devolution deal.
One of the key parts of the Cornwall Devolution Deal, and one which supporters say weighs in its favour, is the additional funding that could be provided for Cornwall. Cornwall Council's consultation materials state: "It's a big deal…£390m of new government money coming to Cornwall over the next 30 years. This is additional investment that we would not have without a deal."
So, how is that £390m broken down? The largest chunk of it – £360m – would be paid to Cornwall in the form of £12m of "investment funding" every year for 30 years. It has been made clear that this funding would not be linked to inflation so would not rise, critics argue that £12m a year now doesn't sound a lot and by 2053 could be worth even less.
But supporters say that this is extra funding for Cornwall and would be used to attract further investment into Cornwall. The mainly Conservative supporters are also keen to highlight other Government funding such as the Town Deal and Shared Prosperity Fund, but these are completely separate from the devolution deal and are available to all local authority areas.
Critics have also highlighted that the £360m is also far from the amount of money that might have been expected from the EU if Brexit had not happened. Cornwall Council had said that £700m would be needed over seven years to replace lost EU funding which it said was "critical" for Cornwall.
And what can the money be used for? The Devolution Deal states that: "Cornwall Council will use the Cornwall Investment Fund to deliver a programme of transformational long-term investment to deliver the Cornwall Plan 2050. The Government agrees to allocate £ 12 million per annum for 30 years (35% capital and 65% revenue) which will form part of the Cornwall Investment Fund."
It states that the money will be subject to assessments every five years "to confirm that the investment has contributed to economic growth and levelling up". It is not clear what happens if those assessments are not in line with what the Government wants.
The rest of the £390m headline figures includes £8.7m for the next two years only to support the building of new homes on brownfield land. The deal, on this money, states that it is "subject to sufficient eligible projects for funding being identified".
Cornwall Council also states that it could get up to £7m of capital funding to support affordable housing delivery. There is no direct reference to this funding in the Devolution Deal, but it is part of a pledge of "up to £10million capital funding to support the delivery of locally determined priorities in Cornwall, including housing and heritage-led regeneration subject to a full business case".
This funding has actually been provided to Cornwall Council already, before the Devolution Deal is accepted by the council and is being used for heritage projects including Royal Cornwall Museum and Bodmin Old Library and housing schemes in St Austell, Bodmin, Liskeard and Truro.
Other funding being provided as part of the deal includes up to £10m for a "Cornwall Innovation Programme" which will be invested in innovative businesses over three years. There is also £500,000 to help with the delivery of the Cornwall Transport Plan and another £500,000 to "support Cornish distinctiveness, there is no indication whether this is one-off funding or whether additional money will be made available.
There are a number of other areas which the Devolution Deal states that the Government will "support" or "work with" Cornwall Council. And in other parts the deal says it will "explore" opportunities for the council.
For example on Floating Offshore Wind (FLOW) which aims to help create a floating wind farm off the coast of Cornwall the deal states that "the Government supports Cornwall Council's ambition to create a Cornwall FLOW Commission". But there is no mention of what form that support will be provided.
If you look through the Devolution Deal the word "explore" is mentioned 17 times and the phrase "work with" crops up 29 times.
Of course, one of the key parts of this deal is that Cornwall will only be eligible for it if it accepts a change of governance structure at Cornwall Council. This means that instead of a Leader and Cabinet model of governance there would be a directly elected Mayor who would run the council as well as carrying out any mayoral responsibilities.
At the various consultation events which have been held Conservative Cabinet members have been keen to highlight the work which has been done by other elected mayors in England – most notably Andy Burnham in Greater Manchester, Andy Street in the West Midlands and Ben Houchen in the Tees Valley. However, these Metropolitan Mayors are not the same as what will be in place in Cornwall and critics would say it is comparing apples with oranges.
Metropolitan mayors sit above the local councils in their area and have responsibility for set areas of policy – such as housing, transport and skills – and have their own budgets. The councils in their areas continue to retain control over their functions including their budgets to provide services.
Take Greater Manchester, for example, the area includes 10 local authorities including Manchester City Council, Bolton, Stockport and Wigan. The Mayor there, Andy Burnham, has a Cabinet which is made up of the leaders of the local councils in that area.
The Mayor will work with those local councils to draw up strategy for the wider area, but the councils themselves remain responsible for providing local services in their individual areas.
In Cornwall there is just one unitary council, Cornwall Council, so the Mayor will be the figurehead of the council and will have to choose a Cabinet from the 87 elected councillors to not only look after the wider strategies but also the day-to-day running of the council.
One of the questions which has been raised is what happens if the elected mayor is of a different political persuasion than the majority of the elected councillors – if, say for example, an Independent candidate called Betty Stoggs was elected but the council was a majority of Conservative councillors.
The Mayor would be able to choose whoever they want to be in their Cabinet, but it would make getting any major decisions through the council very hard if their Cabinet was in direct opposition to the majority of councillors.
Changing the governance of the council also means that there would be an alteration to how decisions such as the budget are made. Currently, they are taken as a majority vote in the council chamber but, under the proposals, any changes which might be proposed would have to be supported by at least two-thirds of the members of the council before they are considered.
Critics have warned that this could put too much power into the hands of the elected Mayor and their Cabinet and would restrict the opportunities for elected councillors to influence major decisions being made on behalf of the council.
Supporters claim that the position of a Mayor would give Cornwall a stronger voice and that mayors are more recognisable amongst the public, nationally and internationally. They claim that this would help attract investment into Cornwall.
Lastly, there is the cost of the Mayor – Cornwall Council says that the mayor would be "cost neutral" until at least 2025 due to a £750,000 mayoral capacity fund which would be provided by the Government.
However, after 2025 the costs of the Mayor, their staff, and office, would have to be met by Cornwall Council. It is not known how much of an allowance the Mayor would get and a recommendation will be made by the council's independent remuneration panel.
Metro Mayors in England received between £65,000 a year and more than £152,000 which is paid to the Mayor of London. However mayors also have costs for their own staff and other requirements, the Mayor of Bristol was said to cost taxpayers around £1m a year.
So, is the Cornwall Devolution Deal a big deal? A good deal? A bad deal? That is for individuals to decide.
The consultation by Cornwall Council asking the public for their views on the Cornwall Devolution Deal closes on February 17. To take part click here https://letstalk.cornwall.gov.uk/bigdeal
After the consultation closes Cornwall Council Cabinet will consider the responses and the proposed deal on March 22. Then, on April 18, a full council meeting will be held to decide whether there should be a referendum on the deal and a Mayor for Cornwall.
Following that, a full council meeting is scheduled for July when councillors will decide whether to accept the deal and the change in governance. If that is approved then the first election of a Mayor for Cornwall would take place in May 2024.