Technology is supporting adults to live independently at Pendennis House in Wadebridge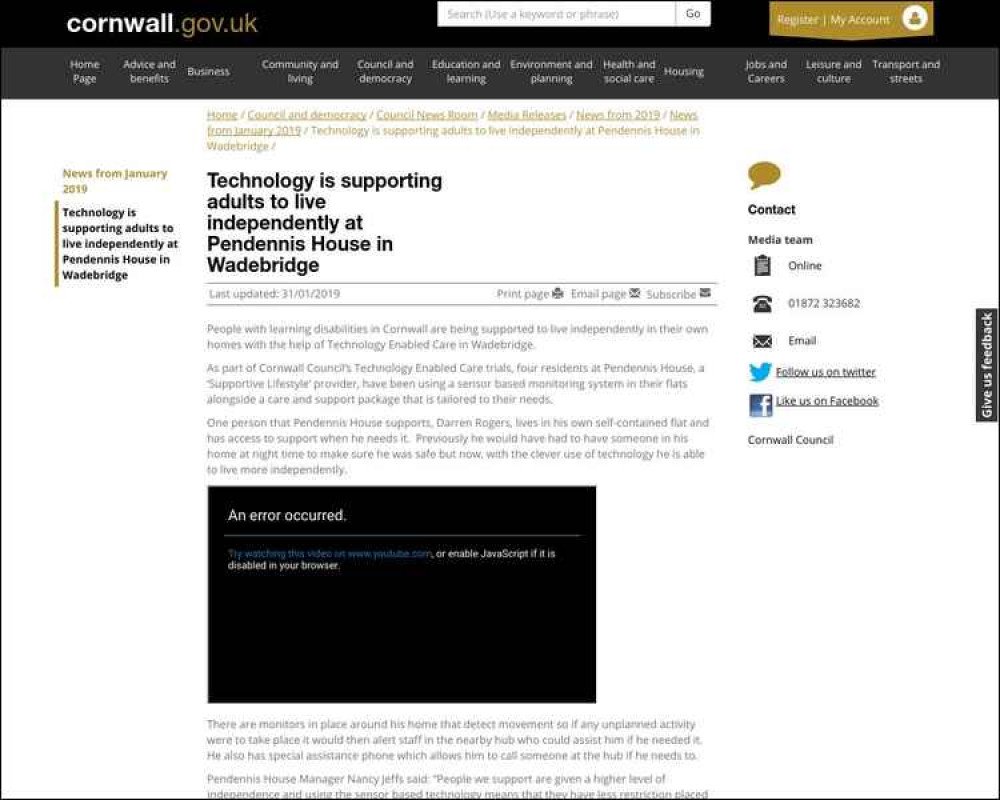 People with learning disabilities in Cornwall are being supported to live independently in their own homes with the help of Technology Enabled Care in Wadebridge.
As part of Cornwall Council's Technology Enabled Care trials, four residents at Pendennis House, a 'Supportive Lifestyle' provider, have been using a sensor based monitoring system in their flats alongside a care and support package that is tailored to their needs.
One person that Pendennis House supports, Darren Rogers, lives in his own self-contained flat and has access to support when he needs it. Previously he would have had to have someone in his home at night time to make sure he was safe but now, with the clever use of technology he is able to live more independently.
There are monitors in place around his home that detect movement so if any unplanned activity were to take place it would then alert staff in the nearby hub who could assist him if he needed it. He also has special assistance phone which allows him to call someone at the hub if he needs to.
Pendennis House Manager Nancy Jeffs said: "People we support are given a higher level of independence and using the sensor based technology means that they have less restriction placed on their life.
"They can use the special assistance phone to contact someone should they need urgent help and staff are on hand seconds away if needed. We have seen people's confidence levels soar using this technology and this has spread into other areas of their lives, having the confidence to pick and choose activities they want to get involved in."
Cornwall Council portfolio holder for adults Rob Rotchell said: " This is a great example of how technology can support people to live independently in their own home. Evolving technology within social care offers many opportunities to better help support people's lives."
The people Pendennis House support regularly enjoy a number of activities that they can choose to take part in, one of those being a musical session with Cornwall's very own Britain's Got Talent 2016 semi-finalist Josh Curnow.
Posted on 31 January