Keeping warm and well and other local matters on the agenda at the Truro & Roseland Community Network Panel Meeting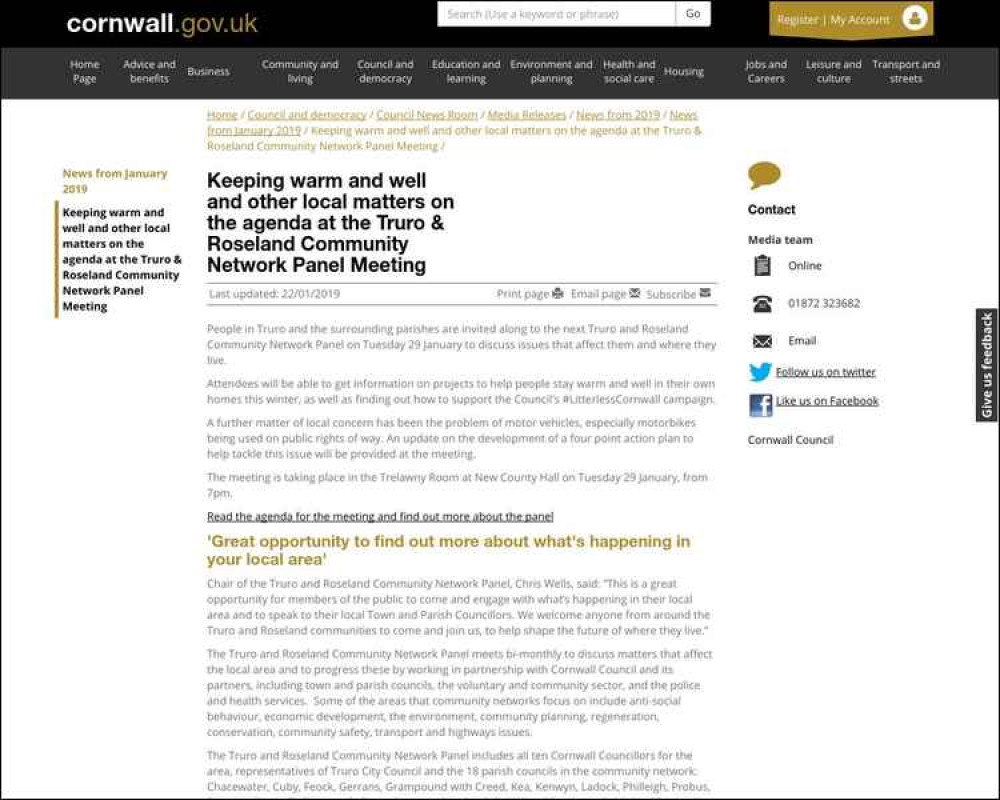 People in Truro and the surrounding parishes are invited along to the next Truro and Roseland Community Network Panel on Tuesday 29 January to discuss issues that affect them and where they live.
Attendees will be able to get information on projects to help people stay warm and well in their own homes this winter, as well as finding out how to support the Council's #LitterlessCornwall campaign.
A further matter of local concern has been the problem of motor vehicles, especially motorbikes being used on public rights of way. An update on the development of a four point action plan to help tackle this issue will be provided at the meeting.
The meeting is taking place in the Trelawny Room at New County Hall on Tuesday 29 January, from 7pm.
Read the agenda for the meeting and find out more about the panel
'Great opportunity to find out more about what's happening in your local area'
Chair of the Truro and Roseland Community Network Panel, Chris Wells, said: "This is a great opportunity for members of the public to come and engage with what's happening in their local area and to speak to their local Town and Parish Councillors. We welcome anyone from around the Truro and Roseland communities to come and join us, to help shape the future of where they live."
The Truro and Roseland Community Network Panel meets bi-monthly to discuss matters that affect the local area and to progress these by working in partnership with Cornwall Council and its partners, including town and parish councils, the voluntary and community sector, and the police and health services. Some of the areas that community networks focus on include anti-social behaviour, economic development, the environment, community planning, regeneration, conservation, community safety, transport and highways issues.
The Truro and Roseland Community Network Panel includes all ten Cornwall Councillors for the area, representatives of Truro City Council and the 18 parish councils in the community network: Chacewater, Cuby, Feock, Gerrans, Grampound with Creed, Kea, Kenwyn, Ladock, Philleigh, Probus, Ruan Lanihore, St Clement, St Erme, St Just-in-Roseland, St Michael Caerhays, St Michael Penkevil, Tregony and Veryan.
You can also keep up to date with what's happening in the area by joining the Truro and Roseland Community Network Area Facebook page.