Ships and Castles Crowdfunder campaign offers amazing rewards for donations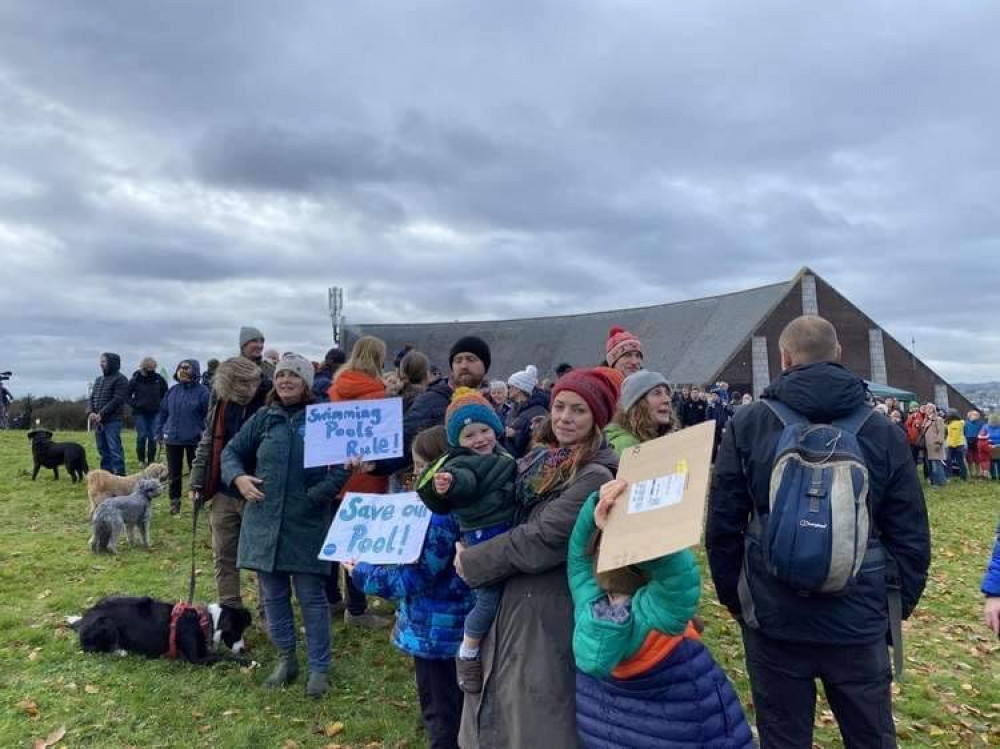 Pendennis Leisure campaign outside Ships and Castles (Image: Pendennis Leisure)
As many people know the Pendennis Leisure group launched a Crowdfunder campaign to try to keep hold of Falmouth's only swimming pool Ships & Castles, the initial target of £10,000 was reached in just a day.
The current stretch target is now set at £40,000 after the amazing support received, the Pendennis Leisure group announced on social media why they would now be asking for more donations: "As we approached the original closing date at the end of October, our friends at Crowdfunder HQ got in touch to say that Sport England might potentially be interested in backing our project if we could drum up some local business backing in the shape of some Crowdfunder rewards and raise just a bit more.
"So over the last couple of weeks we have put together a selection of delectable rewards donated by our local business community and we will be putting these up on our Crowdfunder page. Hopefully, these rewards, combined with a further push from our community, will trigger a Sport England grant that could see us reach an amazing £40,000!"
The group says that the money will pay for the technical work they need from engineers, surveyors, architects, and plant technicians, they say it will also enable them to get ready to take on the lease and employ a coordinator. That will give Pendennis Leisure the foundation they need to go into 2023 knowing that they have saved Pendennis Headland from development and are on the way to fixing our broken leisure centre.
By donating you get the chance to select between some amazing rewards supplied by local businesses, the more you donate the better the rewards so take a look through some of the offers:
The Cornish Bank Ticket
The Cornish Bank is Falmouth's most dynamic music venue, famous for the diversity and quality of its incredible programme. Get yourself to a gig while saving our pool!
Bango Kitchen Voucher
Treat yourself to a delicious takeaway Bao, Gyoza or Dim Sum while saving Ships & Castles, or use the voucher towards your next meal with Penryn's most exciting streetfood team.
Seasalt Cornwall Voucher
Get ahead on your Christmas shopping or treat yourself to any of Seasalt's beautiful clothing or accessories woven with stories of Cornwall - all proceeds going to Ships & Castles!
The Aussie Smoker Rub'n'Jam & Gift Cards
Delectable duo of the Pitmaster's legendary BBQ Rub and his Chilli Jam posted to you wherever you are - two jars bursting with flavour to give your own barbeques a pool-saving Aussie bang!
Sessions Surf & Skate Shop Vouchers
Perfect Christmas gift opportunity in one of the homeliest stores on Falmouth's High Street - Sessions are not only working to create a Falmouth Skate Park, they are also backing Ships & Castles and you can use this voucher at any time for any of their super style clothing and accessories.
INDIdog Voucher for 2023
There's nowhere in Falmouth like Indidog - fine Cornish produce cooked with love on the harbourside for breakfast, lunch or dinner along with drinks and baked goods served all day. A treat to look forward to when Indidog re-opens in February
Finisterre Beanie
No one does beanie hats like Finisterre, Cornwall's leading B-corp. Pick one of the iconic ranges for yourself or for Christmas gifting - all for Ships & Castles! To collect from the Falmouth store
To find out about the campaign, donate, or see more of the rewards on offer follow the link here: Ships & Castles - a Community crowdfunding project in Falmouth by Matthew Thomson (crowdfunder.co.uk)