Overnight parking consultation results released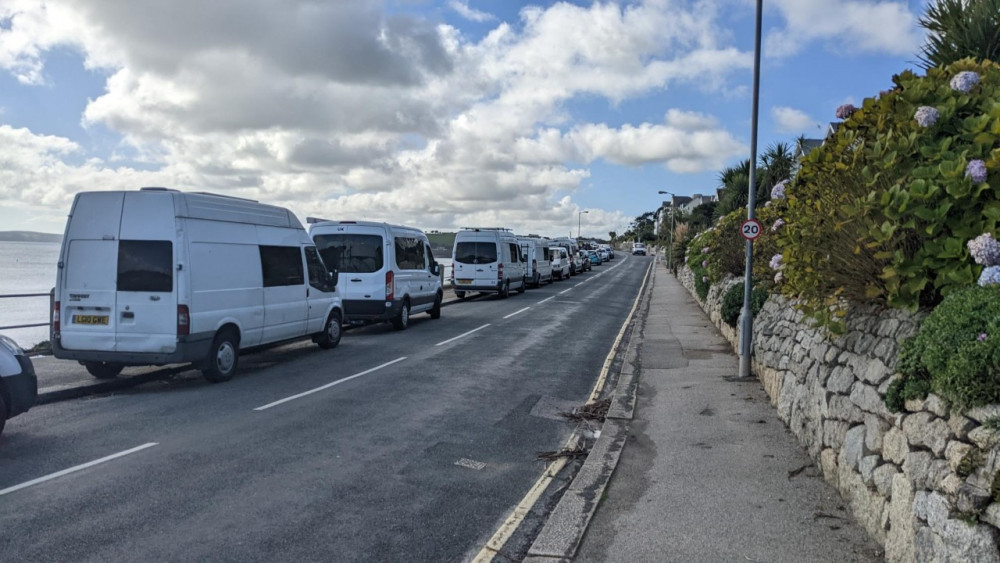 Vans parked on Cliff Road
As Nub News reported last year a parking consultation took place between the 3rd November and 30th November 2022 for a variety of waiting restrictions throughout the Falmouth & Penryn Community Network Area.
The consultation focused on these areas: Boscawen Road, Cliff Road, Queen Mary Road & Swanpool Road and received over 600 responses.
There had been complaints that the seafront, and other areas of Falmouth, have been affected by an increase in long-term on-street overnight campervan parking. This has been escalated as an issue by local residents and businesses as having a negative impact on the historic nature and popular views across Falmouth.
The growing presence of overnight parking at key seafront areas was deemed by some to have a negative impact with unsightly and in some cases environmentally harmful activities.
With a large majority 79% of respondents were in favour of the proposals as a whole, the report that was produced by Cormac said: "There was a consistent feeling that the current situation was creating an unpleasant atmosphere, where people felt uncomfortable walking along the seafront, especially in the evening.
"Several comments highlighted issues in terms of 'camping out' on the footway, with benches, chairs, washing, etc. Hygiene issues were also raised particularly the smell of urine in the summer, and reports of human faeces in Boscawen Fields."
However, of those that were in favour of restrictions, there was a large majority that mentioned they were understanding of the existing housing crisis and felt that before implementing these restrictions an alternative should be identified to ensure the issue was not simply displaced to nearby streets.
21% of respondents objected to the proposals, they also raised concerns about the current housing crisis and highlighted that many living in vans could not afford to buy/rent in the current market. Some believed that this was caused by the influx of students at the university which had put pressure on the existing housing stock.
The report explained more of the reasons for the objections: "With no current alternative, respondents felt that a solution should be looked at rather than just moving the issue along. Comments were received with concerns about the safety of individuals if they are forced to move to less safe areas and how this may aggravate local tensions
"Several respondents felt that these proposals were discriminatory and stated that van dwellers cause no problem, have a low carbon footprint, do not cause any obstruction to the highway, and residents do not own the view."
The majority of instances highlighted in the report were said to be occurring in the early morning and late at night, the proposed overnight waiting restrictions were agreed to be a reasonable and proportionate response.
However, it was mentioned that simply bringing in restrictions would not solve the issue and more likely move the problem to other locations around town.
Alternative measures have been looked into, and there are still ongoing investigations taking place looking to offer at least a partial solution. It has not yet been agreed on what this will look like, although it was agreed that this should not delay the implementation of any restrictions agreed upon as part of this consultation.
Laurie Magowan the Cornwall Councillor for Falmouth Arwenack released a statement on social media: "Though sheer quantity of support does not determine the outcome of the decision, it is a factor to be considered, and the results show clear support for the introduction of parking restrictions. As a result, I am supporting the implementation of parking restrictions as set out in the proposals."
Cllr Magowan also added: "Construction is programmed to start on site in February 2023 and take approximately two weeks to complete. Please note any restrictions will not come into effect until all the necessary works have been carried out. "
You can find the full statement here: parking consultation statement.
New falmouth Jobs Section Launched!!
Vacancies updated hourly!!
Click here: falmouth jobs