Devon and Cornwall Police are supporting Neighbourhood Policing week 2023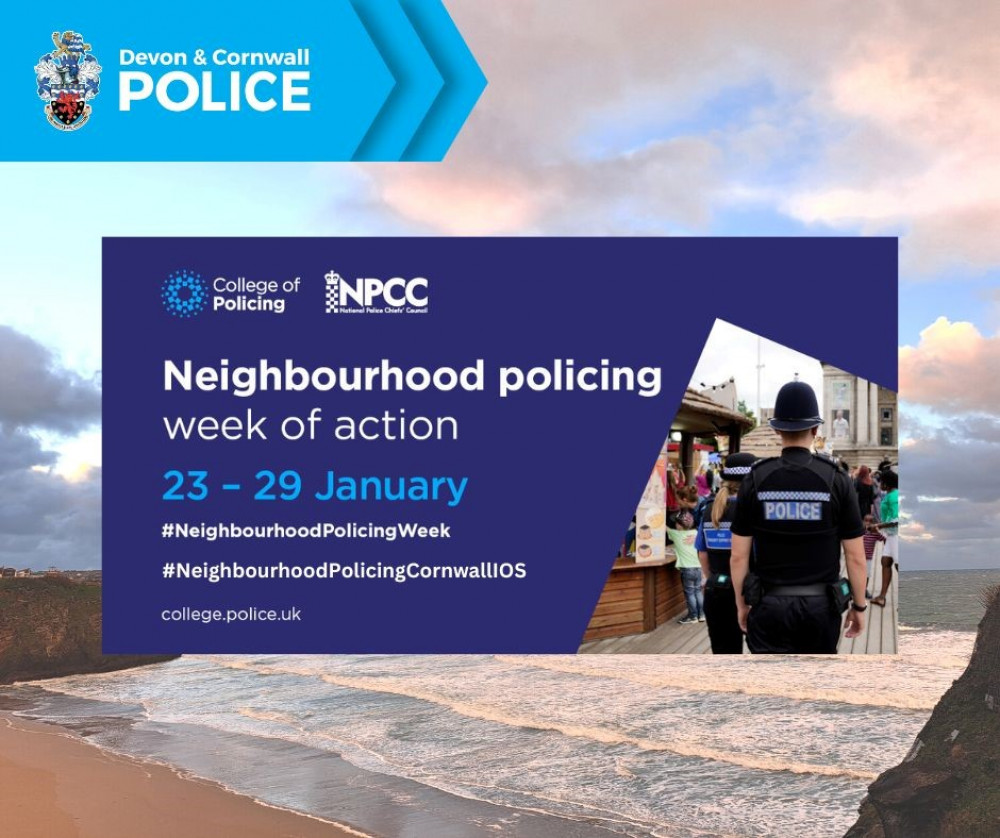 (Image: Falmouth and Helston Police)
Neighbourhood teams across Devon, Cornwall, and the Isles of Scilly will be highlighting the vital work they do every day to support local communities, as part of a national Neighbourhood Policing Week of action.
From (Yesterday) Monday 23 January, all local policing teams across Devon, Cornwall, and the Isles of Scilly will be promoting local activity that neighbourhood officers, police community support officers (PCSOs), and volunteers do to protect the public and keep people safe.
There are many engagement opportunities available each week to communities across Devon, Cornwall, and the Isles of Scilly throughout the year. Events scheduled for this week will be published on each area's social media accounts using the hashtag #NeighbourhoodPolicingDevon, #NeighbourhoodPolicingCornwall, or #NeighbourhoodPolicingPlymouth.
Local policing is important to build that bridge between police and the public. Being present and engaging with local communities enables police to understand community concerns and identify where local teams can improve, to better serve the public.
Devon and Cornwall Police Assistant Chief Constable Jim Nye, said: "Neighbourhood policing is at the heart of everything we do – being a trusted presence within the community, working closely with people and using a range of problem-solving skills to address community issues, is vital in helping us to prevent crime, bring offenders to justice and keep people safe – especially the most vulnerable.
"This week of action is an ideal opportunity to recognise and celebrate the vital work that all our neighbourhood policing teams, and our wider policing family perform every day to keep communities safe and make Devon, Cornwall, and the Isles of Scilly a hostile place for criminals."
Alison Hernandez, The Police and Crime Commissioner for Devon, Cornwall, and the Isles of Scilly said: "We know neighbourhood policing is valued by our communities and is fundamental in both crime prevention and recording".
"In a recent public survey, which helps set the policing budget for 2023/24, 2,263 people (93.28%) told me preventing crime is an area which needs greater investment. One focus of our new Chief Constable is to have a 'strong police focus on access and visibility with our communities' so further investment in neighbourhood teams is planned.
"We have budgeted for more police officers in Devon and Cornwall than there ever have been. This approach will help deliver on my policing priorities of tackling drugs, anti-social behaviour, reducing serious violence, and making our roads safer."
If you are unable to make any of the planned face-to-face engagement events and are concerned about issues in your neighbourhood, please contact your local neighbourhood team online at Local Policing | Devon and Cornwall Police (devon-cornwall.police.uk) or by calling 101. If a crime is in progress or life in danger, always dial 999.
You can find your local police team on social media here: Falmouth and Helston Police.