New mural unveiled in Falmouth raising awareness of ocean pollution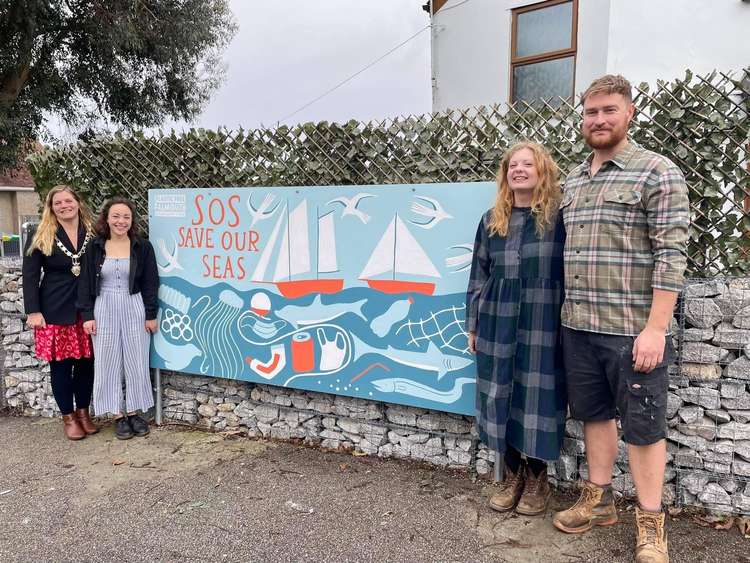 The unveiling of the mural, Kirstie Edwards with Rosie, Holly and Teddy from Creative Falmouth.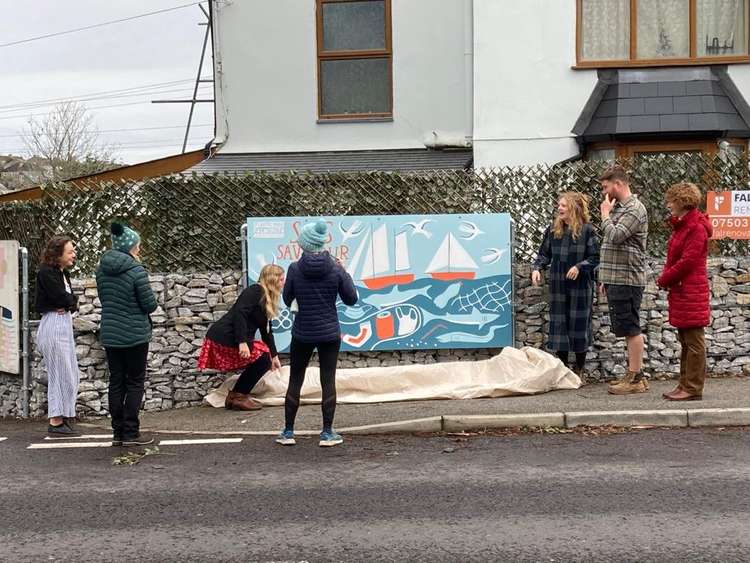 The unveiling of the mural.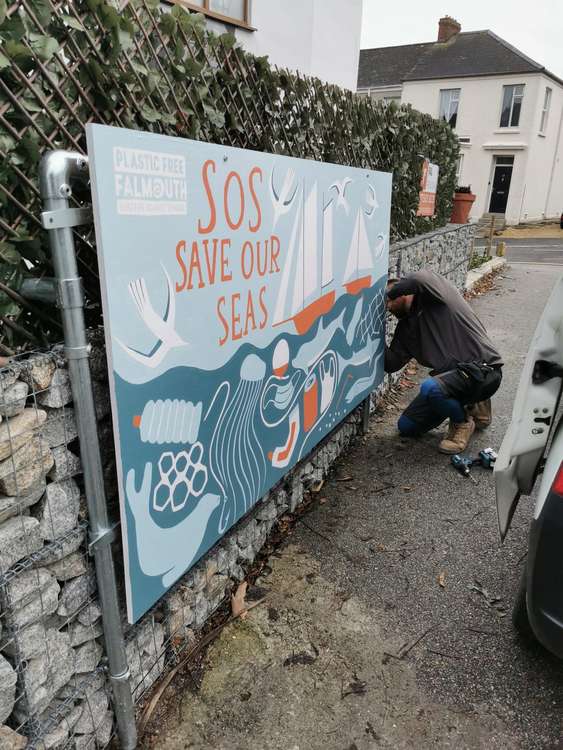 The mural on Dracaena Avenue, Falmouth.
The latest mural has been unveiled in Falmouth with a strong message on pollution in the seas.
The mural was revealed in a small ceremony this morning (29th) on Dracaena Avenue, Falmouth.
Put together by Creative Falmouth working in partnership with Plastic Free Falmouth and Holly Astle Illustration, the latest in the series depicting the message save our seas. It is a striking image, created by local illustrator Holly, of rubbish and plastic, floating beneath our waves.
The mural was unveiled by Deputy Mayor Kirstie Edwards and Holly herself with a small crowd from Plastic Free Falmouth and Rosie who helped to upscale and paint the design.
Teddy, of Creative Falmouth, is aiming to create a walking tour of public art around the town, he said:
"I'm so happy to finally have the murals back up on the wall. It's great to bring some colour back to the town and raise awareness of pollution.
"I would like to thank all the artists who have given up their time to paint the new plastic seas mural as well as the Gylly glide mural from last year."
The designer Holly, added:
"My mural design was bought on by the high concern I have for the climate and ecological crises we face. Often our seas are overlooked because we can't see the extent of the damage that is being done to them.
"Ocean plastic is an obvious visual representation of this damage, and something that everyone needs to get behind to curb pollution in this way: we're currently on track to have more plastic than fish in our oceans by 2050.
"It's also of high importance to me that we talk about protecting our seas in other ways, currently around a quarter of the UK's seas are classed as Marine Protected Areas. Yet in more than 97% of these, they are allowed to be bottom trawled. I want my work to be a trigger for environmental awareness and education."
Deputy Mayor Kirstie added:
"I am absolutely delighted to see this new mural and the older one back on the main road opposite the rugby club, it brings some colour and interest to some important issues that we as a town are addressing.
"Holly is incredibly talented and we are grateful at plastic free Falmouth to have had her support and ideas come to fruition. I'd also like to thank Teddy for being a long-time supporter of Plastic Free Falmouth, to enable these projects to happen. He invested a lot of his own time and money in this project and I'm very grateful to him, he's a legend."
Click here to see more from Plastic Free Falmouth.
[H3] See the latest news on our Twitter and Facebook pages. [.H2]