A boost to Falmouth's creative sector after launch of new collaboration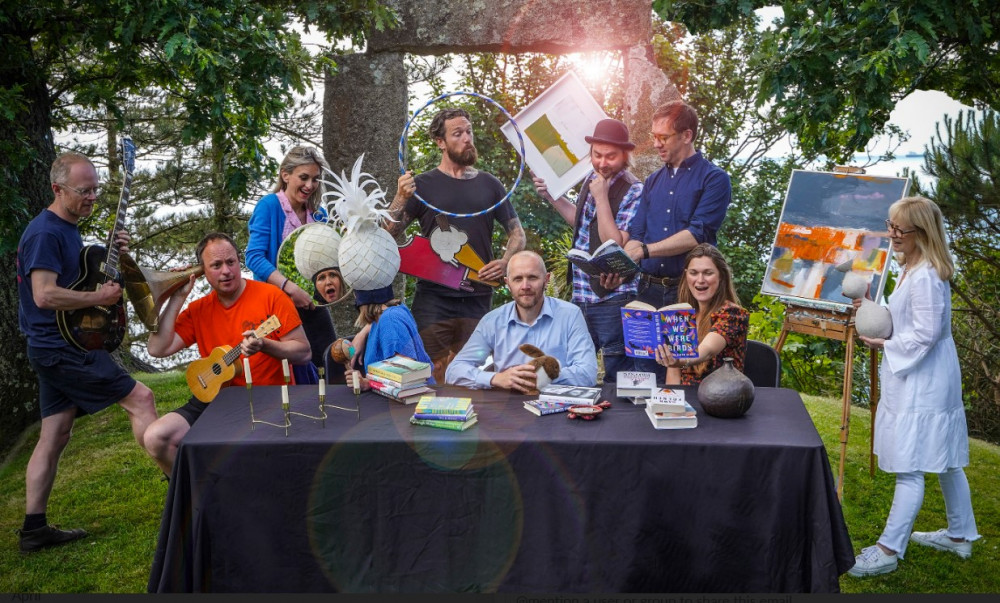 Falmouth Creates is launched.
Falmouth Creates has been launched, a new creative collaboration, led and fostered by the multi-award-winning Falmouth Business Improvement District (BID).
The creative 'brainchild' of several different organisations, Falmouth Creates will facilitate, organise, and support an enviable calendar of new festivals and happenings dedicated to supporting Falmouth's creative sector.
Despite the incredible global challenges of the past eighteen months, in Falmouth, Cornwall, creativity has developed. Cultural game-changers within the town considered ways to further elevate Cornwall's festivals capital and identified a need, and exciting opportunity, for a curated programme of events that could shine a spotlight on Falmouth's cultural offer.
Richard Wilcox, Executive Director of Falmouth BID, said: "Coincident, simultaneous, and synchronous. These words, of course, mean 'existing or occurring at the same time.' And this was very much what happened when, within a matter of weeks, the organisations that now make up Falmouth Creates, approached the BID for advice, support, and funding for their innovative new cultural ideas."
Richard continues: "Falmouth's enviable festival calendar gets bigger and better every year, delivering major economic and social benefits, for the business community, our residents, and visitors. The recently delivered brilliant International Sea Shanty Festival, organised against the odds, bears testament to that.
"We're a dynamic destination and team, always looking to punch well above our weight and there was certainly a feeling that an opportunity existed to build a brilliant set of new festivals that celebrated Falmouth's cultural scene. And rather than each new event organiser operating in isolation, we've brought them all together to share ideas, collaborate and innovate, resulting in Falmouth Creates. Falmouth BID will proactively support each of these exciting ideas through to fruition this year and furthermore, we'll work together to seek the necessary ongoing funding that can ensure future sustainability."
The events and festivals that Falmouth Creates will be supporting, aim to have a positive social and economic impact throughout the year.
For 2022, these are:
• WanderFAL 8-9 April This year's taster event was a big success in engaging the community with grassroots music. Locals and visitors alike 'wandered' between musical genres and venues, experiencing diverse national and international performers, across one lovely weekend.
• The Falmouth Cringe 30 June - 3 July A new festival of comedy for all ages, showcasing up-and-coming local talent and renowned international comedians. Cringe will be a new way for Cornish audiences to experience culturally rich, live comedy most often seen in London or Edinburgh, from magic to performance comedy, stand-up to improvisation.
• Falmouth International Arts Festival or FIAFest 9 - 15 July Coming together for a week of culture and conversation featuring performance, film, music, live art, workshops, and talks. Taking place outdoor, indoor, and online, FIAF 2022 will be an exciting taster of what to expect in future years and delivered in partnership with local businesses and the community.
• Form Art Festival 30 September – 2 October Celebrating Cornwall and Falmouth's visual arts offer through an art fair, talks and workshops, visitors and residents can meet and purchase from diverse, skilled Cornish artists and craftspeople. Organised for the local community, FORM will seek to provide a platform for people at all stages in their creative journey.
• Falmouth Book Festival 17 – 23 October Falmouth Book Festival brings a diverse range of renowned author talks, workshops, panel discussions, interactive children's events, readings, and agenda-setting conversations throughout the town. Future festivals will showcase talent from the local writing community and bring in high-quality, internationally renowned literary names, all further building Falmouth's national profile and standing.
The collaborative, creative-focussed group working alongside the BID, will aim to attract thousands of additional visitors to the town throughout the year, as well as acting as an enabler for neighbourhoods and individuals who don't naturally have access to cultural events or opportunities.