Falmouth: Miracle Theatre returns to the festive stage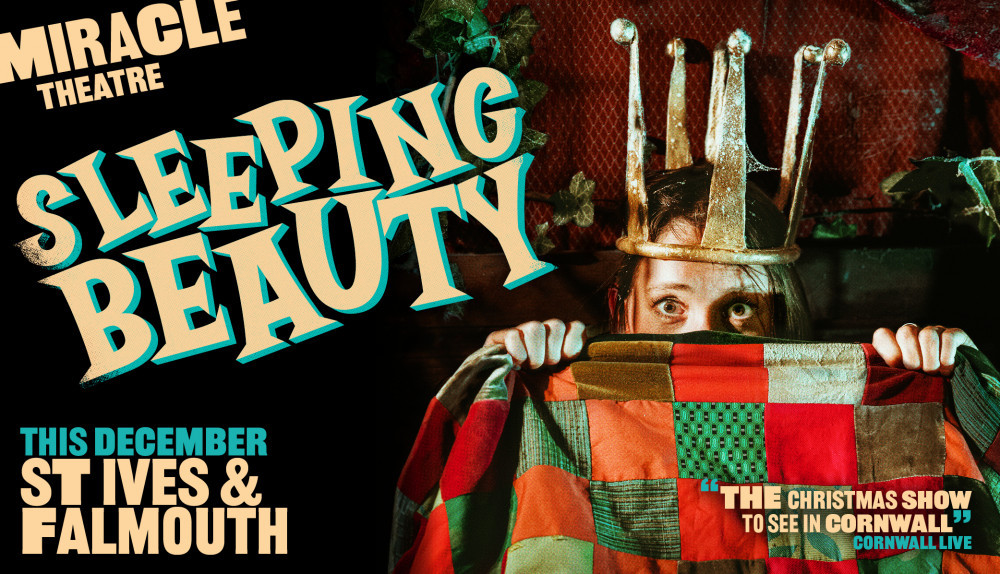 Miracle Theatre present Sleeping Beauty, coming to Falmouth soon.
Welcome in the festive season with the return of Miracle Theatre's much-loved Christmas Show, round up family, friends, and neighbours, and ready yourselves for a reimagining of Sleeping Beauty. Opening on the 8th of December with matinees and evening performances until New Year's Eve!
This winter, Miracle's Christmas tale will follow the adventures of a resourceful princess with insomnia when a resentful fairy's wicked spell goes horribly wrong...
The Sleeping Beauty cast will feature Miracle regulars Ben Dyson, Holly Cassidy and Ben Kernow, who will be joined by Charlotte Bister (Owdyado Theatre) and Katy Owen (Wise Children, Kneehigh, Shakespeare's Globe). Together, they form a high-energy ensemble ready to bring you more magical musical mayhem this Christmas. This reimagining of Sleeping Beauty has been written by Bill Scott and Tom Adams and will be co-directed by Hannah Stephens and Bill Scott.
Seasoned actor, Hannah Stephens, will be stepping away from the stage and into the Miracle director's chair for the first time this Winter. Having starred as Hawkins (Treasure Island 2019), Aladdin (2018), and Ratty (Cinderella 2016), Hannah has the insider knowledge to make sure this show will be jam-packed with all the festive cheer of a Miracle performance; dances, guffaws, and all. Even grandma won't be falling asleep during this show as families follow the adventures of a quick-witted princess!
Writer and Co-Director, Bill Scott, says: "Miracle is proud of its tradition of producing alternative pantos that appeal to all ages in equal measure! This Christmas, we will be turning the clocks back to 1959 and inviting audiences for an outing to the famous Cornwall Riviera Holiday Camp, where among other marvellous entertainment, they will be offered a magical, musical retelling of Sleeping Beauty."
Sleeping Beauty will be performed throughout December, at two family-friendly venues in Falmouth & St Ives.
Tickets begin at £13, with family tickets available for 2 adults and 2 children. Tickets are available to purchase, online via www.miracletheatre.co.uk, or the Princess Pavilion box office is open in-person & for telephone bookings on weekdays between 10 am and 2 pm at 01326 211 222.
The show will run for approximately 2 hours including interval, and is welcome to all ages. Advance booking is highly encouraged as tickets are already selling fast and previous shows have sold out.
Here's a look at the full Falmouth schedule:
Thursday 15th - 7:30pm
Friday 16th - 2:30pm - 7:30pm
Saturday 17th - 7:30pm
Tuesday 20th - 7:30pm
Wednesday 21st - 2:30pm - 7:30pm
Thursday 22nd - 2:30pm - 7:30pm
Friday 23rd - 2:30pm - 7:30pm
Saturday 24th - 2:30pm
Tuesday 27th - 7:30pm
Wednesday 28th - 2:30 pm - 7:30pm
Thursday 29th - 2:30pm - 7:30pm
Friday 30th - 2:30pm - 7:30pm
Saturday 31st - 2:30pm