'I thought we were excellent': Westgarth on Ashton & Backwell defeat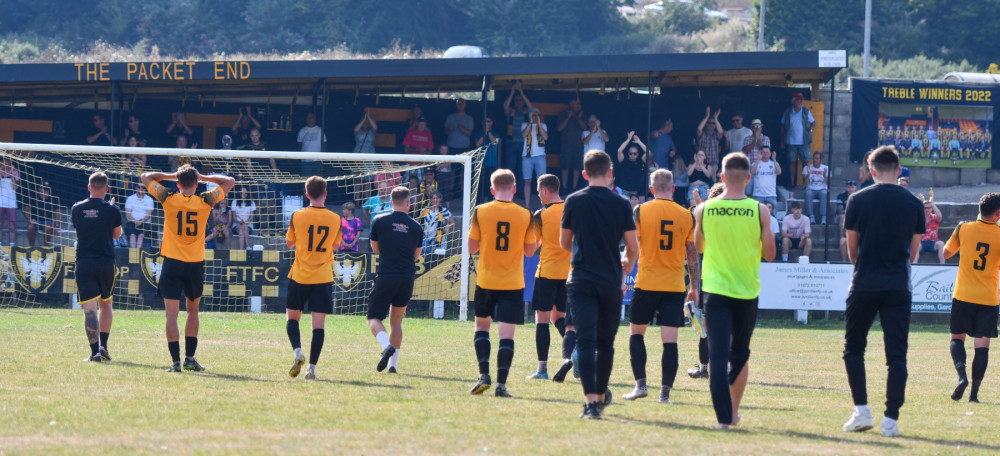 Andrew Westgarth reacts to defeat against Ashton & Backwell United.
Falmouth Town manager Andrew Westgarth felt his side were excellent despite going down to a 1-0 defeat at Ashton & Backwell United on Bank Holiday Monday.
Town were the better side for large spells of their first-ever Western League Premier Division match at The Lancer Scott Stadium, with Luke Barner, Tim Nixon, Charlie Edney and Alex Wharton all coming close before Barner had an effort ruled out for offside in a dominant first half.
But failure to convert any of their chances proved costly in the second half, with a rare effort at the other end midway through the second half from Deejay Preddie finding a way past stand-in gloveman Morgan Coxhead to plunder all three points for the home side.
The defeat is Town's third in four games following a pair of losses at Helston Athletic recently – with Town unlucky not to have won either match – and Westgarth admitted he struggled to work out how his side didn't come away with the points once again.
"I thought we were excellent, and it's becoming a bit of a tale of our season," he said. "We looked sharp, we looked fit, we dominated for large spells, we had the ball in the net a couple of times, we had chances, we defended brilliantly, we had Morgan [Coxhead] in goal helping us out and he hardly had to touch the ball with his hands and his kicking was great. It's really hard to put your finger on why we didn't come away with a win.
"They had one meaningful shot on goal and they scored and that deflated us a little bit, but again I thought after that we had a great response. We've had chances, [Luke] Brabyn's had a great chance at the end, he came on and looked really lively. It just goes to show this level of football, it's a tough one to take again."
He added: "We were dominant in all areas, I thought. They're a solid side, they had large spells of possession as well, but if you fancied a team to score the next goal you'd have to say us, but it's just the way it seems to be going at the minute.
"We're getting taught a lesson a bit at the minute which is frustrating. For all of our good play, we can't seem to find those three points."
Words from the Falmouth Town FC website.
New falmouth Jobs Section Launched!!
Vacancies updated hourly!!
Click here: falmouth jobs