Falmouth Lifeboat faces busy period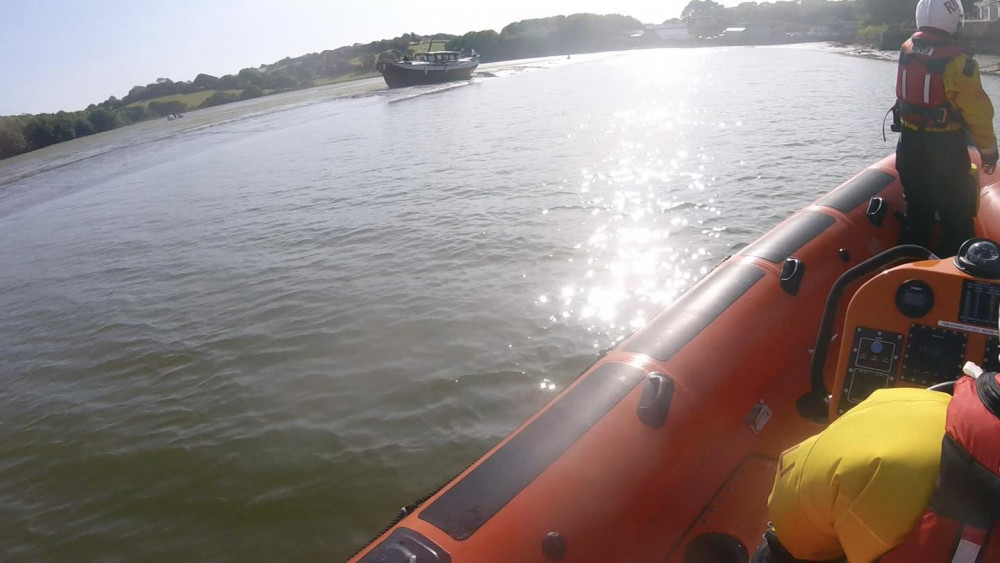 The team out on a call (Image: Falmouth Lifeboat)
As the weather starts to improve, locals and visitors all head to the water to cool down and have some fun.
Although many know how to keep safe in the water, the summer months often see the Falmouth Lifeboat team get extremely busy and they have been sharing their callouts on social media.
After a busy period for Falmouth's volunteer lifeboat crew members last week, the services of the crew were called upon twice on Bank Holiday Monday.
They first launched at the request of the UK Coastguard, tasked to assist a 30-foot cruiser, aground at Sunny Corner, near Truro.
Falmouth Coastguard Rescue Team and St Agnes Coastguard Search and Rescue Team were also tasked to assist.
Falmouth Lifeboat said: "The station's Atlantic 85 Robina Nixon Chard inshore lifeboat launched at 5.12 pm and arrived on scene 22 minutes later.
"The Coastguard teams had located the vessel with one person on board and, as he had provisions, he was happy to stay with his boat and wait for the incoming tide. However, the cruiser had damaged its rudder when it ran aground and would need assistance later when it refloated."
The Coastguard teams were then made aware of another boat aground about 200 metres from the shore, this time a hire boat with six people on board.
Falmouth Lifeboat said: "The inshore lifeboat was able to assist the Coastguard teams who had deployed specialist mud rescue technicians with the recovery of the casualties. Once aboard the lifeboat, the casualties were taken to Malpas in two trips and handed over to waiting Coastguard personnel.
"With the six people safely ashore, the lifeboat was released from service at 6.47 pm and returned to the station, arriving at 7.16 pm. The lifeboat was washed down and made ready for service again and this came when the pagers were activated again at 22.50pm.
"The inshore lifeboat launched at 11.07 pm, tasked to assist with refloating the 30-foot cruiser that had ran aground and damaged its rudder earlier at Sunny Corner.
"Arriving on scene at 11.35 pm, the lifeboat crew established an alongside tow and manoeuvred the vessel off the mud bank and checked for damage and leaks. It was then towed to a visitors pontoon at Malpas where the owner could fix his rudder and steering.
"With the casualty and his vessel safely moored up, the lifeboat was released from service at 12.40 am and returned to station."
You can keep up to date with news from the team here: Falmouth Lifeboat
The team has also shared the RNLI Float to Live campaign for half term and the summer.