Falmouth: Eco-friendly housing plans at Boslowick Garages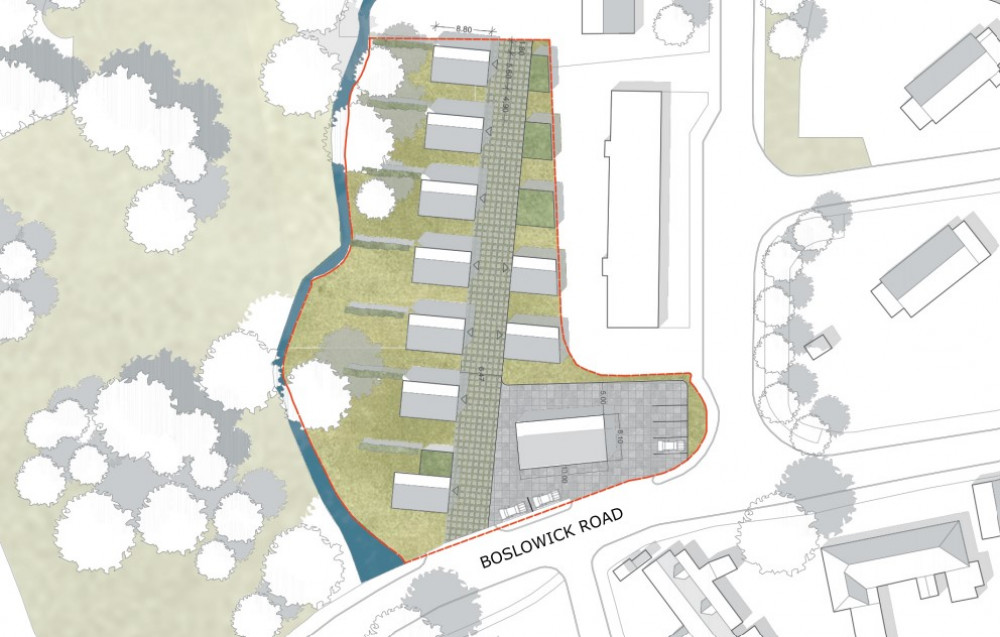 The site plan for the housing at Boslowick Garages. Credit: Susanne Breul Dipl. Ing. Architectural Designer.
Pre-application advice has been sought for potential new housing and replacement of the current shop/petrol station at Boslowick Garages.
A pre-app enquiry has been submitted by the owners of Boslowick Garages to convert the site from commercial to mixed-use with housing, a cafe, solar charging points, and co-working spaces.
They say the scheme of seven dwellings would offer "much needed" eco-friendly housing.
The planning statement reads: "Mixed development consisting of two parts, residential and commercial. The proposed development aims to add value to the community by offering much-needed eco-friendly housing and to upgrade the village shop with an added cafe and potential for solar charging points plus co-working spaces above. The environmental impact will thereby be reduced and the flood risk lowered."
The intention is to start construction by May 2024.
The applicants are awaiting a response from the planning officer.
New falmouth Jobs Section Launched!!
Vacancies updated hourly!!
Click here: falmouth jobs