Cornwall councillors claim they were threatened over voting
By Richard Whitehouse - Local Democracy Reporter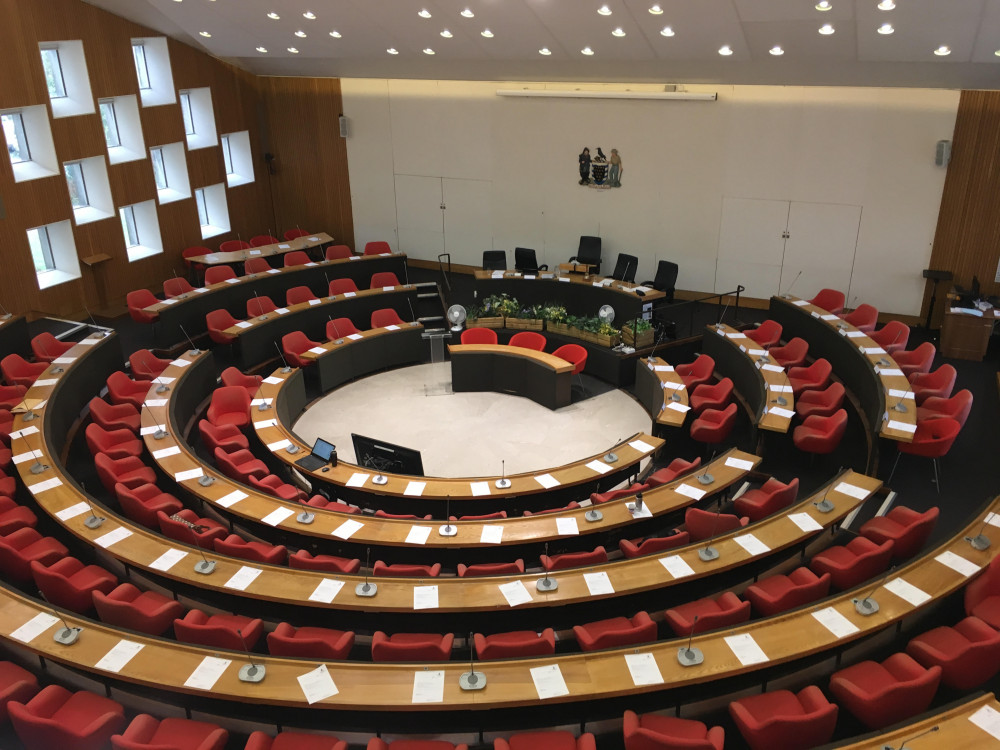 Cornwall Council council chamber (Image: Richard Whitehouse)
Cornwall councillors have claimed that they have been threatened with losing their place on council committees if they did not act in line with their political party. The claims were made as councillors debated whether they should scrap rules allowing secret ballots in council meetings.
Secret ballots are rarely used in council meetings but can sometimes be requested by councillors, usually when they are voting for who should be the chair of a committee and they wish to vote for who they think is the best person for the job rather than voting along their party lines.
The council's constitution and governance committee agreed in January that it would recommend to the council that the secret ballot rule should be scrapped as councillors argued that it was better to have "open and transparent" votes which could be seen by the public. However, when that recommendation went to the full council meeting it was referred back to the committee.
At a meeting of the constitution and governance committee this week Leigh Frost, Lib Dem Cornwall councillor for Bodmin St Petroc's, explained to councillors why the rule should stay in place. He said that it would be sensible to keep it in place when councillors vote on electing members to positions that have a special responsibility allowance.
He said: "I have no problem with removing it for democratic votes but when it comes to special responsibilities (it should stay).
"We have group leaders at the council, they have ultimate power over members, to remove members from committees whether they are chairs or not. I do recall Cllr David Harris (deputy leader of the council) saying that if you are going to vote for something you should have the wherewithal to say what you are going to do but actually politics isn't that simple. Sometimes you do have issues where people vote against what they actually want because they don't want to upset someone whether they are a friend councillor or someone they are a bit intimidated by because they know their leader doesn't want them to vote for that one.
"I just think we should keep it in place for those moments, it gives that individual some protection. We may not even use it, in some cases we might decide to go with a show of hands anyway, but to keep that option gives them some freedom and is more sensible."
After some councillors expressed surprise at the claims Cllr Frost added that he had "never had an issue with group leaders being threatened or bullied" but stressed that he felt that it would be wrong to remove the ability to remove secret ballots entirely.
Colin Martin, acting group leader of the Liberal Democrat group at Cornwall Council, said he agreed with Cllr Frost and claimed that he had been threatened to be removed from a committee for asking a question.
He said: "Overall there is always a tension between our being visible and transparent so our voters know, our electors know, what we have done in their name versus have we got protection from reprisals from group leaders.
"I know a time in the past, I asked a hostile question to a Cabinet member in the previous administration and I was warned by my group leader that if I did anything like that again I would be taken off that committee which would have cost me financially several thousand pounds a year, so group leaders do have powers.
"This is not something I am directing at other parties, it has happened in my own party, but I think it is really important that we have that protection of a secret ballot when voting for positions of power."
Independent councillor John Thomas also claimed that he had been threatened, saying: "I was threatened that if I didn't vote a certain way I would lose my committee seats." He said that this highlighted the importance of retaining secret ballots.
Several members of the committee said that they had never experienced any pressure from group leaders to vote a certain way. John Conway said he felt it was important that the local people he represents are always able to see how he has voted and said he would not have any issue with voting against his Conservative group if it was something he believed in.
Jayne Kirkham, leader of the Labour group at Cornwall Council, said she was "shocked" to hear that some group leaders had been using committee positions "to sway how members are voting" and added, "that shouldn't be happening at all, that is completely wrong".
Anita Searby, democratic lead and statutory scrutiny officer at Cornwall Council, said that it was a "concern" to hear that councillors had been "threatened and intimidated" by group leaders.
A proposal was put forward to defer a decision on the issue of secret ballots as the council is expected to have to review its governance arrangements if the Cornwall Devolution Deal is accepted. However, when put to the vote, it was tied with four votes in favour and four against, chairman Barry Jordan had the casting vote and voted against.
The committee agreed to retain its original recommendation to full council that the rules regarding secret ballots should be removed. That was agreed with six votes in favour and two against.