Cheque presented to Falmouth Age Concern following Mayors fundraising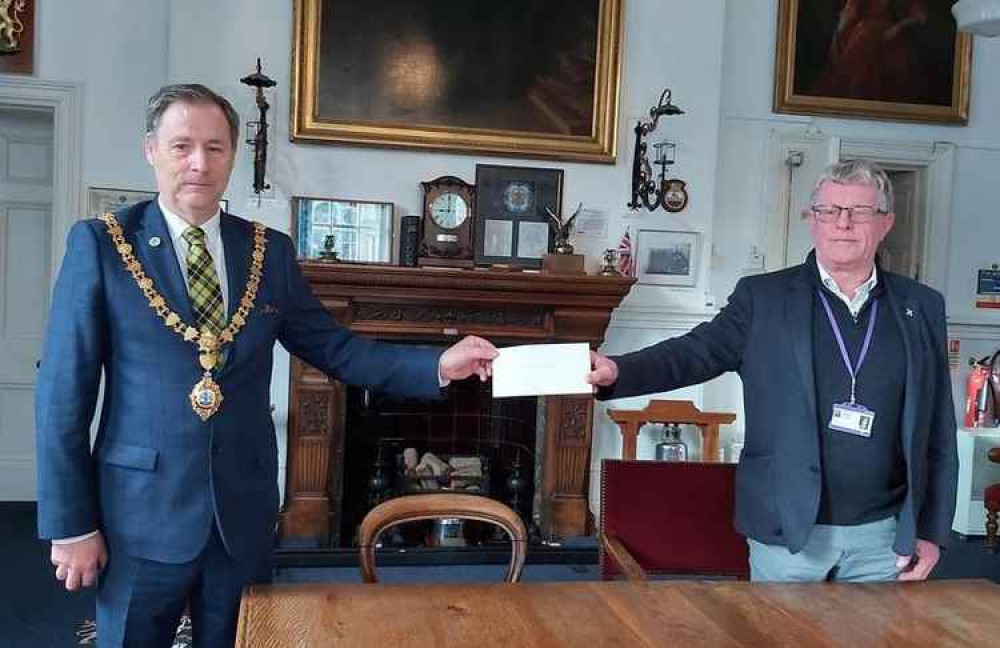 Steve Eva (Mayor) and Peter Maxted (Falmouth Age Concern)
During Town Mayor Councillor Steve Eva's term of office in 2019/20 his chosen charity was Falmouth Age Concern and throughout the year the Mayor raised funds from events such as his Civic Service and Mayors Charity Ball.
Due to the pandemic, a presentation to Falmouth Age Concern was delayed however the Mayor has now met with Falmouth Age Concern Manager Peter Maxted to present a £1500 cheque.
The Town Mayor said:
"I was pleased to be able to raise funds for Falmouth Age Concern as it is a local independent charity that helps to enhance the lives of elderly people in our community. I am glad that the funds will help Falmouth Age Concern continue to deliver their invaluable service which is needed more than ever due to the pandemic."
For the last sixteen years, Falmouth Age Concern has been running a one-to-one befriending service in the local area, as well as a number of clubs and classes, summer excursions and winter events (including a Christmas Dinner for 80+ elderly people).
Since March, and due to the challenges faced during the Coronavirus pandemic, the face-to-face befriending has been changed to a telephone service.
Volunteers make two or three calls per week (on average) to support an elderly, lonely person.
The service was started in Falmouth and Penryn but has now expanded and calls are being made to people across all of Cornwall.
A chat and a friendly voice can make a huge difference to somebody's life, especially at this difficult present time. There are currently over 80 active volunteers (and are seeking more) calling nearly 200 clients, mostly local but some as far afield as Penzance, Bodmin, Callington and Bude. In response to the donation from the Mayor's charity, FAC Manager Peter Maxted added: "We are delighted to receive this generous addition to our funds. Not only will it help us to keep going over the winter but may help to release other 'matched' funding. With the increase in loneliness and isolation due to the virus, we are now busier than ever and our telephone service is a lifeline for many people." If anyone would like to volunteer to telephone those who are elderly and alone, email Peter at
[email protected]
for more details. [H3]
Don't forget, you can keep up to date with all the latest news on our Twitter and Facebook pages.
[.H2]