Beach wheelchair installed at Maenporth cafe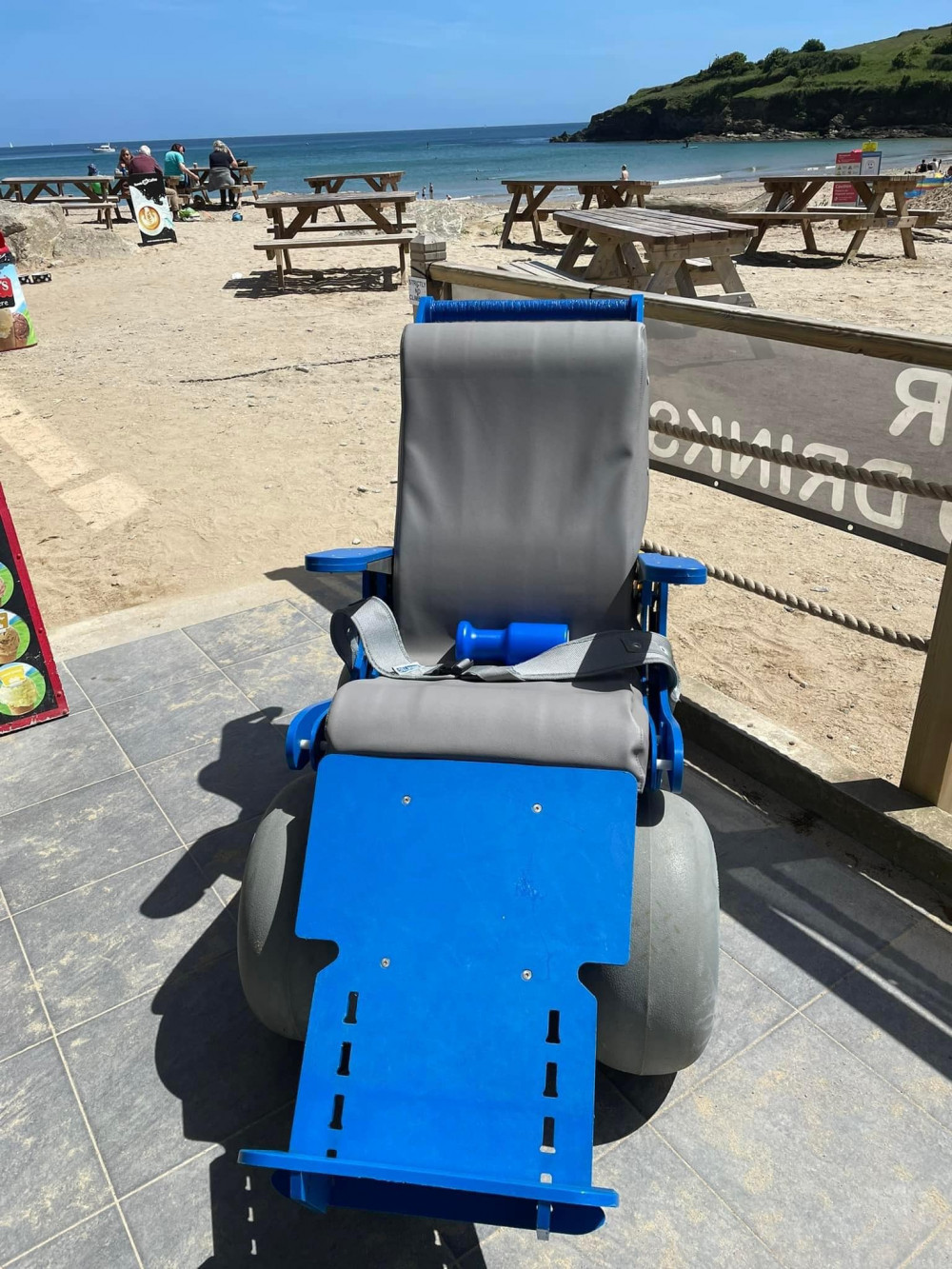 The beach wheelchair will be available at the cafe (Life's A Beach Cafe)
Life's A Beach cafe on Maenporth Beach has had a brand new wheelchair delivered by Cornwall Mobility that will give those that may have not had it before access to sand and water.
As we head into summer and the sun starts to shine many of us get ready to head to the beach with our friends and family. However, a simple trip to the beach isn't as easy for everyone and accessibility can become a real issue.
Leann and James the owners of Lifes A Beach Cafe have been thrilled to share that after help from one of their customers, they will be able to help combat this very issue and get more people onto the beach.
The specially designed beach wheelchair will be free to use and can be pre-booked over the phone or if not head into the cafe and ask if it is available. Leann and James were quick to thank Cornwall Mobility and one of their regulars Annie Timmins on social media for making it possible.
After contacting the cafe they expressed how grateful they were for the help, Leann said: "Annie approached us about the possibility of having a beach chair here, it is something that myself and James had talked about as an option. Annie did all the research and we owe it to her that it happened.
"We have seen many smiling faces from carers, family, and wheelchair users that otherwise cannot access the beach safely. Our thanks go to Cornwall Mobility for allowing a chair on site here and to Annie."
Meanporth Beach (Image: Life's A Beach Cafe)
Thanks to Leann and James I got to hear from Annie on why she decided to get in contact with the cafe and Cornwall Mobility. She explained that unfortunately, her niece Holly had previously fallen from a horse and at one stage was fighting for her life. Thanks to the heroic work from the medical team and support from her parents Holly started her journey back to consciousness.
Over two years later Holly continues that journey but the family is still finding ways to make the most of the situation, Annie said: "My favourite moment over the easter weekend was seeing Holly get her feet wet in the sea. Sand between her toes must have felt so good. I'm in awe of her, but more so of my sister, her husband, Holly's brother and sister, and my mum.
"All of their lives changing in an instant but they continue to fight, to laugh, to love, and be such fierce advocates for those who don't have a voice and those with a disability. So often we feel so helpless when others we love are going through the unimaginable.
"Trying to come up with something useful can be tricky. 'Let me know if there's anything I can do' is so often unhelpful and underutilised. Inspired by Holly's family holiday to Bude where she had access to a beach wheelchair I thought Maenporth would be an ideal location and thought I could raise the money to purchase one.
"My sister suggested I contact Cornwall Mobility which I did. My well-timed phone call resulted in finding out they had funding already in place for several new wheelchairs but needed to find suitable locations for them.
"My next action was messaging Leann at Life's a Beach cafe at Maenporth. I'm a regular customer and follow the cafe on Facebook but didn't know Leanne. What I do know is that she is quite extraordinary, passionate, and driven. To buy a cafe that burned down and then be launched into Covid lockdown to come out the other side takes some resilience.
"It's a small venue with not much space inside so I knew asking about the possibility of storing a beach wheelchair was a huge ask. Leanne didn't pause to think about it and came back with a definite yes. After Mobility Cornwall assessed the beach as being suitable and Leann signed up to store and look after the wheelchair it was soon delivered.
"All I did was a few phone calls and a few messages. Nothing else. It probably took about an hour of my time. What this means however is that the beach is now more accessible to more people. Accessibility is not an issue for most people but until you realise how restricted life can be for those in a wheelchair you realise it's on all of us to take some time to make things a little better.
"The heroes of this story are Holly, her family, and Leann. I just made the call. Everyone should be able to feel sand between their toes."
You can find more information about Cornwall Mobility here: Equipment for disabled adults & children in Cornwall
You can follow the cafe here: Life's A Beach Cafe
New falmouth Jobs Section Launched!!
Vacancies updated hourly!!
Click here: falmouth jobs