37 affordable homes completed in Kergilliack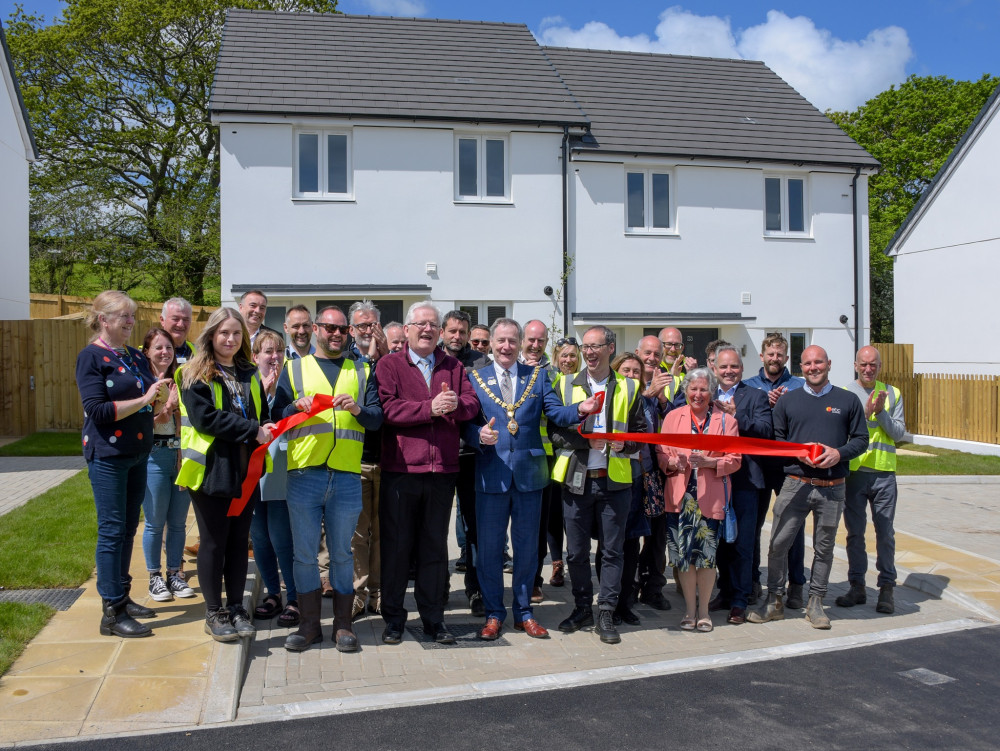 Former mayor Steve Eva at the ribbon cutting (Image: Coastline Housing)
Coastline Housing has shared the news that they have now added 37 newly completed affordable homes at Kergilliack in Falmouth.
On their website, the independent housing association says the development came about thanks to funding from Homes England and Cornwall Council and includes 20 homes for social rent and 17 for shared ownership.
Colleagues from Coastline Housing's Board gathered together with the now-former Falmouth Town Mayor, Steve Eva, and other key partners in the project to officially cut the ribbon and declare Kergilliack open.
Customers have started moving into the homes and Coastline says there has been a huge amount of interest for both the rented and shared ownership properties.
Chris Weston, Director of Development and Commercial Services, said: "This is a very special scheme for us as it's the first one in a long time where we have had the funding to enable us to deliver social rent homes rather than affordable rent homes.
"Social rent is a low-cost rent that is set by a government formula and is significantly lower than the rate someone would pay in the private market – typically 50-60% of the rents on offer privately in the local market."
Kergilliack is also the first scheme where Coastline has used the new Homes England Model Lease for the shared ownership homes, meaning customers buying these properties can purchase as little as a 10% share and that Coastline will contribute towards the maintenance of these homes for the first ten years.
Bhupinder Gosal, Head of Provider Management at Homes England, commented: "Despite the current challenges affecting the country, accelerating housebuilding remains our number one priority. We are committed to supporting Coastline Housing's ambitions to build new homes and our investment through the Affordable Housing Programme allows us to do that. We're delighted that this funding will enable Coastline Housing to deliver much needed new homes at Kergilliack in Falmouth."
The properties, built by EBC Partnerships, feature bird boxes, bee bricks, and hedgehog holes in fences – part of the housing charity's commitment to build all new homes with environmentally friendly measures in place. Taylor Lewis acted as Employers Agent for the development.
This scheme forms part of a £73 million investment Coastline is making to provide 270 more affordable homes in Cornwall over the next three years.
At the end of last year, the housing charity received £22.8 million of grant funding from Homes England and then secured a further £50 million of loan funding after signing up to a new government-backed scheme called the Affordable Homes Guarantee Fund this year facilitated by ARA Venn. Coastline was the first of three housing associations nationally to do so.
Chris adds: "We are all well aware of the acute housing crisis we find ourselves in and we appreciate many people in Cornwall will have despaired of ever being able to rent or buy a home of their own in the area where they have grown up and may still have family. These homes are a step in the right direction for many local families and we hope they will be very happy here for years to come."
Coastline Housing will be using the remaining funding to develop more affordable housing schemes in Penzance, Redruth, Connor Downs, Constantine, St Erth, and Goonhavern amongst others over the coming months.
The opening of this scheme took on a poignant note for the charity as it was the last development Group Chair Mark Duddridge saw opened before his sudden and untimely death.
Mark joined Coastline in 2021 and brought with him a wealth of expertise gained through his roles with many well known local and national companies. His work with charitable organisations reflected his passion for supporting people in communities by ensuring there are opportunities for change.
At Coastline, this was shown in his dedication to helping create our Coastline Plan, shaping the ways we will work to end the housing crisis in Cornwall.