Falmouth confirmed events in 2023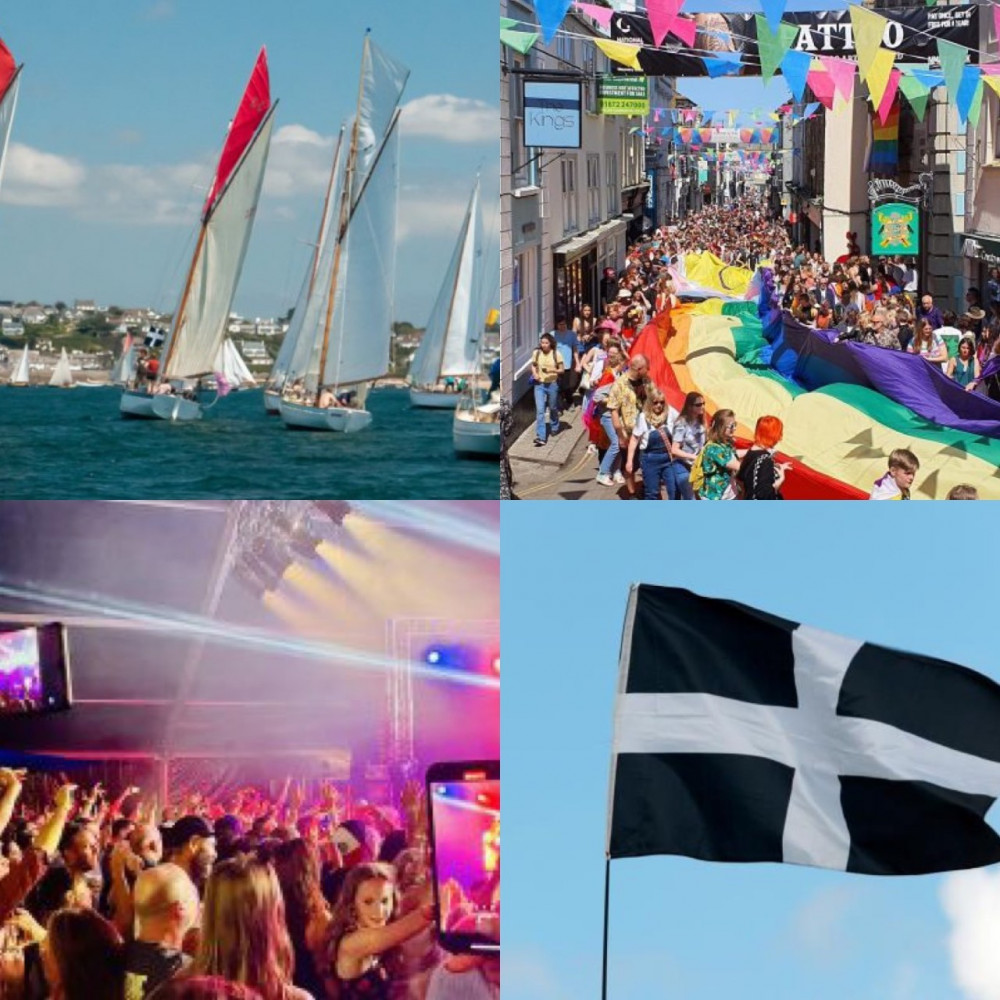 Falmouth has a great history of holding a huge variety of events, activities, and award-winning festivals organised for residents, visitors, and businesses alike.
Take a look through all the events with confirmed dates in 2023.
SCIENCE OF THE SEA AT THE NMMC SAT 11TH – SUN 19TH FEBRUARY: Head to National Maritime Museum Cornwall this February half term for Science of the Sea – family fun with a BANG! Bristol Explorer Dome is back with more science shows, they're on the hunt for creatures that use bubbles to survive on the Museum Trail, and in Make & Take they're using science to create colourful artworks.
For more information: Science of the Sea – February Half Term 2023 | National Maritime Museum Cornwall.
ST PIRAN'SDAY PARADE MON 6TH MARCH: The St Piran's Day Parade will be taking place on the 6th of March, leaving The Moor at 10.00 am via Webber St, out along Prince of Wales Pier and through the main street to Church Corner from where King Charles Church will welcome you with refreshments and entertainment.
For more information: St Piran's Day Parade - Falmouth Bid.
RUN FALMOUTH SUN 12TH MARCH: Run Falmouth Half Marathon organised by Cornwall Hospice Care in conjunction with Falmouth Road Runners, is in its 11th year. The event is part of the Cornwall Grand Prix Race series sponsored by Cornwall Glass. This challenging road run starts at the Princess Pavillion and takes you through the beautiful coast and countryside of Falmouth.
For more information: Run Falmouth 2023 | Cornwall Hospice Care.
SPRING FLOWER SHOW SAT 25TH - SUN 26TH MARCH: The Princess Pavilion will host the Falmouth Spring Flower Show, it's the first big show of the year and has marked the start of Spring in Falmouth for over 100 years. With stunning displays including daffodils, spring foliage, cacti, and artesian flower arrangements filling the theatre with their fragrance, entries come from professionals at some of the big gardens of Cornwall, as well as from passionate gardeners of all ages from the community.
For more information: Falmouth Spring Flower Show.
PIRATES EXHIBITION AT THE NMMC FRI 31ST MARCH - DECEMBER: Dashing, daring, and adventurous or bloodthirsty, immoral, and greedy – were pirates of the 18th-century heroes of the age or no more than callous cut-throats? For generations, pirates have been portrayed in film, fiction, and fashion as symbols of freedom and adventure. But how and why has this image been created? To find out, immerse yourself in the digital world of the Sea of Thieves game, land on Treasure Island, meet the man behind Long John Silver and dance a hornpipe with Horatio Pugwash before discovering the dark world of the real pirates of the Caribbean. In this latest major exhibition, explore how popular culture has shaped how we think of pirates today and dive beneath the surface to unearth the harsh and terrifying truth.
From SAT 1ST – SUN 16TH APRIL you can also join the National Maritime Museum Cornwall's pirate crew! Become a budding buccaneer with Rattlebox Theatre.
For more information: Pirates | National Maritime Museum Cornwall.
ST.NAZAIRE SERVICE OF REMEMBRANCE PARADE SUN 2 ND APRIL: Held at the Prince of Wales Pier the annual Service of Remembrance to commemorate the daring St. Nazaire raid of World War II. A memorial service for veterans of the raid.
Organised by: Falmouth Town Council.
WANDERFAL FRI 7TH & 8TH APRIL: Held across various venues, this two-day music festival is produced by The Cornish Bank. Supporting international as well as Cornish bands and musicians.
For more information: Wanderfal Festival.
CORNWALL PRIDE SAT 29TH APRIL: The event will take place across Falmouth, Cornwall Pride are raising funds to deliver support for the LGBTQI+ community across Cornwall. They also hope to bring to life the success of the Cornwall Pride bus tour by bringing community prides to Cornwall. The Pride Bus Tour will be in Falmouth on Saturday 7 May 2023.
For more information: Falmouth Pride 2023 - Falmouth Bid.
PARKLIVE LAST SUNDAY OF THE MONTH APRIL - SEPT: Kimberley Park -Park live 2023 will showcase the range of creative talent living in the Falmouth area and is an open and accessible activity for local families, residents, and visitors to attend. It is held on the last Sunday of every month from April to September. Free event. Dates are – 30th April / 28th May / 25th June / 30th July / 27th August / 24th September.
For more information: Parklive Falmouth.
RACE FOR LIFE SUN 21ST MAY: Starting at Gyllyngvase Beach Car Park, Cancer Research UK's Race for Life returns to Falmouth for 2023. You don't have to be sporty to take part. You don't need to train or compete against anyone else. All you need to do is sign up below and then have fun raising money in whatever way you like. New for this year is a 10k option - 10k is a great step up from our 5k events, and that's still achievable for everyone. Whether it's the 5k or 10k, join Race for Life and help raise valuable funds for cancer-beating research.
Falmouth Race for Life 5k:Falmouth 5k 2023 | Race for Life | Cancer Research UK.
Falmouth Race for Life 10k:Falmouth 10k 2023 | Race for Life | Cancer Research UK.
ANNUAL MAYOR MAKING CEREMONY MON 22ND MAY Held on The Moor, The Annual Council meeting will take place at the Municipal Buildings Council Chamber for invited guests during which the Mayor for the 2023/24 Municipal Year will be confirmed.
Organised by: Falmouth Town Council.
FALMOUTH FOOD FESTIVAL FRI 26TH – SUN 28TH MAY More information to follow- All Events Archives.
ROCK POOL EXPLORERS SAT 27TH MAY – SUN 4TH JUNE Discover the curious creatures found along the Cornish shore with the Rock Pool Project and their magical mobile rock pool with the National Maritime Museum.
More information soon: National Maritime Museum Cornwall.
FALMOUTH INTERNATIONAL SEA SHANTY FESTIVAL FRI 16 TH – SUN 18 TH JUNE: Held across Falmouth its the largest free maritime music festival on the planet! Shanty bands and singers from across the UK and Europe converge on Falmouth, bringing a wonderfully diverse range of shanties performed on stages throughout the town. The festival raises funds for the RNLI.
For more information: Falmouth International Sea Shanty Festival.
FALMOUTH CLASSICS FRI 16 TH – SUN 18 TH JUNE: Falmouth Classics is a three-day rally of classic sailing craft and other traditional vessels, including pilot gigs and motorboats. The Classics once again runs concurrently with the very popular Falmouth International Sea Shanty Festival, which offers three days of spectacular entertainment at over 26 venues throughout the town.
For more information: Falmouth Classics.
NATIONAL ARMED FORCES DAY FRI 23RD – SUN 25TH JUNE: Armed Forces Day, centred this year on spectacular Falmouth Harbour in Cornwall, is a chance for the whole UK to show support for the men and women of our Armed Forces community – from currently serving troops to service families, veterans and cadets.
For more information: Home - Armed Forces Day.
A PIRATE'S LIFE FOR ME AT THE NMMC MON 24TH JULY – SUN 3RD SEPTEMBER: A Pirate's Life for Me is Illyria's brand-new interactive theatre show exploring the lives – and possibly deaths – of the most notorious pirates in the Caribbean. And the best thing about it? You, the audience, get to decide what happens!
More information to follow: National Maritime Museum Cornwall.
FALMOUTH WEEK FRI 4 TH – SUN 13 TH AUGUST: Held on the water and in various locations around the town. Falmouth Week has grown into one of the most prominent sailing regattas in the Southwest, with yachts from many classes racing over eight days along with a lively programme of shoreside events.
For more information: Welcome to Falmouth Week.
FALMOUTH SAILING WEEK SAT 5 TH – SAT 12 TH AUGUST: Falmouth Sailing Week commences with a race briefing on the first Saturday, followed by racing each day from Sunday to the following Saturday, with daily and series prizes, and is complemented by comprehensive shoreside events for everyone. Many of the competitors combine the racing with their annual family holiday.
For more information: Falmouth Sailing Week (pofsa.co.uk)
FALMOUTH TALL SHIPS TUES 15TH – FRI 18TH AUGUST: The Tall Ships are back in Falmouth! For the first time in nine years, Falmouth will once again host the start of the prestigious Tall Ships Race, Magella Elcano.
For more information/tickets: Falmouth Tall Ships.
FALMOUTH TRIATHLON SUNDAY SUN 24TH SEPTEMBER: Starting at Gyllyngvase Beach Golden sand, turquoise water, and panoramic views over the Lizard Peninsula from Henry VIII's Pendennis Castle – Falmouth Triathlon is a treat for all the senses. Enjoy the calm waters of Cornwall's swimming hotspot, the blue flag-rated Gyllyngvase Beach – perfect for beginners and those looking for a fast course!
For more information: Falmouth Triathlon 2023.
FALMOUTH OYSTER FESTIVAL THURS 12 TH – SUN 15 TH OCTOBER: Held over Events Square and The Moor The highlight of Falmouth's Autumn calendar is this nationally recognised, award-winning annual festival which celebrates the start of the oyster dredging season. Including an oyster bar, a wide variety of seafood, wines, and champagne, real ales and stouts, arts, and crafts, food and drink halls, chef demos, and all that is best in Cornish musical entertainment.
For more information: Home - Falmouth Oyster Festival.
FALMOUTH BOOK FESTIVAL MON 16 TH – SUN 22 ND: OCTOBER 2022's festival was a huge success, brought to you by the team behind Port Eliot Festival's celebrated literary stages and supported by Falmouth University, the Falmouth Bookseller and the Falmouth BID. 2023 's line-up is being worked upon but in 2022, award-winning writers like, Raynor Winn, Hugh FearnleyWhittingstall, George Monibot, Sheila Hancock, and Will Self all took part.
For more information: Falmouth Book Festival.
SILHOUETTES & SHADOWS AT THE NMMC SAT 21ST – SUN 29TH OCTOBER: The nights are drawing in and the shadows are taking over, join National Maritime Museum Cornwall for a spooky half-term this October! See pirate shadow puppet stories and songs magically told using a boat sail.
More information to follow: National Maritime Museum Cornwall.
REMEMBRANCE SUNDAY SUN 12 TH NOVEMBER: Kimberley Park hosts the local Remembrance Day service at Kimberley Park provides the opportunity for Falmouth's citizens to formally pay tribute to all those who have given their lives in the service of this country.
For more information: Remembrance Sunday.
Christmas Lights switch on and parade Thursday 30th of November: Starting at Events Square and finishing on The Moor. Join Falmouth's annual Christmas Parade and Lights Switch-on, with live music from local schools, tasty food, and great entertainment.
For more information: Falmouth Christmas Lights Switch On.
CHRISTMAS TREE FESTIVAL SUN 3RD DECEMBER – TUES 2ND JANUARY: Princess Pavilion Community groups encompassing all ages and abilities are invited to decorate over 30 Christmas trees with their handmade, sustainable decorations in preparation for the annual Christmas Tree Festival, which sees over 30 trees lit up on the bandstand and around the Edwardian veranda at Gyllyngdune Gardens, Princess Pavilion. The festivities start with the Grand Switch-on event and then carry on every day throughout December.
LANTERNS & LIGHTS AT THE NMMC WEDS 20TH DECEMBER – WEDS 3RD JANUARY This Christmas enjoy magically lit boats, merry Make & Takes and a Museum Trail – Christmas at NMMC takes on the theme of Lanterns & Lights with a magical nautical twist. Decked in festive lights and sparkly stars, traditional wooden boats carry Christmas cheer. Using the Flying Flotilla, hung high from the Museum's ceiling, the boats are lit with subtle ocean-coloured hues and set amongst glistening star bursts.
More information to follow: National Maritime Museum Cornwall.
HARMONY CHOIR SAT 23RD DECEMBER: Held throughout Falmouth Town Centre This community event is like no other and has taken place for over 100 years. Commencing at The Mariners (previously the Cutty Sark) and proceeding through the Town, stopping Custom House Quay then on to Church Corner, Market Street/ Market Strand and finishing on The Moor. Groups of singers will sing traditional carols and seasonal songs.
For more information: The Cornish Christmas Harmony Choir.
There is still a number of events due to take place in Falmouth this year without confirmed dates, you can check the Falmouth BID website for updates: All Events Archives.