Preview: Falmouth Town vs Ashton & Backwell United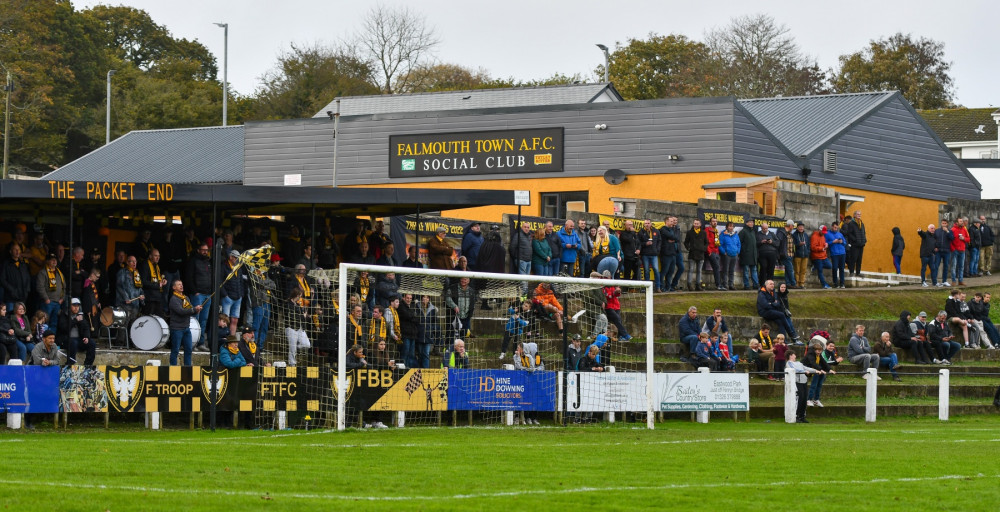 Bickland Park (Image: Falmouth Town - Cornwall Sports Media)
Words provided by Matt Friday - Falmouth Town FC
Falmouth Town will look to make amends for last week's pair of cup defeats when they host Ashton & Backwell United in the Western League on Saturday (kick-off at 3 pm).
An unbeaten October was followed by two cup exits in three days last week, with Town's Cornwall Senior Cup reign being ended by Wendron United last Wednesday before their FA Vase hopes were dashed by a 94th-minute winner at Laverstock & Ford on Saturday.
A mixture of their cup exploits and postponements means Town won't have played a league game for three weeks by the time Saturday comes around, with Andrew Westgarth's side still sitting 14th in the Western League Premier Division.
Victory on Saturday could see them move above Ilfracombe Town and Welton Rovers into 12th, while tenth-placed Ashton & Backwell could theoretically go as high as sixth if they take all three points.
Under their previous guise as Backwell United, the Stags spent 25 years in the Western League between 1983 and 2008 before being relegated to the Somerset County League. They spent two years in the Step 7 league before changing their name to Ashton & Backwell United in 2010, spending another three years in the SCL before winning promotion back to the Western League in 2013.
A solid eight-year spell in Division One came to an end in 2021 when the Stags, who are managed by Tony Beecham, were promoted to the Premier Division at the end of the two covid-interrupted campaigns.
Their first season back in the division since 2006 saw Ashton & Backwell finish second from bottom, with the Stags retaining their league status thanks to bottom side Bridport and the pre-season resignation of Odd Down.
The Somerset outfit is enjoying a much better 2022/23 campaign, however, with Beecham's side currently sitting in the top ten with 20 points to their name after 14 games, meaning the Stags are already only eight points shy of their tally from last season.
They have won six league games so far this term, including a 1-0 victory at home to Town in the reverse league fixture back on Bank Holiday Monday in August when Dean Preddie's second-half goal sealed a surprise win over a Town side that had dominated proceedings.
Ashton & Backwell have scored 26 goals in all competitions this season, with Miles Hardidge leading the way with four strikes in 16 games, while Joe Banks and Shea Bennington-Mannings are close behind with three goals each this term.
Westy's words
"We're a little bit behind, we're chasing the pack a little bit so it'd be great to get back to league football, and after the disappointment of the two [cup] games, hopefully, we can come back with a positive response.
"The boys are disappointed obviously, but they know what this league's about. You've got to be on it, you can't be licking your wounds for too long, you've got to get straight back out there and try and get back on it.
"We were really disappointed with [the 1-0 loss at Ashton & Backwell in August], that was definitely a smash and grab. We were really good up there and that was another tough one to take, so hopefully the guys have learned from their previous experiences and we can get a vital three points.
"It's difficult to put runs together in the league because we've had so many cup games throughout the season. These are games that we want to be winning – against teams that are in and around you, they're the sort of points you want to be picking up.
"We know the importance of it because we don't want to be looking over our shoulder too much, we want to be looking up the table."
Last five games – Falmouth Town:
Nov 12: Laverstock & Ford 2-1 Falmouth Town (FA Vase)
Nov 9: Falmouth Town 0-2 Wendron United (Senior Cup)
Oct 29: Falmouth Town 2-2 Keynsham Town (League)
Oct 22: Falmouth Town 2-1 Helston Athletic (FA Vase)
Oct 8: Falmouth Town 1-0 Shepton Mallet (League)
Last five games – Laverstock & Ford:
Nov 12: Ashton & Backwell United 0-1 Shepton Mallet (League)
Nov 5: Ashton & Backwell United 3-1 Millbrook (League)
Oct 29: Sherborne Town 2-3 Ashton & Backwell United (League)
Oct 22: Elburton Villa 1-0 Ashton & Backwell United (FA Vase)
Oct 19: Shirehampton 4-1 Ashton & Backwell United (League Cup)
Stadium address
Bickland Park, Bickland Water Road, Falmouth TR11 4PB
Tickets
Adults: £6
Under-16s and concessions: £3
We advise that supporters arrive in plenty of time to avoid queues at the gate shortly before kick-off.
Matchday programme
Limited copies of our matchday programme will be available on entry to the ground for £1.
50:50 draw
A collection for the 50:50 draw will be made during the first half, with the winning ticket announced over the PA system at half-time. Each entry to the draw costs £1.
Refreshments and facilities
Once inside Bickland Park, food and beverages can be purchased from the serving hatch immediately to your left upon entering the ground.
Toilets can be found inside the clubhouse and in the hut at the far end of the ground.
Seating is available in the grandstand, with disabled access provided via a separate entrance at the top of the steps alongside the back row.