Falmouth prepare to begin busy pre-season schedule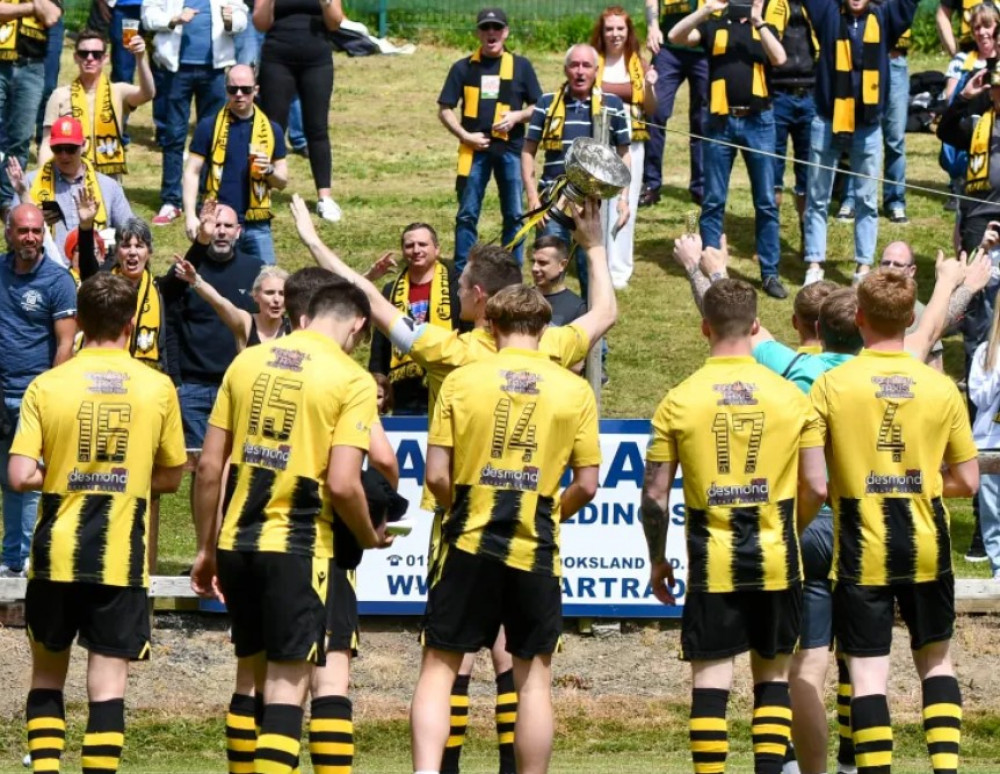 Falmouth Town celebrate Champions Bowl victory. Matt Friday/Cornwall Sports Media.
By Matt Friday/Cornwall Sports Media.
After only a short few weeks away, it is time to go again as Falmouth Town prepare to play their first pre-season friendly of the summer on Saturday.
Although it will only have been exactly seven weeks since their Champions Bowl victory over Torpoint Athletic in their final game of the 2021/22 campaign, Town begin their 2022/23 pre-season friendly schedule on Saturday when they make the trip to Tavistock.
Further friendlies against Truro City, Wadebridge Town, Sidmouth Town, St Blazey and Willand Rovers will provide a varied set of fixtures to test Andrew Westgarth's side ahead of their eagerly-anticipated return to the Western League after 39 years away.
While the dust has hardly settled on a stunning treble-winning campaign, which saw Town win the South West Peninsula League Premier West, Cornwall Senior Cup and SWPL Champions Bowl, it is already time for Town to switch focus to their new Western League adventure, with the opening league game at home to Wellington on Saturday, July 30 now just one month away.
"It doesn't feel like much of a break," Westgarth said. "Since that game on May 14 against Torpoint we had awards night and then a weekend away with the lads, and from a manager's point of view, you're straight on the blower to your own players, arranging friendlies, sorting out next year's kit, speaking to new players and arranging training. It's relentless really, I don't feel like I've had a break at all!"
Town open their pre-season account this weekend when they make the trip to Langsford Park on Saturday to face last year's Western League champions Tavistock.
Stuart Henderson's side held off the challenge of Devon rivals Exmouth Town and Cornish outfit Mousehole to win the title and earn promotion to the Southern League Division 1 South West for the first time in the club's history.
"We've got some great friendlies in there," Westgarth said. "We're lucky to have Truro each year, that's always a good one and a great test. Tavistock will be a good one for us, I wanted to pick an away game and a tough one to give us a taste of next season.
"Obviously facing last year's champions will give us a real marker of where we need to be or where we want to be at."
The visit of Truro is, as ever, the headline act of Town's pre-season schedule, with Paul Wotton's side making the journey down to Bickland Park on Saturday, July 9 (3pm) for the annual Aubrey Wilkes Trophy match between the two sides.
That game kicks off a run of three successive Saturday home games in pre-season, with Town welcoming SWPL Premier East outfit Sidmouth Town to west Cornwall on July 16 (3pm) before Tavistock's Southern League colleagues Willand Rovers visit a week later (3pm).
"[The Truro game is] definitely a game we all look forward to on and off the field," Westgarth said. "Bickland's looking really nice and it's had a few upgrades on it so it's looking nice.
"It's going to be a long season so it's nice to get the home games in, and to be fair a lot of people want to come to Bickland Park so it's a win-win all round."
He added: "Sidmouth is off the back of last year and playing them in the [Walter C Parson League] cup, we created a bit of a relationship with them then."
Town's other two away friendlies see Town face familiar opponents in former SWPL Premier West colleagues Wadebridge Town and St Blazey.
With an unwritten rule of pre-season friendlies being that you don't play a team from your own league, Town's promotion to the Western League has given them the opportunity to line up matches against teams from the division they topped last term.
Town will head to Bodieve Park to face Paul Rowe's Wadebridge side on Wednesday, July 13 (ko 7:45pm), before making the trip to Blaise Park to take on St Blazey, now managed by Ryan Fice, seven days later (ko 7:45pm).
"I'm quite friendly with Ficey and Rower and I'm more than happy to play them, and they're great places to play football which always helps," Westgarth said.
"Blazey's got one of the best grounds around and I've always liked going to Wadebridge as well, so that's two nice ones there."
Pre-season also gives supporters the chance to see their new signings in action, with defender Kayden Gordon-Dunn and midfielder James Swan set to don the amber shirt for the first time since making the switch from St Piran League West outfit Truro City reserves.
"They'll be chomping at the bit to get going," Westgarth said. "They're looking really sharp in training and when you join a new club you just want to kick that ball for the first time. There's no better start for them really, [to face] Tavistock and Truro."
New falmouth Jobs Section Launched!!
Vacancies updated hourly!!
Click here: falmouth jobs