South West Water prepare for worst case scenario as Cornwall remains in official drought status
By Lee Trewhela LDRS Reporter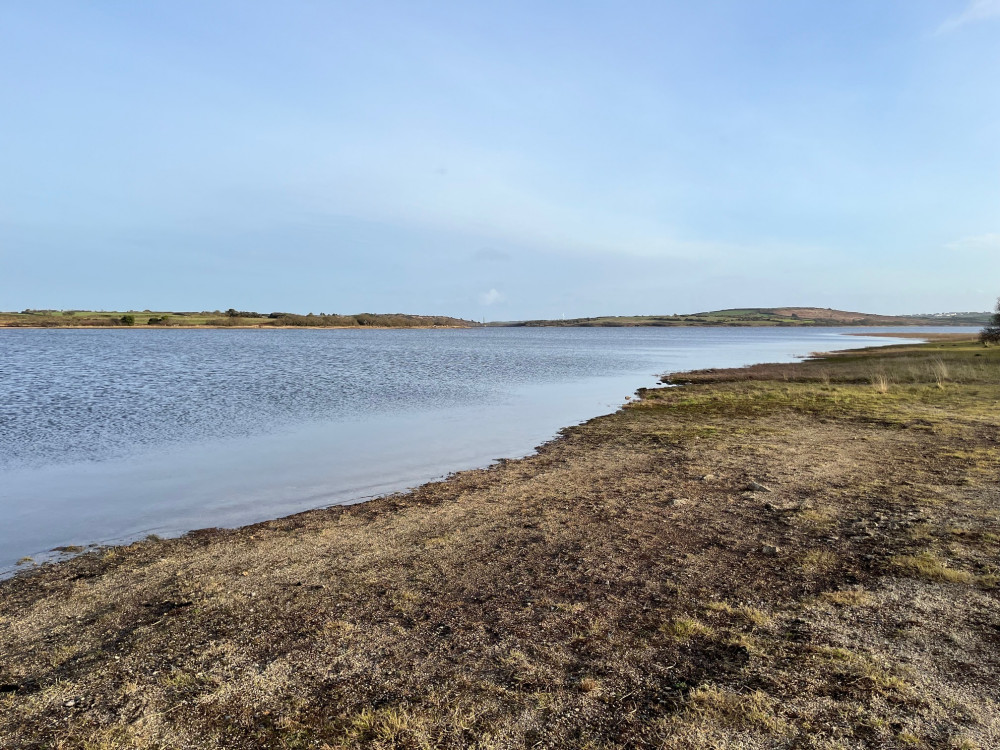 Stithians reservoir pictured in January - it currently stands at 60% capacity. (Image:Lee Trewhela)
South West Water is preparing for a worst-case scenario response to the ongoing drought with the possibility that car washes as well as swimming pools and hot tubs at holiday parks could be banned on top of the current hosepipe ban.
Cornwall remains in official drought status, as declared by the Environment Agency, with a hosepipe ban in place since August last year. Colliford, the county's main reservoir, currently stands at 60% capacity compared to 79% this time last year.
Speaking at a presentation to tourism businesses by Visit Cornwall at Scorrier House on (Tuesday, April 25), a representative from South West Water warned that the hosepipe ban was unlikely to be lifted before December, and there is the possibility of a "worst case scenario" in July or August of a Non-Essential Use Ban (NEUB).
This could mean a ban on operating car washes, filling and maintaining commercial swimming pools and hot tubs, cleaning boats, aircraft, and trains, watering outdoor plants and gardens at holiday parks and other businesses, cleaning non-domestic premises, and operating cisterns.
The current ban means it's already forbidden to water your garden, fill a paddling pool or personal hot tub, or wash your car using a hosepipe. If caught, you could be landed with a £1,000 fine.
Mike Wigmore, head of metering at South West Water, told a selection of holiday business owners that the company was "planning for the worst", particularly as long-range forecasts showed that there wouldn't be any change to weather patterns going forward into the summer.
NEUBs only happen in the case of a severe drought, are rare and only deployed once every 20 years on average.
Mr Wigmore said: "I'd be very surprised if the hosepipe ban is turned off before December. The next stage would be a non-essential use ban, which would mean car washes and hot tubs would have to be turned off, but we're trying to avoid that. If there's a worst-case scenario that could happen in July or August."
A holiday park owner asked if such a ban would be immediate or if a warning would be given to customers. "It comes in pretty immediately, but we would give customers as much warning as possible," added Mr Wigmore. Such a ban would not be imposed by South West Water but by the Environment Agency and the Department for Environment, Food and Rural Affairs (Defra) following discussions with the water company.
The government states that customers would have to be notified ten weeks in advance of such restrictions.
Mr Wigmore stressed that South West Water had carried out considerable work to ensure a NEUB does not happen, including a huge programme of finding and repairing leaks, using former clay pits near Colliford to act as extra, smaller reservoirs and the possibility of operating two desalination plants (to remove the minerals from salt water) in West Cornwall.
He urged holiday businesses in Cornwall to ask for a water audit to see if they can run more efficiently and thus save themselves money … and water usage.
The next stage after a non-essential use ban would be an emergency drought order, which limits the supply of water and makes alternative arrangements for the supply of water, for example by erecting a stand pipe in the street or bringing water in from other areas. These drought orders are for three months or less and can be extended up to a further two months.