South East Cornwall set to benefit from transport funding boost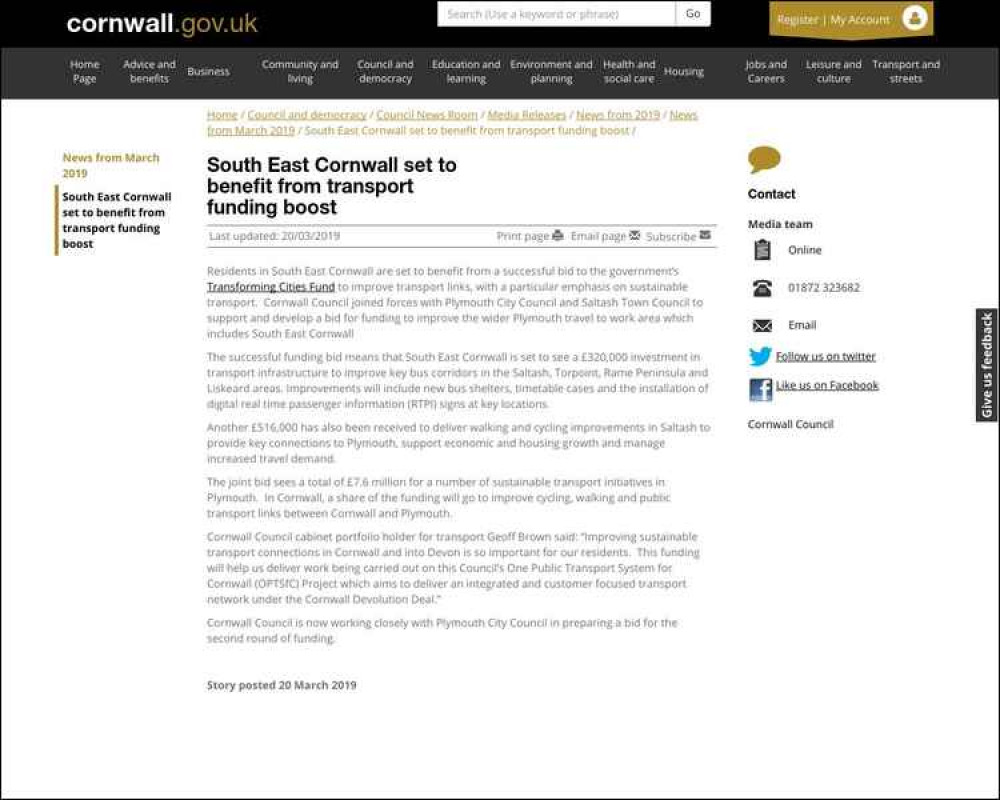 Residents in South East Cornwall are set to benefit from a successful bid to the government's Transforming Cities Fund to improve transport links, with a particular emphasis on sustainable transport. Cornwall Council joined forces with Plymouth City Council and Saltash Town Council to support and develop a bid for funding to improve the wider Plymouth travel to work area which includes South East Cornwall
The successful funding bid means that South East Cornwall is set to see a £320,000 investment in transport infrastructure to improve key bus corridors in the Saltash, Torpoint, Rame Peninsula and Liskeard areas. Improvements will include new bus shelters, timetable cases and the installation of digital real time passenger information (RTPI) signs at key locations.
Another £516,000 has also been received to deliver walking and cycling improvements in Saltash to provide key connections to Plymouth, support economic and housing growth and manage increased travel demand.
The joint bid sees a total of £7.6 million for a number of sustainable transport initiatives in Plymouth. In Cornwall, a share of the funding will go to improve cycling, walking and public transport links between Cornwall and Plymouth.
Cornwall Council cabinet portfolio holder for transport Geoff Brown said: "Improving sustainable transport connections in Cornwall and into Devon is so important for our residents. This funding will help us deliver work being carried out on this Council's One Public Transport System for Cornwall (OPTSfC) Project which aims to deliver an integrated and customer focused transport network under the Cornwall Devolution Deal."
Cornwall Council is now working closely with Plymouth City Council in preparing a bid for the second round of funding.
Story posted 20 March 2019
New falmouth Jobs Section Launched!!
Vacancies updated hourly!!
Click here: falmouth jobs