Residents 'victimised' by traffic warden on Acacia Road
By Lee Trewhela LDRS Reporter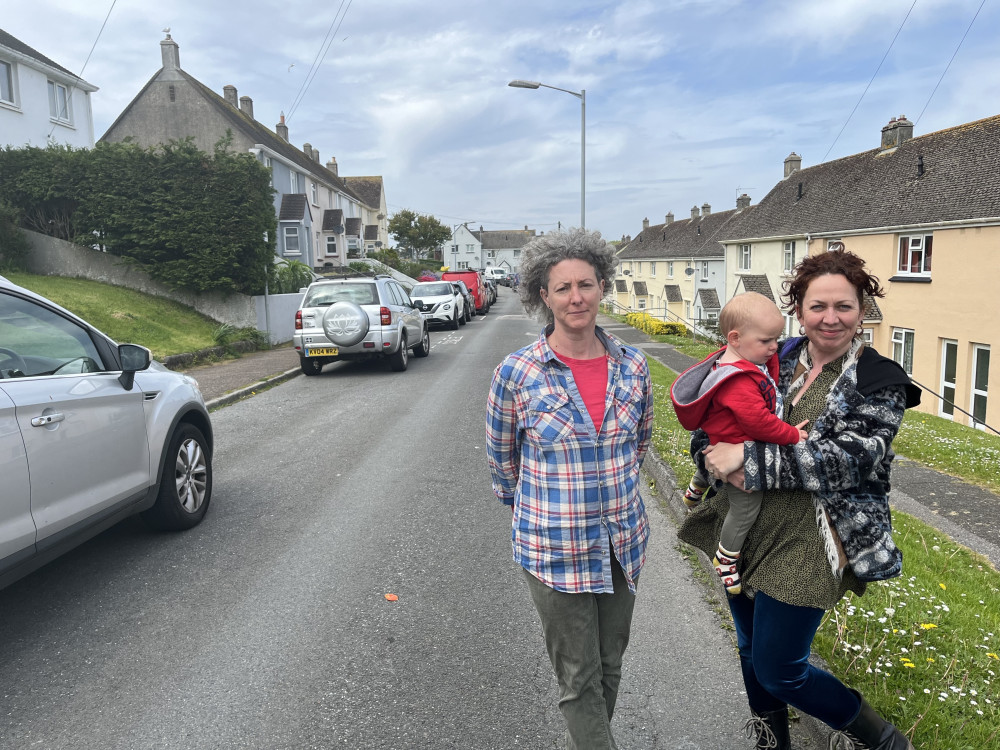 Amber Bazzoni and Laura Palmer are just two of the residents of Acacia Road in Falmouth unhappy with the actions of an 'over-zealous' traffic warden (Image: lDR)
Residents of a housing estate in Falmouth say they are being victimised by an over-eager traffic warden, who is ticketing cars as early as 5.30 am even on this week's bank holiday Monday.
While awaiting what they say is a much-needed change to the road system, people living on Acacia Road in Falmouth say they are being unfairly targeted. The local Cornwall councillor has invited the council's portfolio holder for transport to walk the street with him to see the problems that residents are facing.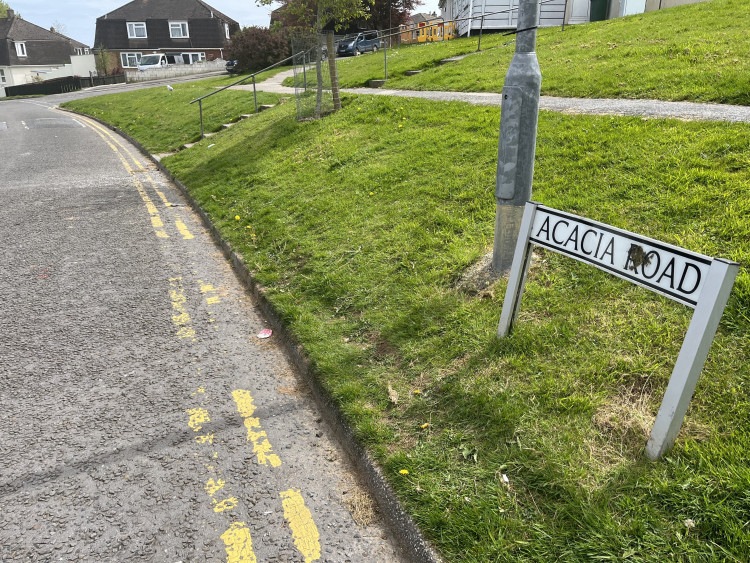 Residents find it difficult to park on Falmouth\'s Acacia Road due to the number of double yellow lines
With a lack of available spaces for people living on Acacia Road, which is situated off Dracaena Avenue in the town, residents say they are sometimes forced to park on double yellow lines overnight. They are finding tickets on their cars early in the morning before they have a chance to move their vehicles.
A resident said they were aware "it might be legally okay, but it is not fair or morally correct". A mooted plan to turn the road into a one-way system could see some of the double yellow lines removed, said the area's councillor David Saunby, who lives nearby.
Amber Bazzoni, who says parking on Acacia Road is a nightmare for residents, many of whom are old and infirm, said: "We had a traffic warden coming along at 6am on a bank holiday Monday, ticketing cars in a residential area with known parking issues. One of those who received a ticket was a nurse who had got home from a night shift. Other carers and nurses have also been affected. This is a regular occurrence, usually on Sundays. Our road has become a cash cow for the warden, both financial and targets. We are not happy and want action taken.
"This is about a traffic warden being over-zealous while we wait for Cormac to carry out one-way works when the yellow lines will be removed."
Neighbours say seven cars were ticketed early one morning. Another resident said: "They come when everyone is asleep. He must have started at 5.30am along the road. That's 3.5 hours of someone's working wage gone when money is tight. Disgraceful." Another added: "At 6am he was outside, we both went out to try to get him to wait, he said too late!"
Single parent Laura Palmer, whose house is right in front of double yellow lines, said: "I keep getting caught. I have a baby, so sometimes it's hard to leave him and move the car. I don't expect special treatment, but it feels likes we're being targeted early in the morning which seems unfair."
The street is renowned as being problematic for traffic flow, with a pinch-point at one end which, if cars are parked on a particular corner, can mean buses and ambulances are unable to get through. A public consultation concerning changes to the road layout is due to take place this summer but many believe it should have taken place sooner.
Some residents have asked if grassed areas in front of their homes could be turned into parking space to alleviate the problem.
Cllr Saunby said: "I have expressed my deep concerns to Traffic Enforcement about ticketing cars in Acacia Road as early as 5.30am, which the residents feel that they are being deliberately targeted, because Traffic Enforcement know there is an ongoing problem with finding spaces to park, but they are telling me that they cannot be lenient in one place and not in another which also has parking problems.
"Only today there were work vans parked in the bus stop nearly all day, which I took pictures of, and forwarded on to Traffic Enforcement, asking why aren't these vans being ticketed. The reply was that they would make the enforcement officers aware.
"For an update of the one-way system, and other works I have been pushing for to make traffic flows much easier, especially for buses and large vehicles, a public consultation with the residents of Acacia and Oakfield Roads will be happening this summer. But these things seem to drag on forever. It's now out of my hands and in the hands of Cormac to get on and get it done, that's if it's supported by the residents in the consultation.
"I have asked again about adding extra parking on the left-hand side between Acacia shops and Oakfield Road, but told that it's far too expensive to implement, and that grassed areas are to be preserved as much as possible in line with the council's environmental policy."
He has invited Connor Donnithorne, Cornwall Council's portfolio holder for transport, to walk the area with him and see the problems residents are experiencing.
A spokesperson for Cornwall Council said: "Civil Enforcement Officers are not permitted to use their discretion when issuing Penalty Charge Notices (PCN). This is to protect the CEOs from allegations of inconsistency, favouritism or suspicion of bribery. It also gives greater consistency in the enforcement of traffic regulations. Parking restrictions in any location are in place for a reason. Double yellow lines have a role to play in road safety, preventing drivers from parking too close to the junction and obscuring visibility, and also ensuring access for buses and emergency vehicles.
"With regard to the layout of the road, there are plans to consult on implementing a one-way system, with some physical changes around junctions and other areas to widen the carriageway to allow for buses. This will potentially allow for some rationalisation of the existing Traffic Regulation Order, however, a monitoring period will first be required to establish whether any existing restricted areas can reasonably be removed. "
New falmouth Jobs Section Launched!!
Vacancies updated hourly!!
Click here: falmouth jobs