Quick wins helping people get back on their feet faster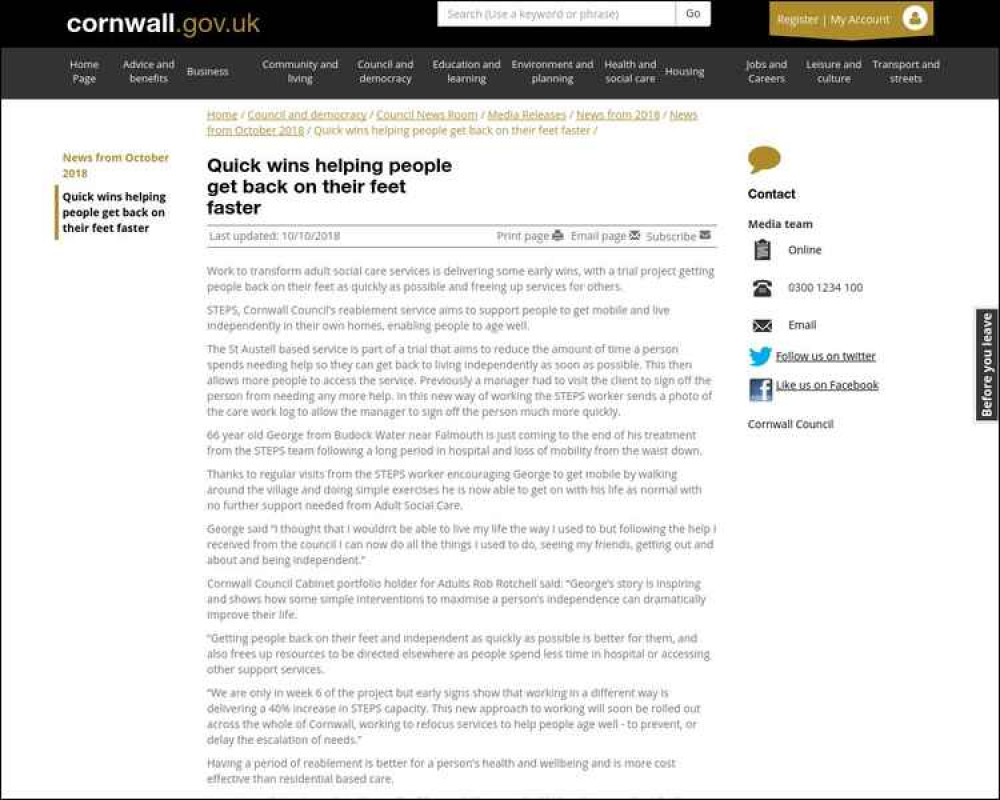 Work to transform adult social care services is delivering some early wins, with a trial project getting people back on their feet as quickly as possible and freeing up services for others.
STEPS, Cornwall Council's reablement service aims to support people to get mobile and live independently in their own homes, enabling people to age well.
The St Austell based service is part of a trial that aims to reduce the amount of time a person spends needing help so they can get back to living independently as soon as possible. This then allows more people to access the service. Previously a manager had to visit the client to sign off the person from needing any more help. In this new way of working the STEPS worker sends a photo of the care work log to allow the manager to sign off the person much more quickly.
66 year old George from Budock Water near Falmouth is just coming to the end of his treatment from the STEPS team following a long period in hospital and loss of mobility from the waist down.
Thanks to regular visits from the STEPS worker encouraging George to get mobile by walking around the village and doing simple exercises he is now able to get on with his life as normal with no further support needed from Adult Social Care.
George said "I thought that I wouldn't be able to live my life the way I used to but following the help I received from the council I can now do all the things I used to do, seeing my friends, getting out and about and being independent."
Cornwall Council Cabinet portfolio holder for Adults Rob Rotchell said: "George's story is inspiring and shows how some simple interventions to maximise a person's independence can dramatically improve their life.
"Getting people back on their feet and independent as quickly as possible is better for them, and also frees up resources to be directed elsewhere as people spend less time in hospital or accessing other support services.
"We are only in week 6 of the project but early signs show that working in a different way is delivering a 40% increase in STEPS capacity. This new approach to working will soon be rolled out across the whole of Cornwall, working to refocus services to help people age well - to prevent, or delay the escalation of needs."
Having a period of reablement is better for a person's health and wellbeing and is more cost effective than residential based care.
An estimated 1 in 4 people in Cornwall will be aged 65 or over by 2019 and increase by a further 40% over the next 20 years. This places extraordinary costs pressures on both hospitals and residential care. With a rising and ageing population in Cornwall with increasingly complex social care needs occurring at a time when increases in the resources available to local authorities are extremely limited.
This trial is part of a broader piece of work that the council is working on in partnership with Newton Europe Ltd. Cabinet members agreed that the Council will engage Newton Europe Ltd to deliver a contract worth up to £4 million, depending on the success of the programme. The initial analysis showed potential to achieve savings of up to £17 million.
Hear George's story here https://www.youtube.com/watch?v=ofe_84_nXRc
Posted on 10 October 2018