Parking and traffic measures for National Armed Forces Day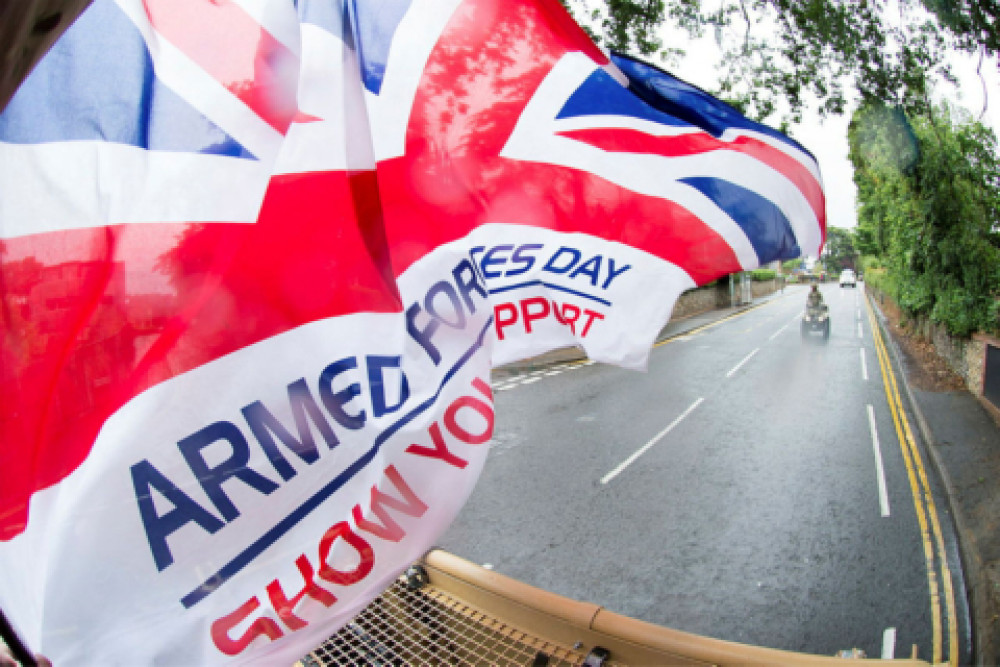 Find all the information for where to travel (Image: National Armed Forces Day)
Cornwall Council will be focusing on 'Patience, Politeness, Planning, Park & Ride' - the four P's of managing Armed Forces Day traffic.
Falmouth is expecting one of its busiest days ever on Saturday 24 June at the peak of the Armed Forces Day celebrations. It could also be one of the town's busiest ever months: Falmouth in June: A month packed with events and celebrations.
To cut the congestion, details of a jam-busting Park and Ride service have just been announced – providing buses every few minutes over a period of 15 hours to take passengers into and out of the town centre.
And with a potential 100,000 extra customers heading to town, businesses and utilities are being asked to help prevent hold-ups by planning ahead, being smart about stocks and deliveries wherever possible.
Louis Gardner, Cornwall Council's Cabinet Member for the Economy estimates that with so much for people to see and do over the weekend, the event will bring between £5m and £7m into the local economy.
He said that planning is essential for a successful event: "Saturday is likely to be a very busy day indeed, and all town centre public car parks will be closed, or in use for events. Gyllyngvase Car park will be open for disabled parking only on Saturday. But we want everyone to have a great time, particularly our armed forces guests, and of course, we want local businesses to serve thousands of happy customers.
"So, our advice to minimise delays and maximise trade is just to memorise the four Ps. Planning ahead by traders and service providers will reduce the number of daytime deliveries on Saturday. And for all those vehicles travelling towards Falmouth – think Park & Ride.
No need to spend time and fuel searching for a parking space. Easy parking at Tremough, and plenty of big buses on hand every few minutes to take you and your family into town. Patience and politeness will remind all our visitors what a great host Cornwall is for such events."
Incoming traffic will be signposted to Falmouth University's Tremough campus, where there will be easy parking. Fleets of buses will ferry passengers into and out of Falmouth town centre all day from 8.00 am to 11.35 pm.
Fares will be £2 return per person or £5 return per family (2 adults, up to 4 children). Pay on the bus by cash, card, Apple Pay, or Google Pay. There is wheelchair space on each bus."
And the service will continue until late. The last outbound Park and Ride bus from Falmouth Moor will be at 22.52, with later services from Pendennis Castle (for those leaving the Proms concert) until 23.35. And the usual Saturday buses and trains will also run, with GWR running additional services during the evening – please note Falmouth Town railway station will not be open, but Penmere and Falmouth Docks will be.
Louis's message to shops, restaurants, pubs, takeaways, and all the town's traders and utility providers, is: "Please try to plan ahead, as you would for a half term or a bank holiday. Your usual delivery schedule and routes might well be affected by events, road closures, and the rarity of parking spaces.
"So, any forward planning or pre-ordering that can be done could reduce traffic on Saturday and help everyone. Stocking up on water and allowing customers to refill their own water bottles will also be a tremendous help. You'd be helping Falmouth, and making sure essential emergency vehicles, health visits, and public transport aren't delayed."
Louis says: "Armed Forces Day is a one-off spectacular event. It might not come our way again for many years. With a bit of planning ahead we can make this a great success for one and all to enjoy"
"Just five more Ps to aim for – Practically Perfect Preparations. And, as always in Cornwall, Pride of Place!"
Traffic and travel information can be found on the website: How to Get There - Armed Forces Day (cornwall.gov.uk)
Frequently asked questions can be answered here: Frequently Asked Questions - Armed Forces Day (cornwall.gov.uk)
Related articles:
Events and travel measures confirmed for National Armed Forces Day
Anti-terrorism measures increase the cost of Armed Forces Day in Falmouth
Young people encouraged to celebrate Armed Forces Day
Confirmed activities for National Armed Forces Day celebrations
New falmouth Jobs Section Launched!!
Vacancies updated hourly!!
Click here: falmouth jobs