How good is your community at recycling and reducing waste'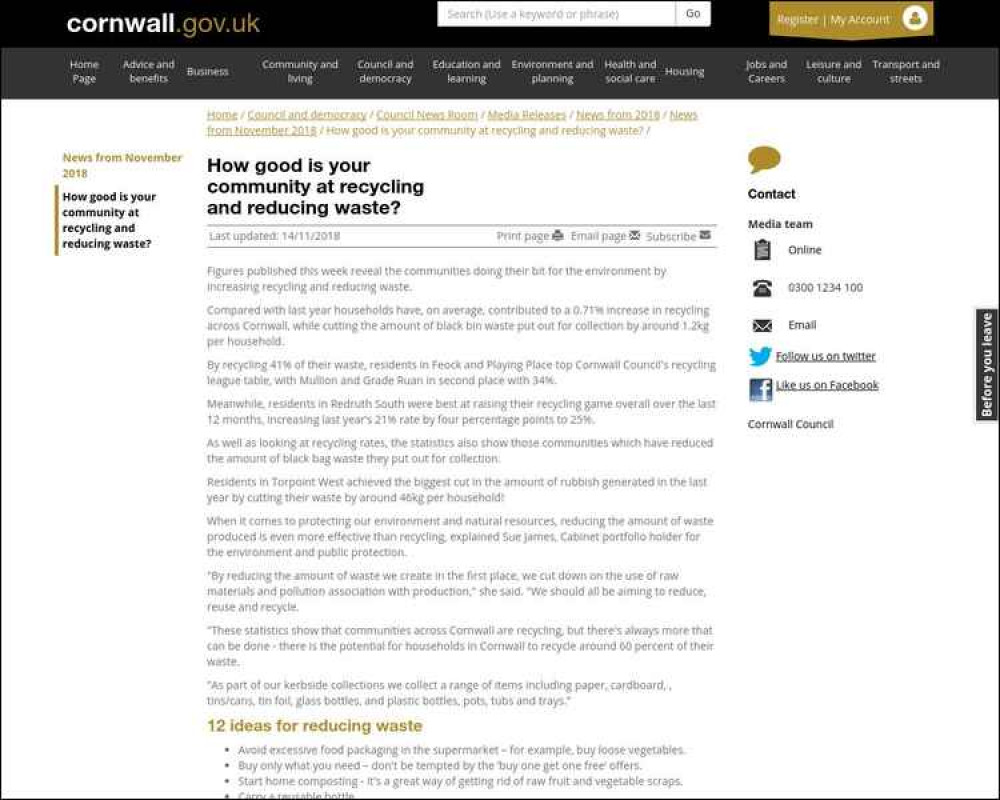 Figures published this week reveal the communities doing their bit for the environment by increasing recycling and reducing waste.
Compared with last year households have, on average, contributed to a 0.71% increase in recycling across Cornwall, while cutting the amount of black bin waste put out for collection by around 1.2kg per household.
By recycling 41% of their waste, residents in Feock and Playing Place top Cornwall Council's recycling league table, with Mullion and Grade Ruan in second place with 34%.
Meanwhile, residents in Redruth South were best at raising their recycling game overall over the last 12 months, increasing last year's 21% rate by four percentage points to 25%.
As well as looking at recycling rates, the statistics also show those communities which have reduced the amount of black bag waste they put out for collection.
Residents in Torpoint West achieved the biggest cut in the amount of rubbish generated in the last year by cutting their waste by around 46kg per household!
When it comes to protecting our environment and natural resources, reducing the amount of waste produced is even more effective than recycling, explained Sue James, Cabinet portfolio holder for the environment and public protection.
"By reducing the amount of waste we create in the first place, we cut down on the use of raw materials and pollution association with production," she said. "We should all be aiming to reduce, reuse and recycle.
"These statistics show that communities across Cornwall are recycling, but there's always more that can be done - there is the potential for households in Cornwall to recycle around 60 percent of their waste.
"As part of our kerbside collections we collect a range of items including paper, cardboard, , tins/cans, tin foil, glass bottles, and plastic bottles, pots, tubs and trays."
12 ideas for reducing waste
Avoid excessive food packaging in the supermarket – for example, buy loose vegetables.
Buy only what you need – don't be tempted by the 'buy one get one free' offers.
Start home composting - it's a great way of getting rid of raw fruit and vegetable scraps.
Carry a reusable bottle.
Say no to plastic straws.
Use refill stations for detergents.
Say no to disposable cutlery.
Get your milk delivered.
Avoid microbeads.
Carry a shopping bag.
Pack a waste-free lunch re-using old takeaway boxes instead of cling film or foil.
Give experiences, not things, for Christmas and birthday presents –for example, help family and friends with gardening or babysitting, or treat them to a day out or a meal.
Top 10 recyclers
Electoral Ward
Percentage of waste recycled
Feock and Playing Place
66%
Mullion and Grade Ruan
46%
Truro Trehaverne
39%
Falmouth Boslowick
32%
Torpoint West
75%
St Agnes
52%
Bude
43%
Saltash West
20%
Wadebridge East
15%
Constantine, Mawnan and Budock
79%
Top 10 waste reducers
Electoral Ward
Black bag waste reduced by
Torpoint West
46kg
Liskeard East
4kg
Torpoint East
2kg
Poundstock
37kg
Probus, Tregony and Grampound
34kg
Bude
6kg
Falmouth Boslowick
33kg
Illogan
31kg
Porthleven and Helston West
29kg
Grenville and Stratton
26kg