Event shows how robots could support the future of care in Cornwall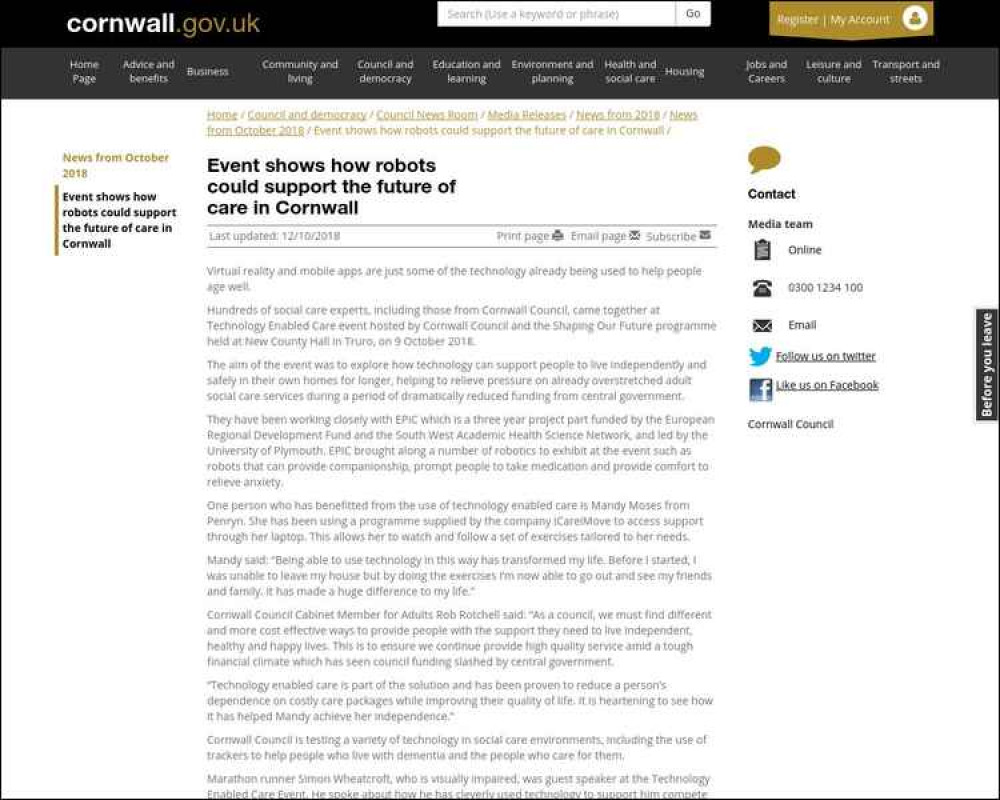 Virtual reality and mobile apps are just some of the technology already being used to help people age well.
Hundreds of social care experts, including those from Cornwall Council, came together at Technology Enabled Care event hosted by Cornwall Council and the Shaping Our Future programme held at New County Hall in Truro, on 9 October 2018.
The aim of the event was to explore how technology can support people to live independently and safely in their own homes for longer, helping to relieve pressure on already overstretched adult social care services during a period of dramatically reduced funding from central government.
They have been working closely with EPIC which is a three year project part funded by the European Regional Development Fund and the South West Academic Health Science Network, and led by the University of Plymouth. EPIC brought along a number of robotics to exhibit at the event such as robots that can provide companionship, prompt people to take medication and provide comfort to relieve anxiety.
One person who has benefitted from the use of technology enabled care is Mandy Moses from Penryn. She has been using a programme supplied by the company iCareiMove to access support through her laptop. This allows her to watch and follow a set of exercises tailored to her needs.
Mandy said: "Being able to use technology in this way has transformed my life. Before I started, I was unable to leave my house but by doing the exercises I'm now able to go out and see my friends and family. It has made a huge difference to my life."
Cornwall Council Cabinet Member for Adults Rob Rotchell said: "As a council, we must find different and more cost effective ways to provide people with the support they need to live independent, healthy and happy lives. This is to ensure we continue provide high quality service amid a tough financial climate which has seen council funding slashed by central government.
"Technology enabled care is part of the solution and has been proven to reduce a person's dependence on costly care packages while improving their quality of life. It is heartening to see how it has helped Mandy achieve her independence."
Cornwall Council is testing a variety of technology in social care environments, including the use of trackers to help people who live with dementia and the people who care for them.
Marathon runner Simon Wheatcroft, who is visually impaired, was guest speaker at the Technology Enabled Care Event. He spoke about how he has cleverly used technology to support him compete in marathons across the world. His inspiring story helped those who attended to think more widely about how technology can be used to support people they work with.
Watch Mandy and Pat talk about iCareiMove
https://www.youtube.com/watch?v=13XGJhcSkGA
Posted 12 October 2018